fundraising
VSE Survey: Record Fundraising by Colleges and Universities in 2013 While Alumni Participation Continues to Decline
Record fundraising by colleges and universities of $33.8 billion was recorded by the Voluntary Support of Education (VSE) Survey, published by the Council for Aid to Education. This is an increase of 9% over 2012 and the largest total in the history of the survey. 59.5% of institutions raised more in 2013 than 2012, a sign that the economic recovery continues to benefit higher education philanthropy. Giving by alumni increased by 16.9%, with the average gift increasing by 18.1%. However, alumni giving participation, an important component in rankings as well as the major gift pipeline, declined once again. For the 951 schools that responded in 2012 and 2013, total alumni donors declined by 1.7%. The effect on participation was amplified by an increase in total alumni given recent large graduating classes. This continues a trend of declining participation across all sectors of higher education for the past ten years: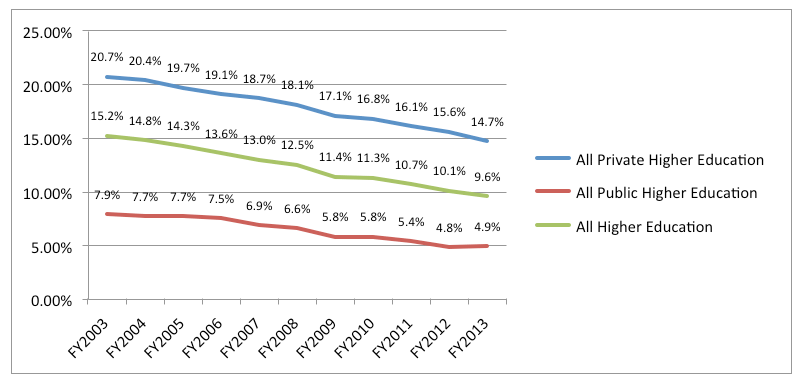 This decline in alumni donors and total alumni participation is a threat to both our current and future fundraising efforts. However, institutions that are engaging alumni with comprehensive approaches that include phone, e-solicitation, crowdfunding and innovative direct mail are seeing donor growth. "The days of managing annual giving channels in a silo and expecting the same results are long over. We're working with institutions to execute a full channel approach that engages all types of donors—from the loyal LYBUNTS to the emerging Millennial alumni who will be our future givers," says Josh Robertson, Vice President of Product Development. There are important factors to consider when looking at your donor pipeline:
How successful have you been at convincing new donors to join the effort?
What are your most successful channels for acquiring donors? Do you need to invest in new channels such as crowdfunding? Or re-energize a channel such as your phonathon or e-solicitation program?
Are first time donors retained at an acceptable rate and what can you do to renew a higher percentage of them? Are "high impact" options like thank you calls, broadcast voicemail or multimedia e-blasts part of your stewardship efforts?
The VSE results show that if you're struggling to grow your donor base, you're not alone. Because donor loyalty is a key factor in this trend, there's a chance that donor "churn," or donors moving in and out and skipping giving years may be affecting your participation. Does your total donor base for the past three or five years contain enough donors to meet your participation goals? If so, a multi-channel approach and segmenting these likely donors for increased attention may offer a strong return on investment. Participating in the VSE survey has benefits for both your institution and your peers. For more information and to sign up for the 2014 survey, go to vse.cae.org. Brian Gawor, CFRE is a former annual fund and major gift professional who now focuses on benchmarking and analytics to drive fundraising strategy. Contact RuffaloCODY to find out how your donor data can drive strategy. 
---