enrollment
How RNL Makes Learning About Fundraising, Enrollment, and Student Success Fun and Effective
When you buy a new fundraising or enrollment solution, we know that you want to be up to speed quickly on how it all works so you can maximize your return on investment. And with a significant turnover in higher education, there are always new people to onboard.
We want to both maximize your success and make it easy for you to get the most from your RNL investment, so this year we launched a new learning resource: RNLU. Here's how it works
RNLU is our new learning management system for fundraisers and enrollment leaders
We're all here in support of education, and we should be using the best possible tools. That's what's behind our launch of the new Learning Management System, RNLU. The platform, available to all RNL partners, is comprised of ready-to-play courses to take learners to new heights. The easy-to-navigate homepage dashboard and the Content Library and Achievement tabs allow learning to be the focus. Here you will find educational courses and materials on RNL products, features, and services.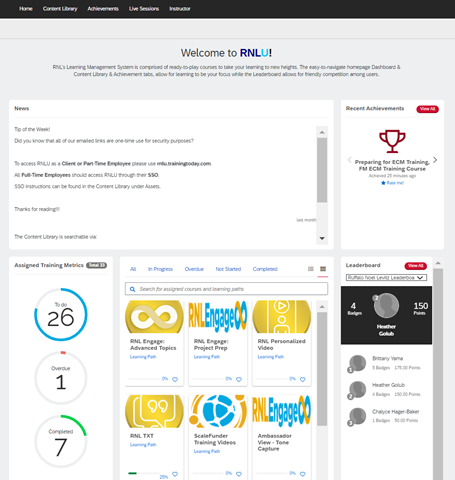 Microlearning is key in the RNLU platform
I don't know about you, but when I see an hour-long video on something I need to learn, I can't imagine getting through it without interruption. That's why RNLU offers microlearning training materials that are pre-assigned based on RNL products you are already working with, in segments that are easy to digest. The platform is open, so you can search the content library for self-assigned courses on services you are interested in.
There's content on the technical side of the RNL products and also key strategy material. For example, you'll definitely want to know how to access segments in RNL Engage, but running a great engagement center shift is also crucial. In RNLU, you can earn a badge in a wide variety of these key areas.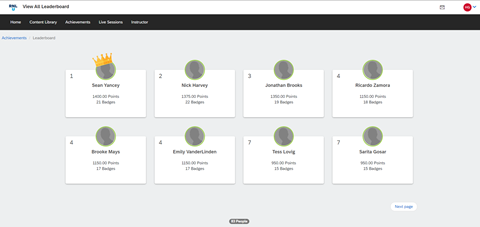 Friendly competition and prizes motivate you and your team
While you're learning, you can participate in friendly competition to earn the top spot on the leaderboard by achieving badges and points.This encourages learning because gamification is a key motivator in today's educational environment.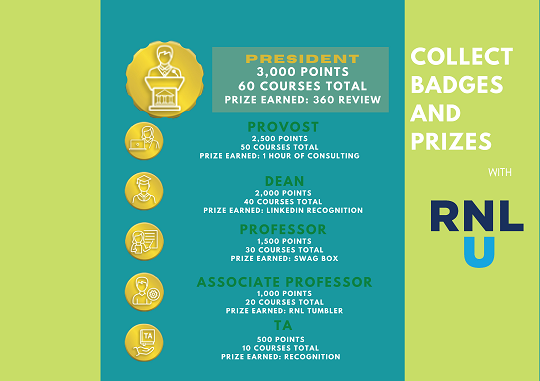 What would gamification be without some fun prizes and recognition? There are certificates, external badges, and leaderboard points that are all achieved as you complete courses and learning paths. So, along with bragging rights, you and your team will earn points that translate into prizes such as swag, recognition, and even consulting time for your program.
Adopting a new solution for your enrollment or fundraising outreach requires you to learn new things. As we've said before, a platform without expertise just won't cut it. That's why we've put together a comprehensive learning solution to help fuel the success of our partners.
If you're considering an RNL product, or want to get more from your existing solutions, contact us today and we'll show you how RNLU can help. I'll see you soon, on the leaderboard.
---