fundraising
RNL Engage Continues to Evolve to Maximize Donor Engagement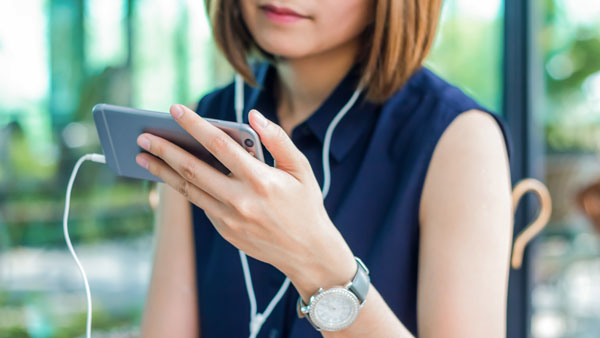 Since we launched RNL Engage, the platform that allows you to integrate calling, texting, email and personal video to maximize your donor engagement, a lot has changed. Many programs went remote, and the newly integrated campaign features couldn't have come at a better time.
RNL Engage takes what we used to call "phonathon" and evolves it for the smartphone age. It makes it easy to maintain engagement with your supporters, whether your student ambassadors can be in one room or are working remotely. As RNL partners used the new technology, they saw enormous success, and we've continued to make enhancements to the platform this year.
Creating an even better omnichannel donor engagement solution
Real-time P2P texting—Follow up calls with instant texts, directly from the ambassador who completed the conversation. Drive supporters to fulfill their pledges online, thank them for giving, and even send virtual event registration links.
Truly personalized video—RNL Engage users can now pre-record customized messages and follow up conversations in real time with a video message from the ambassador who just had the conversation.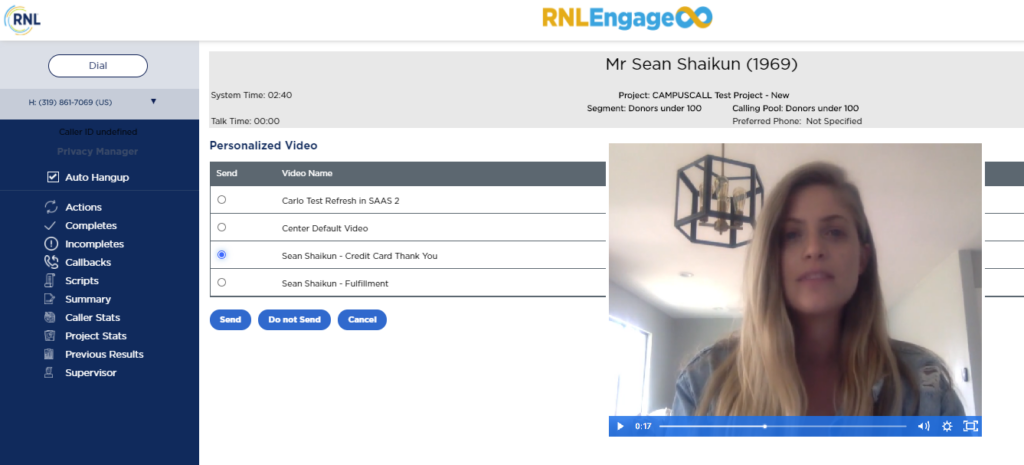 Personalized videos let you send immediate follow up communications to supporters, right from the ambassador who just completed a conversation.
Control your communication flow—Let's say you had a group you were reaching out to via phone for a special campaign. After you've made calling attempts, you then send a follow up email to the group to encourage them to give or register for an event. You can now put a hold on this group to give them time to respond online, then pick up again when you're ready.
All of these cross-channel communications are enabled with just a few clicks, so you have control of your campaigns and can maximize your engagement.
Provide your ambassadors crucial support and monitor engagement with integrated dashboards and call monitoring
Most student ambassador programs are currently operating remotely to some degree. This means that monitoring your ambassadors, coaching them, and providing help requires remote technology. We've added key enhancements to help all programs, and each is 100 percent remote capable.
A new employee monitoring dashboard—See at-a-glance key statistics for your current shift and program, monitor individual ambassadors to see who needs help or coaching, and watch donor engagement shifts unfold live, right on your screen.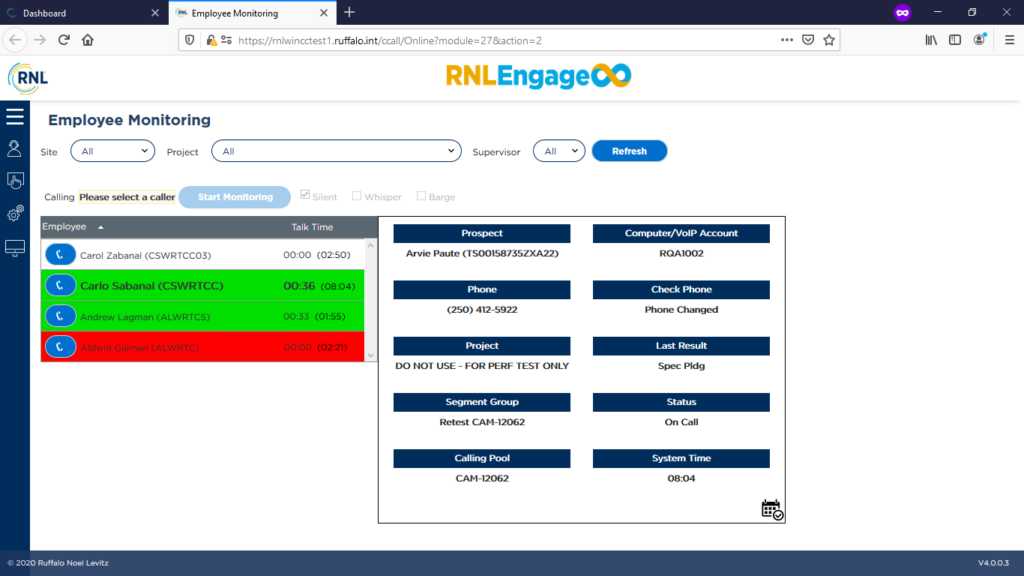 Three types of call monitoring, all compatible with remote management from any location.

Silent monitoring so you can just hear the conversation
Whisper monitoring, which allows you to coach your callers while they are in a conversation
Full conversation monitoring (often called barge monitoring) that lets you jump in the conversation, talk to the donor and your student, for things like pledge confirmations, or to provide crucial information.
Making sure that you can provide your engagement ambassadors support, even if they are working remotely is crucial. These new tools make that easy. We reviewed key practices for motivating and coaching ambassadors, and you can check out our recorded webinar to hear what RNL experts (and a few student engagement ambassadors) had to say.
See how RNL Remote Engagement works
Ask for a walkthrough of RNL Remote Engagement using the RNL Engage fundraising platform. We'll answer any questions you have and show you how you can manage your student ambassadors from anywhere.
Integrated texting maximizes engagement and donor follow-through
One feature that has particularly taken off with our campus partners is RNL TXT, which enables you to send personalized texts to your supporters and have engagement ambassadors respond. RNL Engage is unique because it allows for real-time P2P text follow up. You can use this powerful technology to drive pledge fulfillment, set a context for calls, promote event registration, and even remind donors about key campaigns like crowdfunding and giving days. Here are a few new features.
A new texting interface—We refreshed the P2P texting UI and have made it easier than ever to schedule group or individual text messages and respond to supporters who message back.
Now with emojis—Donors use emojis every day in their own communications, and now you can add a fun touch to your communications with integrated emoji support.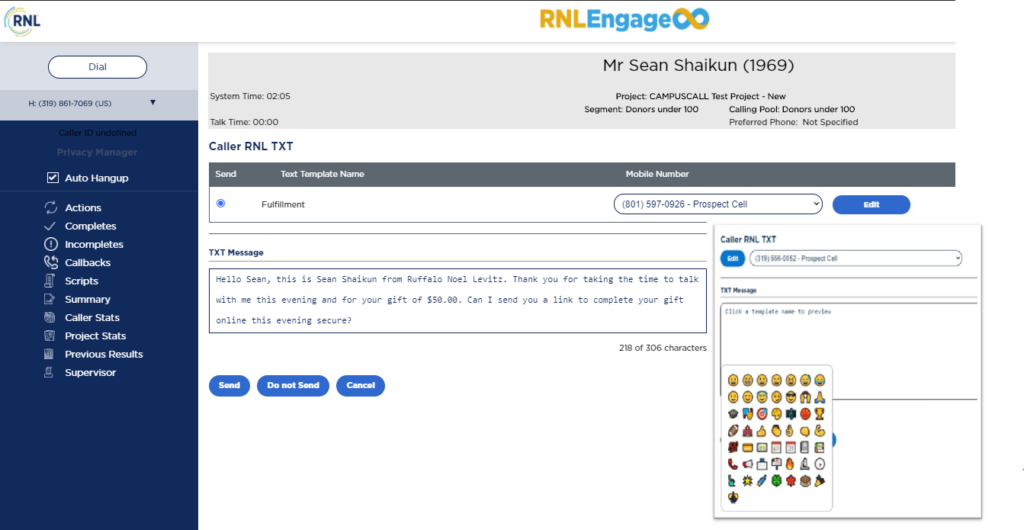 Personalize and manage your outreach easier with user-friendly uploads and controls
RNL Engage partners can personalize the platform, and control who they're reaching out to in real time. We've just added:
Designation uploads—We know that what you're contacting donors to support can change rapidly, so we've implement easy, single step uploads to change your pledge designations.
Single-step call blocking—New, easy file uploads let you press "pause" for key groups instantly if you're contacting them from other channels or they've just made a gift.
Watch the discussion
I talk with Brian Gawor about the new features in RNL Engage.
Donor engagement is evolving, and so is RNL Engage
We'll continue to make enhancements to maximize the RNL partner and donor experience on the RNL Engage platform. We'll rolling out new integrations with crowdfunding, giving days, and AI-driven personalization to help RNL partners maximize response in this challenging time.
If you have questions about the new features or want to see how it can transform your donor engagement, contact us for a walkthrough. We're ready to help you meet your goals with new, integrated, omnichannel technology.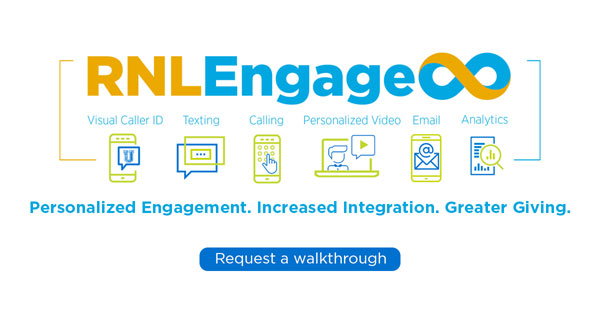 ---