fundraising
Higher Education Donations hit $49.5 Billion in 2020
The results of the 2019-2020 Voluntary Support of Education survey are in, and higher education received $49.5 billion in gifts for the 2020 fiscal year. The Council for Advancement and Support of Education reports cash giving totals annually in this survey, which has been the survey of record since 1957.
Giving is basically flat overall from the previous year, but as CASE reports, many showed increases. We've reported some enormous response from donors during the pandemic, and it's clear that the results varied across institutions. Nearly half of institutions reported an increase in giving.
It was a unique and challenging fiscal year for higher education. The last six months of 2019 were an an economic boom, yet by February 2020, we were fully in the economic uncertainty and challenge of the pandemic, with the full effects felt by the common June 30, 2020 fiscal year end.
Grab the higher education giving survey overview, and watch our video interview with CASE
You can download the survey overview report right now at CASE, and check out our LinkedIn Live video interview with Ann Kaplan, Senior Director of the VSE at CASE for key insights.
Having issues viewing the video? Watch it here.
Highlights from the 2019-2020 VSE survey from CASE:
The largest category of increase this year comes from "other organizations"—and CASE research reveals that much of this is donor-advised funds and family foundations. Make sure you have the processes in place to easily accept these gifts and to steward the donors who influenced them.
When you take out the record-setting $1.8B gift from Michael Bloomberg to Johns Hopkins University in 2019, total giving is up by comparison for 2020. Mega-gifts have made a huge impact on the totals in recent years, with seven gifts of over $100M this year, and more to be counted next year. Take those gifts into consideration when comparing.
Not surprisingly, gifts for current operations rose while capital giving declined. It's clear that the immediate needs that required support such as emergency student funds, research dollars, and relief efforts were compelling to donors.
This pandemic is different than the Great Recession and previous economic challenges. The position of the stock market has a huge impact on giving, and it's in a different place compared to previous recessions. As CASE reports, the speed at which institutions recovered philanthropic support widely varied in the last recession.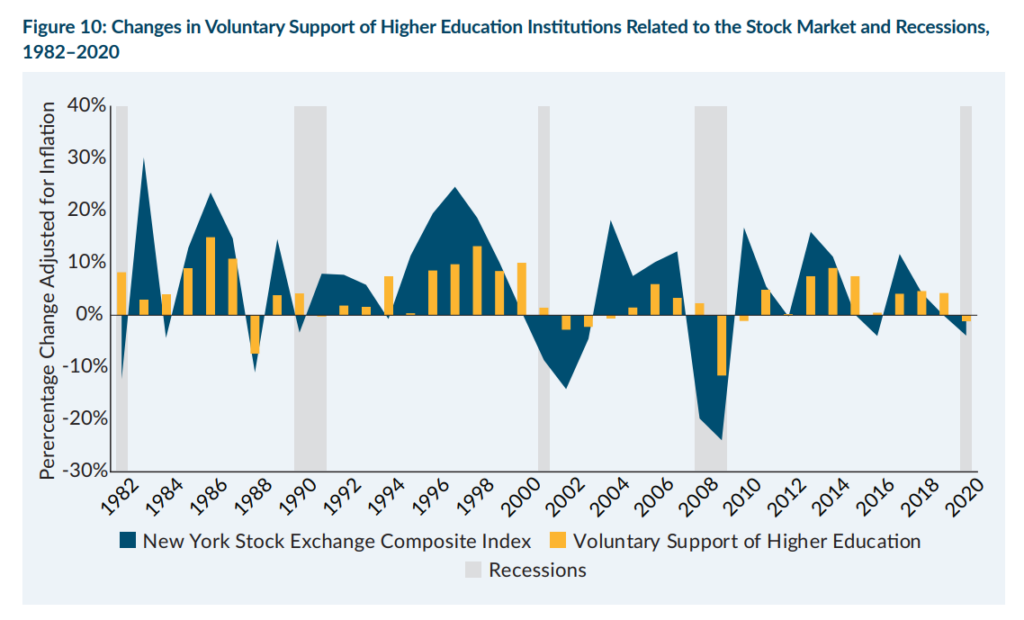 What does flat higher education giving mean for higher education fundraisers?
First, it's not surprising that overall giving halted its momentum given the challenges in the second half of the 2020 fiscal year. Second, it's clear from the VSE data that the experience of institutions is quite varied. We've also seen record-setting campaigns during this period.
Fundraising success amidst COVID has a lot to do with your donor outreach, your ability to make a compelling case for the immediate use of donor support, and ability to pivot to digital outreach.
It's also about staying part of the immediate conversation with donors. We were excited to see in early responses to our 2021 Advancement Leaders Speak survey that over half of fundraisers say they are focusing more on diversity, equity, and social justice in their communications—an important national discussion.
More results are coming. CASE will be releasing the Alumni Engagement Metrics, a broader view of higher education engagement, in about a month. It will be interesting to combine all this data to look at a bigger picture of engagement and philanthropy benchmarking. As a CASE member, you have access to a full suite of data tools, and they've been working hard to make these more accessible.
The second half of the 2020 fiscal year was challenging for higher education fundraisers. Our fiscal year-end appeals were different, we weren't meeting with donors in person, and many events were delayed or transformed. But donors stepped up and gave to immediate needs. In 2021, following up with those donors, continuing to market the impact of giving, and staying present with donors digitally are important keys to success. And you don't have to do it alone. Reach out to set up a time to talk and we'll share how we've partnered with institutions like yours to make a high-ROI pivot and continue donor engagement, even when we can't take donors out to dinner.
Discover the next generation of donor engagement solutions


Learn more about the remote-ready RNL Digital Engagement Center, which keeps your donors engaged across integrated calling, texting, and personal video. And it can keep your student ambassadors working and driving to your fundraising goals.
---