fundraising
COVID-19 and Your Giving Day Strategy
It should come as no surprise that the most common questions we have been hearing the last several weeks are: Should you cancel your Giving day? Should you Postpone? Should you stay the course with your scheduled day?
There is no right or wrong answer. Many of our partners have chosen to postpone their giving days. Most of these are moving to the Fall. We've seen institutions staying course with their scheduled day and a few cancellations. And quite a few are considering strategy for #GivingTuesdayNow on May 5. Most have told us they will do a targeted crowdfunding campaign for this day, which is a good idea. When we asked about 300 fundraisers in our recent webinar what they were doing, here's what they said: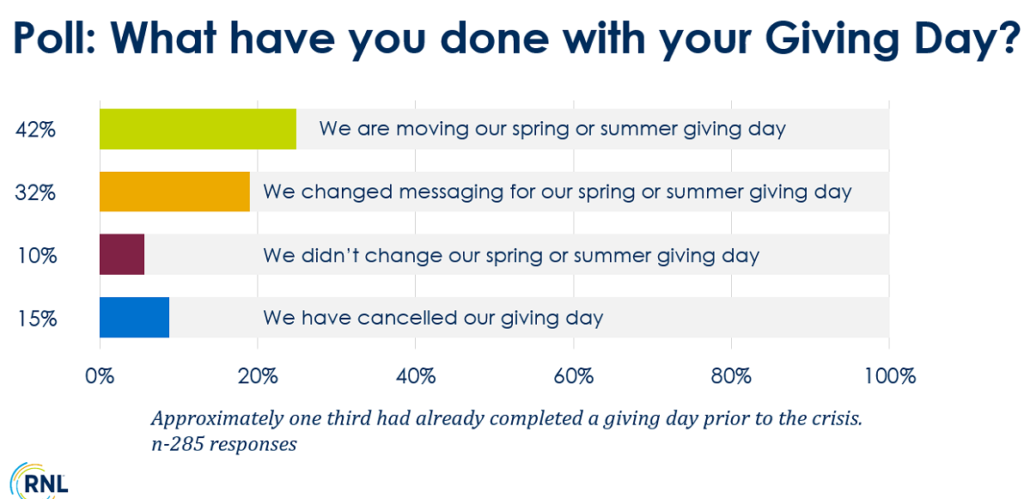 The Giving Days that happened in the first few weeks of the COVID-19 crisis were very successful in terms of the internal goals. We saw many partners pivot in their strategies. Ultimately, you need to make the choice that is best for your constituents and you also need to remain flexible. Below are some of the strategies and ideas we've encountered across our campus partners as of this writing:
COVID-19 is on the top of all of our minds and it is okay to address it during your fundraising campaign if your institution decides to hold your giving day as planned. We have seen many of our partners address COVID-19 and its impact in very transparent ways from public letters from campus leaders to utilizing our integrated AI chatbot to explain why the institution decided to move forward with the day.
On-campus activities to engage our faculty, staff and students are no longer a reality, but that doesn't mean you can't engage them in other ways. Allow for students to choose to be engaged through an ambassador program or donor matches/challenges but also allow your goals for student engagement to be realistic givem the circumstances and the amount of stress many students around the country are feeling. One of our partners is considering having a virtual war room/command center for their giving day committee and development team via video conferencing.
You can refocus the goal of your giving day. Some schools have chosen to change the designations of their giving days around emergency funds for students or faculty & staff.
We've also seen some schools postpone their giving day to a later day and instead hold days of gratitude on their originally scheduled day—focusing solely on stewardship of donors and the campus community. ThankView is a great way you steward donors in a way that is both engaging and completely virtual.
If you choose to postpone or cancel your giving day, consider running a crowdfunding campaign that addresses how the pandemic is affecting your campus. Spelman College's campaign has already raised over $96,000 from nearly 750 donors to help transition students from campus learning to and online teaching environment. Texas Tech originally activated their campaign to help bring all of their study abroad student back home safely. After successfully achieving that goal thanks to over 400 donors, they are now focusing their efforts on a student emergency fund and their campus food pantry. The University of Cincinnati's campaign focuses on food pantries in addition to their student emergency fund. These three are just a small fraction of the campaigns that have launched in the last three weeks.
I can't stress enough that while we are all having to pivot and adapt to our new reality during this pandemic, we are not in this alone—RNL is here to help. It's an important time to come together and share resources. In that spirit, we're waiving the onboarding and subscription fee for new users of our RNL Crowdfunding Powered by ScaleFunder platform, effective now through June 30, 2020.
And if you already have RNL Crowdfunding or RNL Giving Day powered by ScaleFunder, we encourage you to schedule time with our team if you need any assistance with strategizing how you move forward with your upcoming giving days or crowdfunding campaigns.
---