fundraising
Giving Day and Crowdfunding Insights From the RNL Digital Giving Index
We recently embraced radical transparency by making over $400M in giving day and crowdfunding results on the RNL ScaleFunder Digital Giving platform available so you can benchmark your program and craft strategy. The index includes:
Full statistics on crowdfunding campaigns in 11 categories.
Giving day results by type of gift and type of giving day.
Check out the index today and you'll have data to answer, ""What's the average gift for this?"
We have also pored over the data from the Digital Giving Index. Here are a few key insights about charitable crowdfunding and giving days.
Crowdfunding and giving day success is a combined effort with gift officers
To donors, giving days and crowdfunding might look like something that magically happens on a computer screen, with totals building as online gifts come in. It's clear from the data that these campaigns are a combined effort of online giving, social giving, and big gifts that drive challenges, matches, and early adoption boosts.
That's why on RNL Digital Giving platforms, it's easy to enter offline gifts that come in—like major gift pledges to support a campaign, securities, donor advised fund gifts, or people who just call you to make a gift. We're big on unlimited fundraising—RNL's platforms let you raise as much money, in any way you want, with no penalty. Check out these stats:
For crowdfunding, 68 percent of the gifts came from online giving. The average gift was $134 online, but rose to an overall average of $224 when other gifts were added in. This is clear evidence that crowdfunding receives a big boost from these big gifts.
With giving days, 71 percent of the gifts came from online giving. The average online gift was $122, but other gifts brought the total to $354. Those big giving day totals you've seen definitely involve a lot of leadership and major gift work.
A big part of what RNL partners love about our ScaleFunder platform is the automatic tracking and updates on matches and challenge gifts—adding these gifts into the total immediately. This technology helps build shared excitement and the sense of a group effort with donors to create the best donor experience on your giving day.
Watch my 2-minute overview of the RNL Digital Giving Index to see what's inside
Crowdfunding campaigns and their results vary widely
Student club or organization campaigns raise on average about half of athletics campaigns ($6,033 vs. $12,248). Arts campaigns, while underrepresented in higher education campaigns, do really well, raising an average of $10,229. It's important to recognize that the breadth, maturity and previous giving history of your target audience will make a difference. Arts and athletics definitely bring this to the table.
Almost half of the campaigns were "Institutional," or an effort to use crowdfunding for a key goal at the institution sponsored by the advancement office. Charitable crowdfunding isn't just asking groups to apply to make a campaign, it's also a key part of the overall annual giving and major gifts strategy right from the advancement team.
It's also interesting to note that over all the campaigns, 73 percent of donor goals and 92 percent of dollar goals were met. We've reported before that on average, donor goal campaigns actually raise more money. The inclusion of challenges and seed gifts definitely amplify this "bandwagon effect." I asked Brian Gawor, our VP of Research, about this. Here's what he said:
"Donors find it hard to think of themselves as a percentage of a dollar. But they can think of themselves as 'the next donor.' So, building excitement with a donor count challenge can be really effective, and actually raise more money. Think carefully about the best way to engage your audience—a big total goal isn't always the answer."
You're probably going to have your giving day on a Tuesday or Wednesday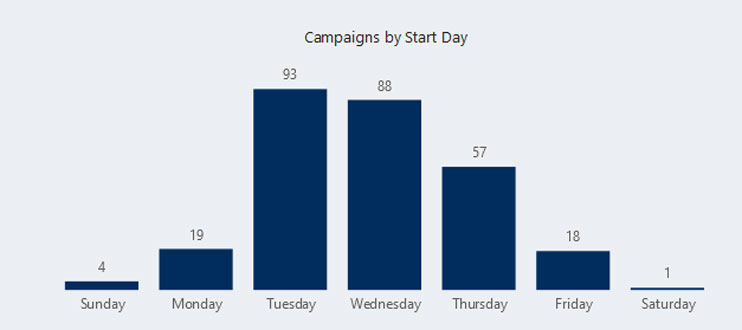 More than 80 percent of the giving days we captured in the Digital Giving Index were on Tuesday or Wednesday. This is logical, as most institutions will want Monday to do final preparation and won't want to compete with any long weekends or competition from "getting back to work" inboxes. Holding giving days early in the week also allow you time to count any final gifts and still be able to report final results by the end of the week, which may be why Tuesday is a little more popular.
Dive into the Digital Giving Index today to seek key statistics on crowdfunding and giving days, and drop us a line and we'll connect you with a RNL expert to talk about how make your next digital giving campaign a success.
Talk with our digital giving experts
RNL works with institutions on digital giving and donor engagement, including crowdfunding, giving days, and omnichannel fundraising. Set up a time to talk with our fundraising experts to find your optimal strategies.
---