fundraising
Get in the Game With Athletics Digital Fundraising Across Giving Days and Crowdfunding
College athletics is exciting. Season after season, campus arenas and stadiums are packed with passionate fans who have the power to create an electric environment that boosts a team to victory. Dedicated season ticket holders, rabid student sections, and spirit squads comprised of cheerleaders, dance teams, and marching bands (along with our loveable mascots!) all unite to fuel our student athletes. And much of it is fueled by donor contributions.
Many of our RNL ScaleFunder partners have capitalized on this enthusiasm so that their devoted audience does not just help generate big numbers on scoreboards but also to boost annual giving, leadership giving, and major gift fundraising.
Athletics should be a key component of your digital fundraising, specifically cause-driven crowdfunding and giving days. From my work with the ScaleFunder community, here are some key tips on how you can get in the game to convert those loyal fans into loyal and transformational donors.
Create the gameplan for athletics digital fundraising with a partnership
First and foremost, all successful teams need great chemistry, so you need to ensure your athletics department is really on board for this partnership. You need to connect with athletics, talk with them about their key needs and goals, and build collaborative friendships. This relationship will be critical to determine what fundraising strategy is the right approach and that there are the resources to help make this a winning game plan.
Spoiler alert: most athletics programs operate with very tight staff resources. If you are just getting started, focus on where your work can have immediate, budget-supporting impact. And really tune into where you can make it easy and impactful for our athletics colleagues. They'll get the fundraising bug, and do more if you can have success within their resources.
Here are the top five plays our RNL ScaleFunder partners have run in both new and long-standing athletics programs that can work for your team:
Feature athletics on your university's giving day to boost donor engagement
Developing a partnership with athletics so that they are featured on your main Giving Day will help take your campaign to the next level. This is an excellent opportunity to showcase the accomplishments of your teams and student-athletes, and to communicate their needs so that fans can provide financial support.
Athletics also offers incredible marketing potential. In the lead up to your giving day, buy-in from your athletics marketing department could have your giving day promoted in front of thousands of fans on LED boards and in-game announcements.
Remember, athletics fans span across all majors. This can result in your business grads making their business gift, but also adding their favorite athletics program to their "shopping cart" on giving day. (That's one reason we offer multi-gift checkout in RNL ScaleFunder) Your efforts can also acquire new donors for those non-alumni fans who are presented with the opportunity to feel part of the team with a gift to the program. Giving is a social, participatory activity, and your fans are looking to be part of the success.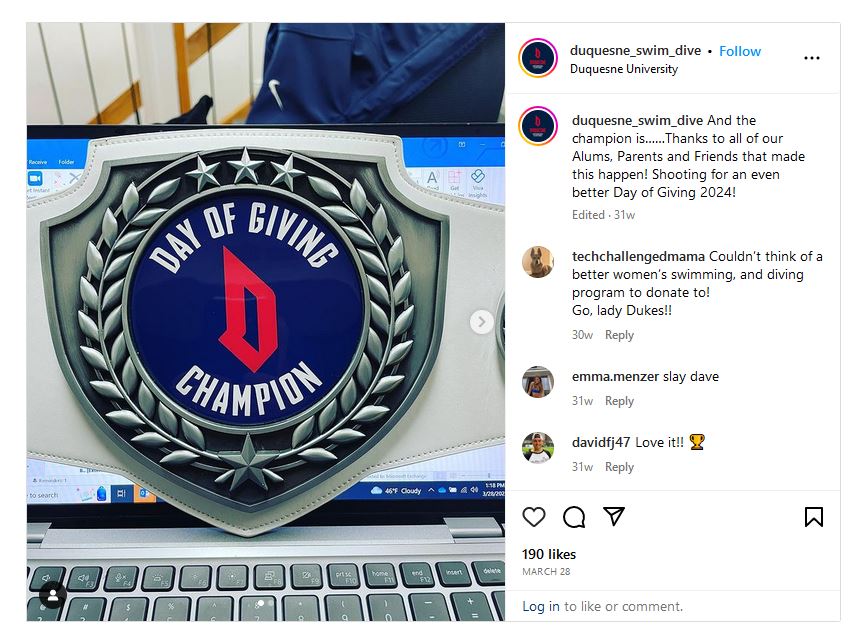 Image: At Duquesne University, the Swimming & Diving Team was awarded the Duquesne Day of Giving Championship belt.
Here's a great example. At Indiana State University, their Sycamore Athletics page on their "Give To Blue Day" was a tremendous success. Potential donors were greeted on the page with a visual of the legendary basketball star and Indiana State alumnus Larry Bird, and then could scroll down to see numerous athletics-focused matches and challenges, which further motivated giving.


Image: Indiana State offers multiple donor challenges to support teams on their Give to Blue Day.
Host a separate giving day for athletics to excite donors and build a pipeline for future fundraising
It might be time to give your athletics program a giving day of their very own. A separate giving day, with planning months in advance, can really spotlight not only your marquee teams, but also initiatives that might not get as much attention, like club sports and spirit squads.
Remember, athletics professionals are as stressed as fundraisers. When deciding if an athletics giving day is right for your institution, make sure you have the staff bandwidth in both athletics and advancement to make this additional giving day a success. The tech you adopt and the help you get from your platform provider will also be crucial.
At Radford University, historic support of their student-athletes was achieved during RAD48, a 48-hour Radford Athletics department-wide fundraising competition that supported all 16 of Radford University's Division I programs. Nearly 800 members of Highlander Nation made gifts, with every state represented on the donor heatmap, for a total of $174,484 raised.
It's also about building a pipeline with participation efforts. A "Most Donor Challenge" Leaderboard further inspired competition, as the baseball team was awarded a $1,000 prize for generating the most unique donors.
At Virginia Tech, Triumph Together enabled Hokie student-athletes to reach for excellence in the classroom, in competition, and in the community. Their innovative approach to convert fans to giving day ambassadors included a referral program that offered rewards that ranged from such items as a Virginia Tech Prize Pack to an "Enter Sandman" tunnel experience. A massive number of Tech's giving day donors come from volunteer efforts, and they have set records for donor pipeline growth over the past five years.
Group crowdfunding campaigns into a giving day, week or campaign
Another creative giving day option is to feature each area of athletics as individual, goal-based crowdfunding campaigns.

Last month, UCLA hosted their Athletics Day of Giving on the RNL ScaleFunder crowdfunding platform. This approach sparked the competitive drive of Bruins by featuring 24 crowdfunding projects that had participation goals. Each project allowed these sports teams and athletics initiatives to tell their story and explain what impact donations will have on their campaign. Additionally, progress bars served as live scoreboards so that fanbases could contend for top bragging rights. UCLA is a leader in cause-driven engagement, and this competition plus impact focus is a key part of their success.
Feature athletics evergreen campaigns on your cause-driven engagement platform
Maybe you'd rather incubate campaigns over time. RNL ScaleFunder evergreen campaigns on the crowdfunding platform provide potential donors with the opportunity to support their favorite athletics initiative year-round. Evergreen campaigns provide a donor-friendly experience that allows the donor to make a gift at the time of year that is most convenient for their giving capabilities. Think of it like giving to a crowdfunding campaign that can be accessed at any time. These campaigns can feature all the crucial component of crowdfunding, like running totals, donor walls, perks and giving levels.
At the University of Memphis, this approach allows UofM to feature 14 engaging sports-specific giving projects, without the added pressure of featuring a public dollar or donor goal.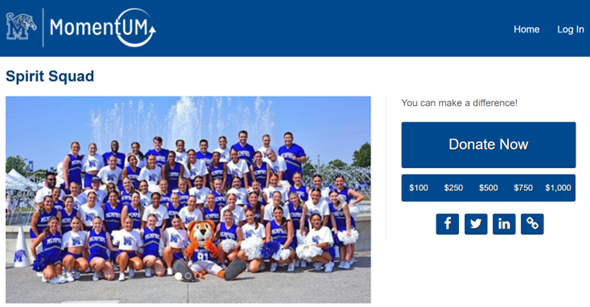 Image: The University of Memphis Momentum platform features athletics campaigns year-round via evergreen campaigns.
Host charitable crowdfunding campaigns for specific needs
There are many benefits to being part of collegiate team, the money side can be difficult, especially for club sports. Crowdfunding is the perfect platform to explain these needs and the peace of mind and opportunities donations can provide student-athletes.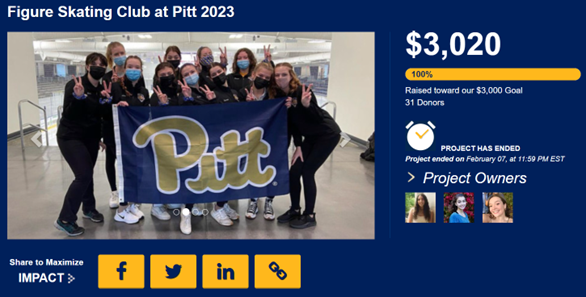 Image: Pitt features key club athletic needs like the Figure Skating Club on their Impact platform, powered by RNL ScaleFunder.
At the University of Pittsburgh, the Figure Skating Club created a crowdfunding campaign that outlined to potential donors how funds were needed to help cover the cost of practices, competition entry fees, travel/lodging expenses, and other miscellaneous fees associated with the team. Rather than donors making gifts they hope could be helpful, the page clearly stated the tangible effect donations would have, such as a donation of $65 could cover one entry fee for an individual skater to compete at an intercollegiate competition. Donors answered the call, and the campaign exceeded its goal.
Now it's time to get in the game with athletics crowdfunding and giving days
No matter what digital fundraising play you draw up, don't miss the opportunity to tap into the enthusiastic spirit of your athletics staff, coaches, student-athletes, and fans to help lead your fundraising efforts to victory. The athletics community is highly engaged, socially connected, and coachable. Fans are ready to win with you. I encourage you to think of athletics not just as an aside to your fundraising efforts, but a core component of donor engagement.
You'll need help to make it a success, so reach out to RNL. We're ready to help, and all RNL ScaleFunder partners receive significant consulting support as part of their partnership. We've helped hundreds of institutions get started and amplify their existing efforts. Tap us in as part of the team.
Transform your leadership giving outreach
It's time to give leadership gift officers the tools that can truly fuel their success and maximize the donor experience. Request a consult with RNL experts  to find out more about how new technology:
Integrates texting, email, video messages and calling in one secure platform.
Helps you smartly target the prospective donors most likely to make a big gift.
Makes it easy for donors to give and for you to monitor results and coach officers.
Does it all with setup in weeks and at 1/3 the cost of other solutions available today.
---