fundraising
Engage, Ask and Thank: The Power of Integrated Fundraising Technology
If you haven't heard, that thing we used to call phonathon is retired. Something new has taken its place, and it's a game changer. New technology that lets you call, text, send personalized videos and organize an outreach effort that both meets your goals on budget, and leads to a better donor experience.
Here are some key ways that the next generation of donor engagement technology makes it all happen.
Integrating your fundraising channels is the key to high ROI and a better donor experience
The old way: call, mail, and email all year and hope people respond. Maybe send them a text or a voicemail at the end of the year as a "last chance."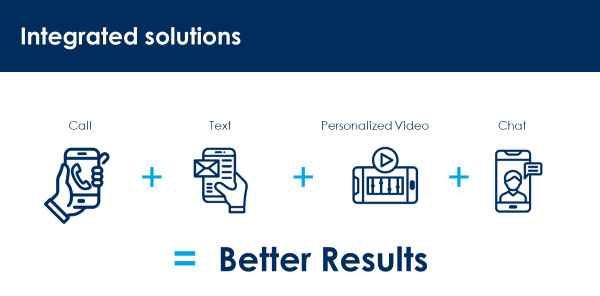 The new way: engage across multiple coordinated channels, right away. Donors not picking up the phone? Text them early and connect. Response rates are high, and many donors just want to make a gift or get a quick answer to a question.
Programs that have adopted this integrated approach have seen 300+ percent boosts in productivity per hour for their donor engagement programs. We call it the Digital Engagement Center, but whatever you call it, it's just better.
This takes serious technology, however. You can't be loading new lists into your platforms on a daily basis, based on how many attempts or responses you've gotten today—the tech you use has to be committed to integration, with the ability to engage across channels in one system. That's a big part of what we've been focused on with RNL Engage.
Donor engagement and stewardship should be automatic (and now they are!)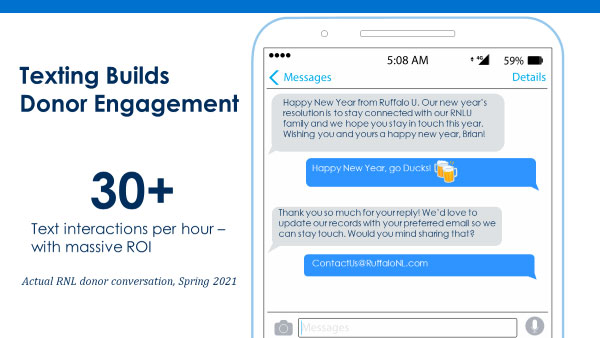 What if you could automatically add every new giver, say to a crowdfunding campaign, to a list to receive a personalized video through ThankView automatically after their gift? What about dropping a text to everyone who said "yes" in a call with giving link so they can instantly fulfill their pledge. Well, you can do this now. With integrated technology using the best platforms, there's no pulling lists, and you can get these communications out quickly and at scale.
You don't need a ton of employees or a dozen platforms to make this happen. When data flow seamlessly across contact methods, you can engage and thank donors quicker, making them feel immediate impact from giving.
Make giving easy to maximize donor response and the joy of giving
I remember sitting at conferences a few years ago listening to the frustrations from fundraisers about wanting to accept gifts through Venmo, Apple Pay, PayPal and other payment tech we're all using on a daily basis. Well, that's all possible now with very little effort on your part. These payment methods are now integrated into digital wallets that accept payment through whichever method the donor has enabled on their device. It's easy and completes your standard online giving processing. That's right, no need to set up a Venmo account or multiple services. A member of our team made a gift to one of my favorite giving days this year in 28 seconds with this technology.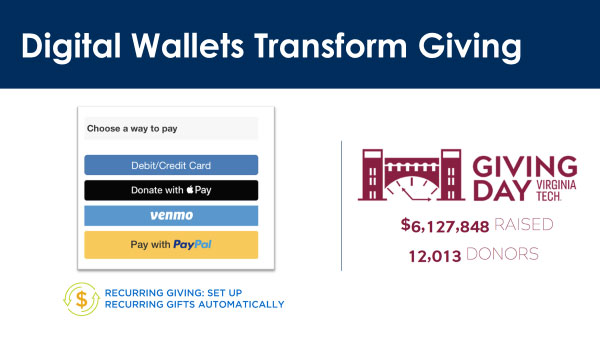 Pair this easy giving tech with things like dedicated, mobile-friendly giving pages for each appeal, and you've got a package that surprises and delights donors.
Does your donor engagement strategy include these key, integrated and low-friction outreach methods? Well, if you need some help getting there, let's talk. We've integrated all this technology into RNL Engage and the modern digital engagement center. You can start with one piece at a time, and put yourself on the road to a better donor experience. It's time to level up donor engagement, and we now have the technology to make it easy.
Talk with our fundraising experts
Let's talk about how you can level up donor engagement and connect with donors in a smartphone world. Ask for a free consultation with our experts.
---