fundraising
Breaking Up With Your Online Giving Site
I was in a call with one of our RNL ScaleFunder partners the other day who shared with me they had been shopping around for a new online giving site. Their primary online giving form is currently hosted by another company, and they are ready to take the next step in online giving.
To quote the client: The customer support on their old online giving site is "blah." Their site isn't donor- or user-friendly. Funds are difficult to add and not easy to find. Giving through mobile wallets isn't an option. For these reasons and more, their current online give site just isn't up to snuff.
This fundraiser has been part of countless demos for the last several months, and almost every online giving platform she looked at had a crowdfunding component as well. "We don't need a new crowdfunding platform," she told me. "We just need a new online giving form!"
A better giving page solution is already included in your RNL ScaleFunder investment
The RNL ScaleFunder platform is the recognized leader for crowdfunding and giving day solutions in higher education. But what many of our partners forget is that RNL ScaleFunder has a third, increasingly utilized project template called "Evergreen."
The Evergreen template has evolved over the last several years and is now serving as a primary online giving form for many of our partners. The Evergreen project template is a simple switch allowing you to set up customized, persistent, donor-friendly giving forms, in minutes. You can easily upload multiple fund designations, and the funds appear in a searchable, scrolling box on the donation page, making it easy for your donors to track down the giving area of their choice and make their gift. (You can also enable a write-in option if you're bold enough to let your donors write-in their own fund designation.)
And keep in mind that the Scalefunder platform is already a PCI-DSS compliant solution. When you adopt the platform, you've already gone through the work to onboard a secure giving page for any use.
Let donors give in less than a minute with the ScaleFunder digital wallet, including PayPal, Apple Pay and Vemo
Mobile wallets are becoming widely adopted in fundraising, and should be a priority for you. RNL ScaleFunder integrates with more than a dozen different payment processors—many of which have digital wallets. Our preferred partnership is with Braintree because they offer reduced processing fees for non-profits (1.99% + 0.49 per transaction), recurring giving, and checkout through Venmo, PayPal, and Apple Pay.
Our partnership with Braintree means we can connect you directly with our Braintree colleagues who can help expedite the onboarding process and get your account approved and up and running quickly. No additional contract needed!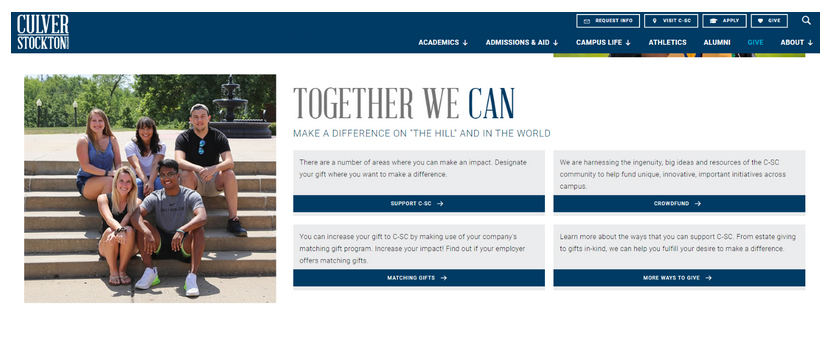 Reduce friction with user-friendly giving pages
With RNL ScaleFunder's Evergreen giving pages, you can link directly to a donation form from your main university website. Culver-Stockton College is a great for example. Rather than linking to an Evergreen landing page, they link directly to the form for a quick and easy check-out experience.
These giving pages are highly customizable. If you want to improve the look, add a picture and some text in the Donation Page Message, like this example, which shares a great image associated with the specific giving area.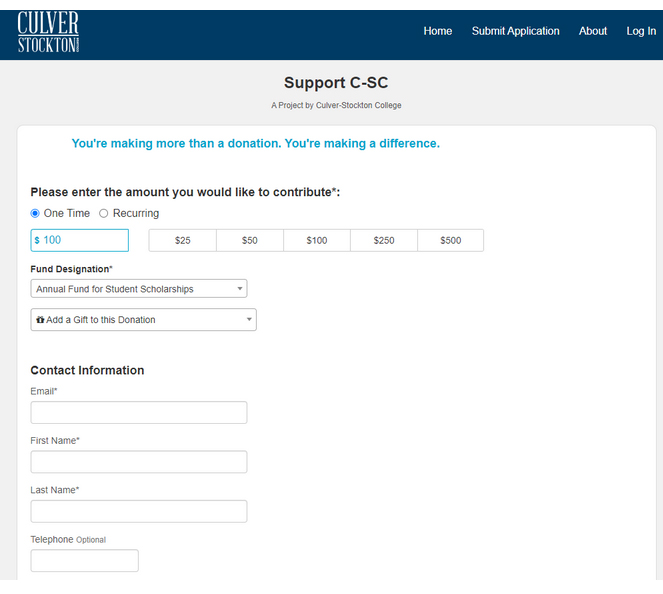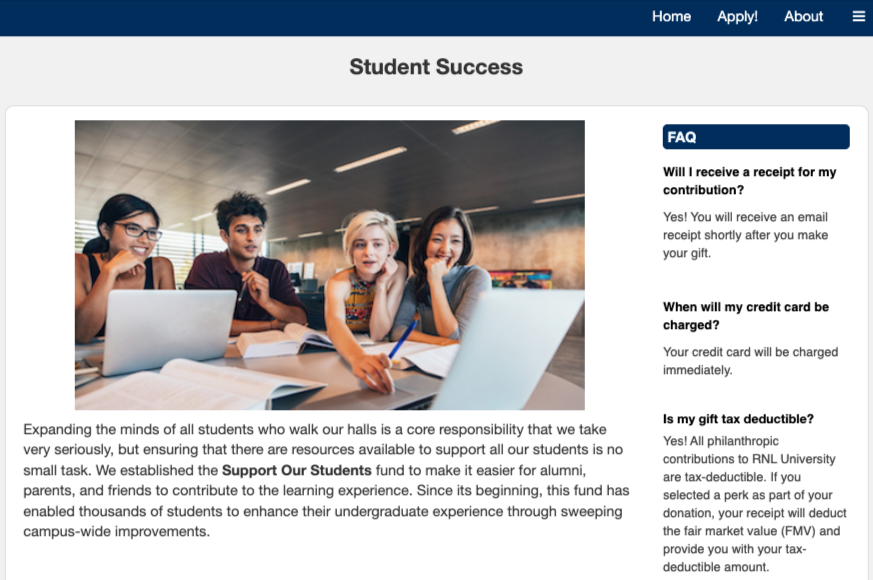 Making the switch can save you thousands, maximizing your fundraising ROI
Using RNL ScaleFunder's Evergreen online giving pages is going to save you thousands—potentially tens of thousands of dollars—as you make a switch to a better donor experience, reduced fees, and drop a secondary giving page. We partnered with a Midwest medical institution in fiscal year 2022 to replace their online giving form, and they raised more than $200,000 in their first four months using RNL ScaleFunder's online giving form, far exceeding their goals and expectations.
Finally, the support provided by the RNL Client Solutions Consultant team is unmatched. We're assigned directly to your organization, and can help you create the best pages for reaching your goals. If you're looking for great customer service, insight on strategy and best practices, and an online giving site that can be implemented quickly, let's chat.
Reach out to us to set up a time to talk and we'll share more examples of how our partners are now leveraging the RNL ScaleFunder platform as their primary give site.
Evergreen giving pages are available now to all RNL partners utilizing the crowdfunding module of RNL ScaleFunder.
Request a demonstration of RNL ScaleFunder for Crowdfunding and Giving Days
Find out how RNL ScaleFunder can power your crowdfunding and Giving Day campaigns to new heights. Ask for a guided demonstration and see why it is the leading crowdfunding platform for higher education fundraising.
---