fundraising
5 Tips for Giving Day Success From Over $1B in RNL ScaleFunder Giving
Giving Days are a key effort to excite your donor base. On the RNL ScaleFunder platform, we've helped organizations host hundreds of these special events, and seen over a billion dollars in results.
I took a look at recent campaigns and here are five key tips to help amplify your giving day success from some great RNL partner campaigns, and an inside look into the tech that make them possible:
Go viral with an easy path to social media sharing
You'll want your day to go take off on social media, and an easy and exciting hashtag is key. Focus on simplicity by using one hashtag that's easy to remember and spell. You don't want to overcomplicate the process for people to share about your day.
For example, I like St. Catherine University's giving day hashtag #GoKatieGive because it adds a little call to action to the fun. Think about what's fun, memorable, and easy for your audience based on your traditions and brand.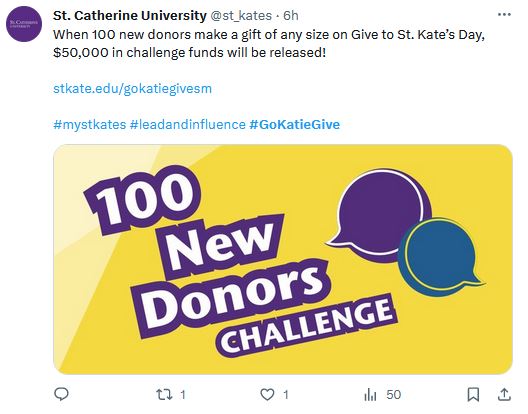 Image: St. Catherine University's awesome #GoKatieGive hashtag is a central part of their giving day social effort.
And showing all that great social activity is also key. That's why ScaleFunder is harnessing a new social aggregator with the award-winning Walls.io. This new feature, included for all ScaleFunder giving day partners, allows you to be more inclusive with your audience. In addition to pulling in social media channels, everyone can participate with the option for people to post directly to the giving day wall with comments and pictures.
RNL ScaleFunder partners: Be sure to attend our ScaleFunder & Walls.io roundtable on Nov. 6 to learn more. Just drop me a note and I'll send you an invite.
Ambassadors boost engagement, and are a massive giving day participation winner
Volunteer ambassadors who share your message and even recruit donors are a key component when sharing about your giving day. They are a top driver for social posts but their influence extends beyond that as well. Because social proof is the currency of today's givers.
When ambassadors share their personalized fundraising link, they are endorsing your giving day as a worthwhile cause. And tracking their personal fundraising results has a lot of benefits. For example, in the ScaleFunder platform, you can view your ambassadors' impact with reports showing the number of clicks, donors, and dollars each ambassador generates.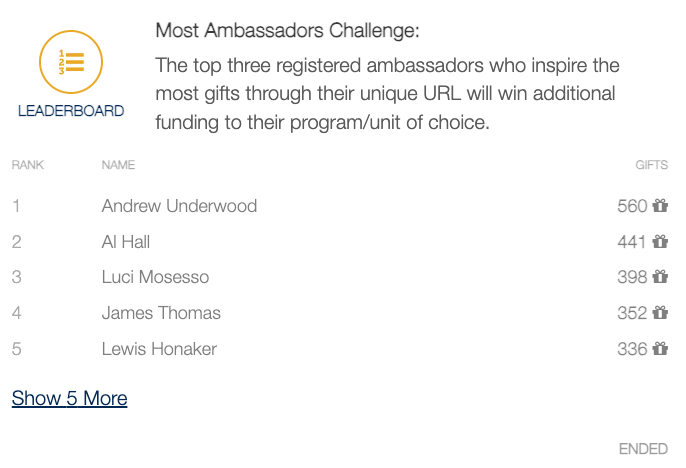 Image: West Virginia University has a dedicated and successful ambassador group, along with numerous leaderboards that drive success.
You can create an ambassador leaderboard event to spark some friendly competition, and even offer prizes. And ambassadors can influence more than one gift: RNL ScaleFunder ambassador links have been improved to allow a share link to be overwritten with a different ambassador's share link in giving data. So, an ambassador can influence a gift early in your day, and another ambassador can influence a second gift from the same person later and each ambassador will get credit. We see a lot of double gifts on giving days, especially with challenges. This feature allows for more accurate tracking and encourages ambassadors to share often in order to ensure their networks are using their ambassador share link.
Amplify your giving day message with omnichannel engagement across texting, email, video messages and direct mail
It should be no surprise that omnichannel engagement is an important factor for giving days. When we say omnichannel, we mean linking multiple methods of content, like email, calling, texting, video messages, and even direct mail.
For example, by using RNL QuadMail, our AI-amplified email solution which has integrations with RNL ScaleFunder, your institution can schedule a "drip" campaign focused on your giving day priorities. Basically, over the course of your day, messages drip out, building excitement. You can craft emails prior to giving day and these communications are sent automatically based on your pre-selected schedule.
The tech integration is crucial: donors to your giving day are removed from solicitation emails and can be automatically added to your stewardship and goal update communications. With all that automation, your team can focus on other priorities during your live giving day. Like, landing that special big gift that sends your giving day total to new heights.
And, don't forget to include your engagement center. If you have a student ambassador-driven omnichannel effort, giving days are a great opportunity to use students for both calling and texting to get gifts, and for personally thanking donors. For that, video messaging can be incredibly powerful.
With all the moving parts to giving day, it can be tough to coordinate all the omnichannel outreach alone, especially if you have staff turnover or tight resources. You don't have to do it alone: RNL has greatly expanded our turnkey giving day support solutions to help with this.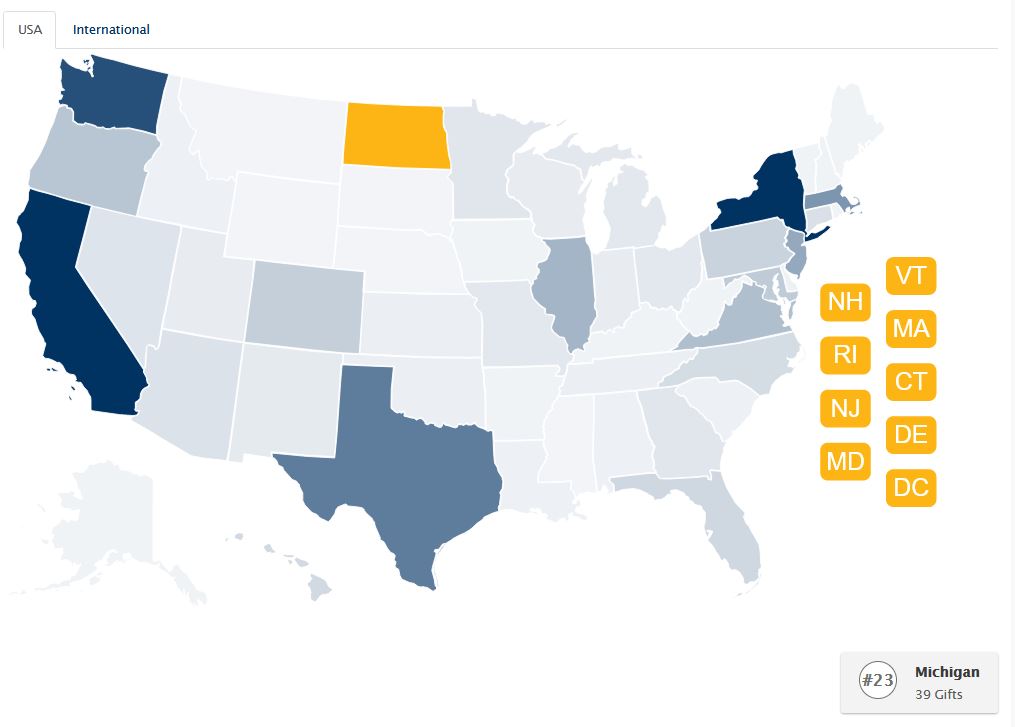 Image: One popular way to gamify your giving day is with the national map – encouraging donors to fill up all the states, and for ambassadors to reach out to friends in the states that remain.
Challenges, matches, and gamification help boost donors to take action on giving days
We all know the importance of gamification: with matches, challenges, and leaderboards, your giving day takes on an excitement and urgency that boosts the chance donors will actually give. These events ramp up energy and show donors how their gifts on giving day can create a ripple effect in philanthropy.
That's why we offer a lot of flexibility in the ScaleFunder platform for these events. From area-specific matches to time-sensitive leaderboards, you can really tailor events to your constituents. Once your giving day has ended you can use ScaleFunder's new event auto-complete feature to quickly close out matches and challenges, allowing you to share your final giving day numbers quickly and accurately.
Digital wallet lets your donors give in less than a minute via Paypal, Apple Pay, Venmo on giving day
We've been sharing the impact of this crucial tech quite a bit, but it's worth repeating. You have to make giving easy in today's world. Make sure you're using digital wallets to simplify the giving process for donors, allowing them to give using payment tech that's already linked to their device. Our preferred partnership with Braintree makes it easy to offer Apple Pay, PayPal, and Venmo.
Innovate in your giving day to keep things fresh and exciting
These are just a few key tips for amplifying your giving day success. We've helped hundreds of institutions have record-setting giving days, and a great thing about being a part of RNL ScaleFunder is that you get a dedicated consultant to help you, people who have been in your shoes and know the challenges.
Reach out to us today to explore what being part of the RNL family can do to make your giving day an even bigger success. We're ready to help.
Ready for a record-breaking giving day?
RNL Giving Day Powered by ScaleFunder now combines the most powerful giving day platform with strategic assessments, omnichannel marketing, and stewardship to make your giving day a major success and increase future giving.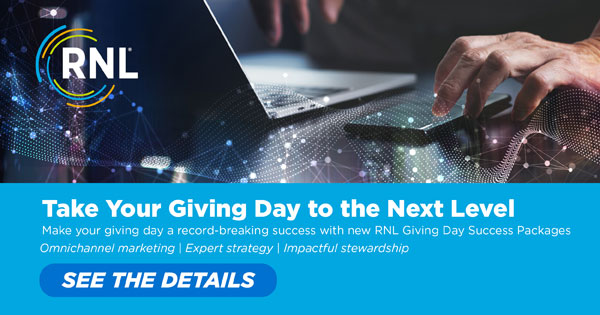 ---