fundraising
3 Things You Can Personalize for Donors Using AI-Driven Engagement
As I've shared before, artificial intelligence offers an incredible opportunity to personalize the donor experience. That's what RNL QuadWrangle is designed to do: catalog your content automatically and give you the opportunity send your constituents the things that they actually care about, based on what they've read and clicked on before. It's the same type of system that personalizes our recommendations on Netflix, Spotify, and Amazon, and it's now available in an easy to use way for fundraisers.
What can you actually send with this technology? Here are three things that show the power of AI to treat your donors as individuals based on their preferences.
Send personalized content in your newsletters, based on what donors actually care about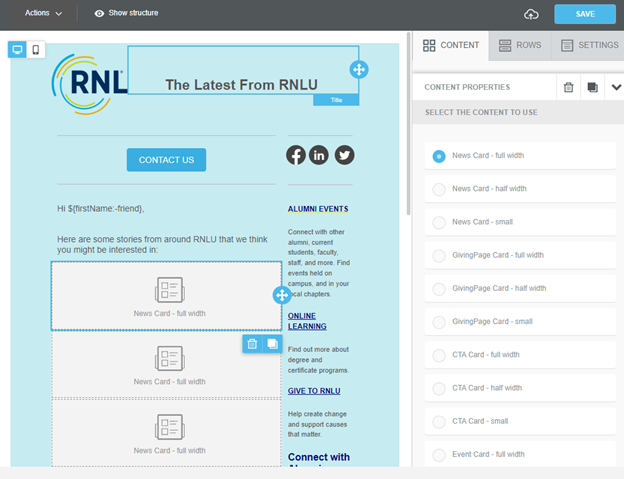 After your content is analyzed by the AI, you can personalize communications by setting variable portions of an email newsletter to populate based on what you know about a donor's interests. This starts with the information you already have on a constituent (in higher education, for example, their major), and it grows over time as the donor interacts with your communications.
So, for example, that College of Business donor who starts checking out medical research will start to get new content served up to match their current interest. Or maybe you have donors who gravitate towards the arts, or athletics. The AI automatically spotlights these areas, and we've found that newsletters with personalized components ultimately see double the open and click rates, because they're just better for donors.
Spotlight in-person and virtual events that match the interest of your donors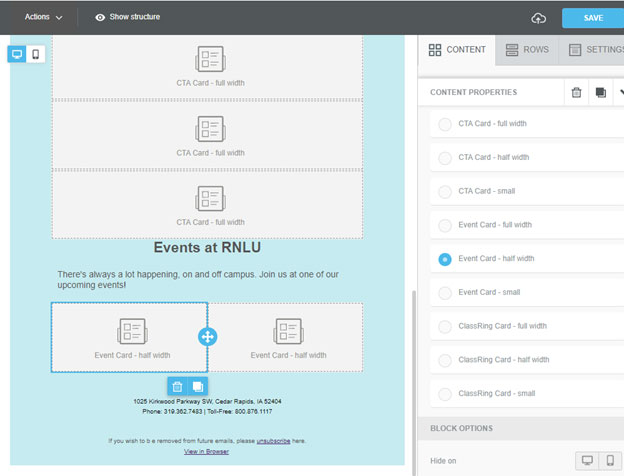 The idea of sending out dozens of variations of a communication to vary events based on donor interest, the location of the events, or the specific audience is impossible for most advancement shops. You likely do not have the people needed to create all the versions. Luckily, using data you already have on donors, AI can personalize which events are shared, giving the best possible opportunities to each donor.
Offer giving opportunities that surprise and delight donors in a personal way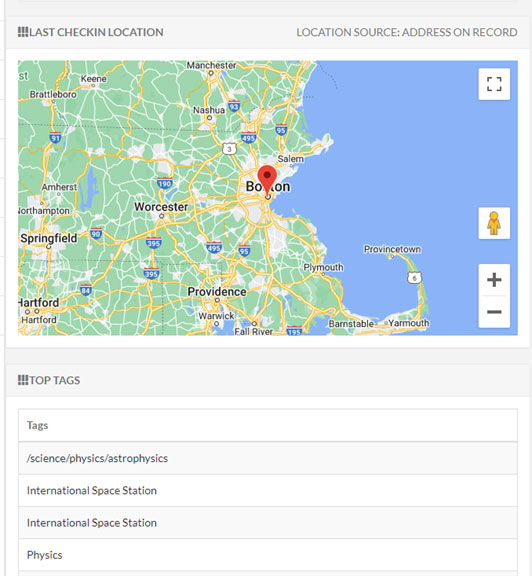 In the same way we expect our streaming platforms to give us content we're interested in, donors deserve to have giving opportunities that they care about highlighted.
That's the great thing about AI—it can tailor options directly to the donor interest. Sure, you'll want to spotlight your key campaign priorities, but telling the AI to offer a few giving opportunities from your giving pages, or any ScaleFunder crowdfunding or giving day campaign, can greatly increase the chance that donors take action. Because you might not know that that business grad might also be interested in helping meet mental health needs or fund a student organization's solar car competition.
It's time to start personalizing the donor experience, and it's never been easier.
If you're ready to modernize your donor experience, and start sending personalized content, event invitations and giving opportunities, contact us to learn more about personalizing donor engagement with the help of AI. Yes, you can send every donor an individual communication based on their demonstrated interests. We have some very easy to train robots, ready to help.
See how you could engage more donors with the power of AI
Watch this overview of the RNL QuadWrangle AI-powered platform to see how you can engage donors with curated content that's more relevant, exciting, and accessible. Then ask for a walkthrough to learn more about the:
AI insights
Dynamic emails
Event management
Content curation
Giving pages
---