fundraising
3 Strategies to Boost Your Giving Tuesday Results
#GivingTuesday is fast approaching and your donor engagement strategy is important for this global event. Whether you're running a full-blown campaign, or just rolling out the red carpet to donors who might want to give on #GivingTuesday, you want to show excitement, make it easy to give, and make sure you don't get lost amidst all the other great organizations that are reaching out. Here are 3 strategies that will make a difference for your fundraising on Nov. 30.
1) Use a donor-friendly platform or landing page on #GivingTuesday
Your usual giving page won't always be the best landing spot for donors on a day like #GivingTuesday. With many donors giving to multiple causes on this special day, you want it to be highly engaging and easy for donors to complete a gift. Some institutions run larger, giving day-style campaigns, with multiple giving opportunities, and even challenges and matches. You can also utilize a crowdfunding-style page for #GivingTuesday, with deadline being the end of the day.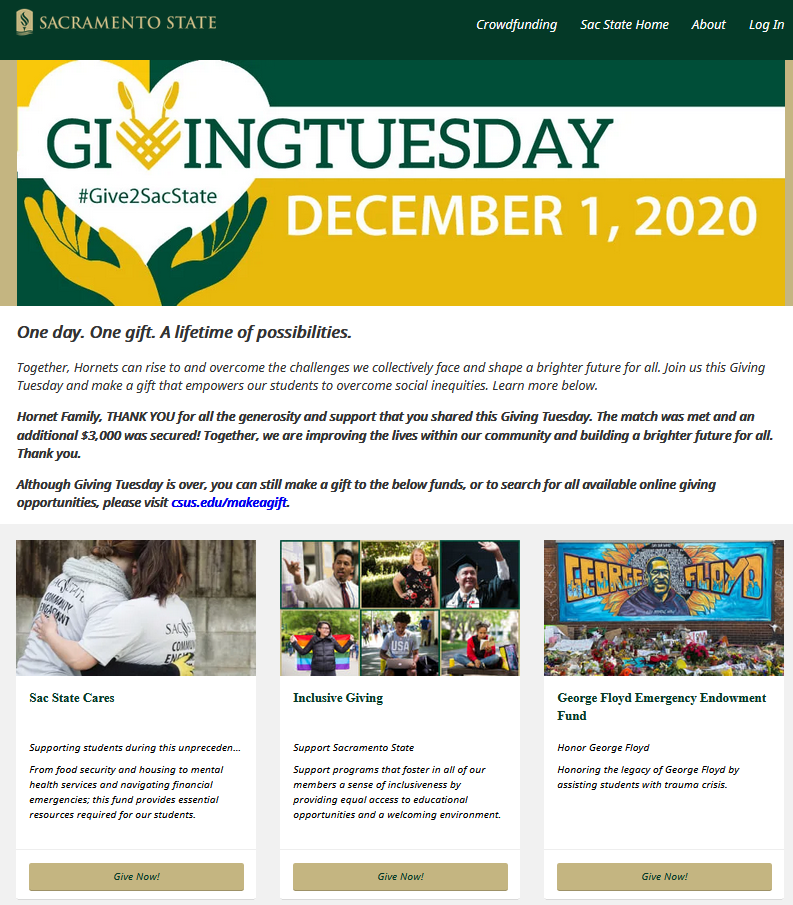 Sacramento State University's great #GivingTuesday landing page on the RNL ScaleFunder Platform
2) Boost your results with targeted digital advertising for #GivingTuesday
Leading up to #GivingTuesday, you can provide your efforts a "digital boost" by running digital ads across web sites, social media and apps to your donor base. Strategy is key, because of a flood of competition for ad space on Cyber Monday and the shopping season – but ads leading up to and on your big day can make a difference. We've seen digital advertising provide a crucial boost to appeal response when sent in coordination.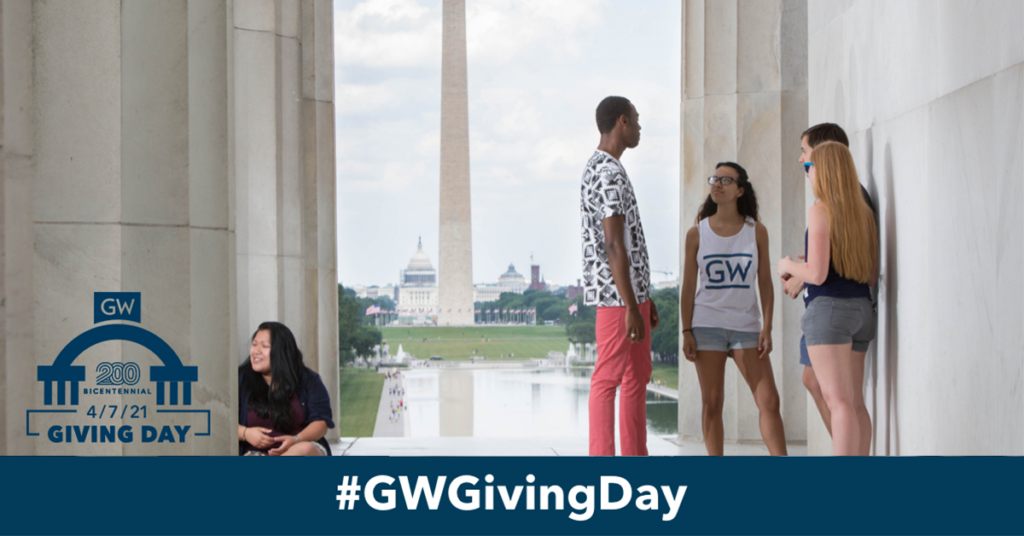 Example of an Instagram ad from George Washington University in advance of their successful giving day.
If you don't currently do digital advertising, or need help crafting a plan to boost your #GivingTuesday outreach or other campaigns,drop us a line. We have a lot of experience crafting successful campaigns.
3) Don't forget other channels on #GivingTuesday
#GivingTuesday is dominated by online giving, but the outreach to donors can be highly effective across multiple channels.Strategies that work include:
Making calls to donors, even leaving messages leading up to #GivingTuesday on the big day
Sending personalized video (ThankView) to specific donor groups from a key member of your community, including faculty, students, and fellow donors.
Direct mail communications (postcards) that allow donors to respond early via mail or lead them directly to your #GivingTuesday landing page.
#GivingTuesday is a global movement, and you'll see high donor interest on this important day.It takes a coordinated strategy and a lot of moving parts to maximize your success, however.You'll be competing with a lot of other great causes.The work you do leading up to Nov. 30 to set up your donation platform,let donors know that you're participating and make the case for giving can greatly amplify your results.
The RNL donor engagement team and our experienced consultants are ready to help, no matter how big your #GivingTuesday effort is.Drop us a line today and we'll talk about the best strategy to create an exciting day for your donors and cause.
Talk with our digital giving experts
RNL works with institutions on digital giving and donor engagement, including crowdfunding, giving days, and omnichannel fundraising. Set up a time to talk with our fundraising experts to find your optimal strategies.
---