fundraising
Fundraising During a Pandemic: $1M in Commitments Tells Us That Remote Engagement With Student Ambassadors Works
Update: since the publishing of this blog, donor commitments through remote engagement have now exceeded $2 million.
In March and April of this year, we accelerated a transformation. We were already set to premiere RNL Engage, the platform that combines advanced analytics, calling, P2P texting, personalized video and integrated email to create a true "digital engagement center." Then, the pandemic hit, and just about all physical centers had to close temporarily. We moved quickly to implement remote engagement, allowing RNL partners to continue donor outreach, no matter where their student (or any) ambassadors are. Aided by this fundraising digital platform, our partners in higher education have had a lot of success.
Here's how remote engagement centers, the thing we used to call "phonathon," have done during the COVID-19 pandemic.
With 45 RNL partners actively engaging donors, here are the results for remote engagement as of 6/17: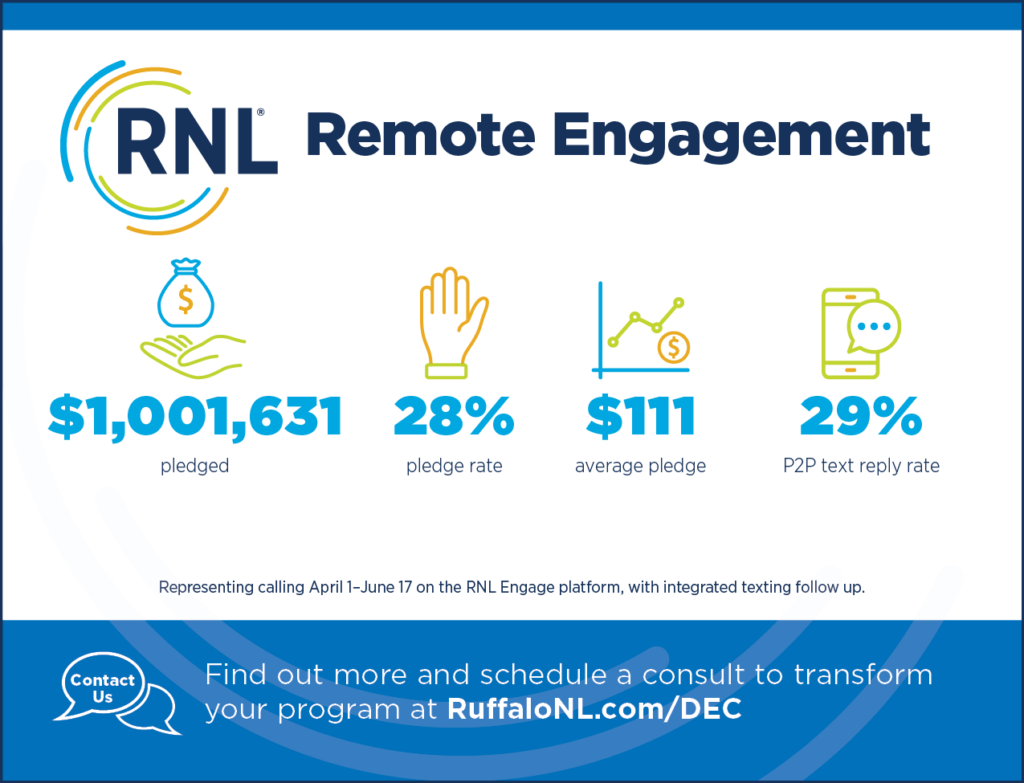 $1,001,631 pledged​
28% Pledge Rate​
$111.06 Average Pledge
29% P2P Text Reply Rate
This average pledge is in line with what we experienced before the pandemic. The pledge rate is higher. Some of this is due to a focus at the tail end of the fiscal year on higher-yield prospects. But it's also clear that the flexibility of remote calling times is helping.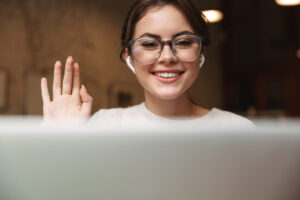 The outreach through other channels like text, email and personalized video are also making a difference. Text message that are integrated with other channels, like a text after a pledge call, received a whopping 30% reply rate. We also saw huge impact of text on giving days, and #GivingTuesdayNow on May 5.
A lot of this texting is follow up to drive donors right to online giving. Text messaging is highly effective at this conversion.
Overall, programs that have adopted omnichannel engagement, combining calling with text, email and video, are making 5 times or more total contacts per hour than phone alone. This is a huge transformation, and massive increase in outreach.
Watch the RNL Digital Engagement Center webinar recording to hear from a student ambassador and team leader, and see how remote, omnichannel engagement works.

Remote donor engagement is flexible, high ROI and can't be interrupted.
When we say engagement center, we no longer mean a room. The "center" is now a platform, which allows your ambassadors to call, text, send videos and engage donors from anywhere. We're no longer tied to standard shifts. We're also able to bring in ambassadors who might have found it difficult to take the job before.
There's no doubt that the pandemic has put stress on fundraising programs. But from the need to adapt quickly, we've unlocked something that was a long time coming: real flexibility in how we contact donors, and the ability to personalize that outreach at scale.
You can now recruit, train and coach your student ambassadors remotely. With many institutions modifying their calendars for the Fall, and many physical centers unable to be at full capacity due to social distancing needs, this is crucial. A majority of fundraisers have told us that resources will be tighter this year, but they'll still be expected to meet the same or greater goals. The flexibility of remote engagement lets you keep moving on donor outreach to meet those goals until we can all be in the same room again.
Contact us today to craft a plan that includes flexible, remote engagement as part of your FY21 outreach. We'll share what your peers are doing, and how you can make the transition to a remote-capable, digital engagement center quickly and greatly increase your ROI.
Level Up Your Donor Engagement

See the RNL Digital Engagement Center, a revolutionary approach to donor engagement, powered by advanced analytics and omnichannel outreach.
---