enrollment
What the Grand Canyon Taught Me: Getting Real About Goals, Failure, and Digging Deep

This is a guest blog by Stuart Jones, vice president for advancement and enrollment management at Southern Utah University. Stuart oversees the fundraising, marketing, and enrollment efforts at the university, and we have invited him to share his insights about the strategic enrollment planning process in this this post.
The Grand Canyon has always been one of my favorite places. During the pandemic, I finally had the chance to hike from rim to rim to rim—about 50 miles round trip with an elevation gain and loss of 11,000 feet. It was a challenging journey, but as such, it is an apt metaphor for the large chasm that can lie between what we know and what we do.
The culture of higher education is steeped in knowing. We surround ourselves with great data which we refresh on a cycle. It is the doing that often wiggles free and for excellent reasons: Doing is scary, painful, and tricky to navigate. But that is what this blog post is about. And that's what I'll be presenting at the RNL Strategic Enrollment Planning Forum in Savannah December 6-7.
Strap into your hiking boots: We are going in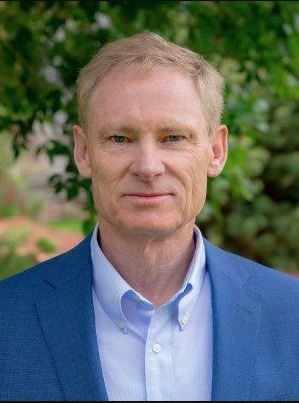 Southern Utah University (SUU) is inconveniently located three hours south of Salt Lake City and two-and-a-half hours northeast of Las Vegas. Sagebrush plants outnumber our city population of 30,000 residents. Perhaps needless to say, SUU is not an easy enrollment undertaking.
In 2014, our enrollment had been flat—if slightly dropping—for four years when our new president decided we should turn it around with either a tuition reset or a revised financial aid strategy. We chose the latter. Almost magically, we landed 1,000 more students with 300 more first-time, full-time students. I remember thinking: "Well, that was easy." My confidence lasted until the CFO reported that even as we had taken on 1,000 more students, net revenue was down 10 percent.
I had inadvertently created a world of hurt for a university that was not only my alma matter but where my father and grandmother had taught. I was horrified. I was embarrassed. I had visions of being credited with the downfall of the university and the town I loved. I was in the depths of the chasm.
Every great change begins with pain.

Sports Psychologist Dr. Michael Gervais
Having been to the depths, I can say that one of the gifts it offers is humility and the willingness to talk to other people and experts who know far more than what I knew. Another gift was the determined motivation to dig our way out of the hole. We decided that rather than cutting our way to financial viability, we were going to try identifying and investing in strategies that would pay dividends for the university.
Preparing for the ascent
We engaged RNL's Strategic Enrollment Planning process in 2015 with what we called "Shark Tank" (like the TV venture funding show).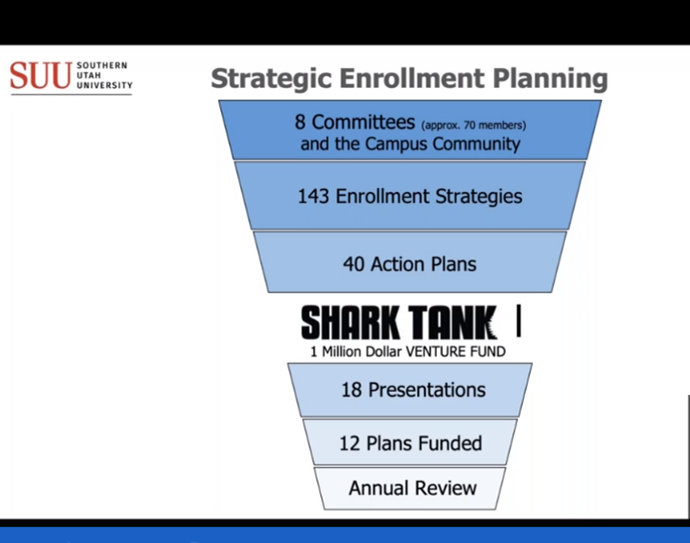 We organized an array of eight committees with 70 members of the campus community to propose ideas for enrollment strategies they thought could be successful.
The committees generated 143 ideas. Of these, the cabinet selected 40 proposals to move forward with more detailed action plans.
We conducted an enrollment analysis as well as a financial analysis over 5-7 years and found that if we dipped into that first year into our reserves, we would have $1 million to invest in a venture fund for the most promising Shark Tank ideas.
We funded 12 plans which contained proposals to do international recruiting, expand summer school, broaden our awareness in a targeted set of states, increase online programmatic offerings, and start a peer mentor program to improve retention.
Beginning to see the light with an ROI of 442%
After two years of challenging work and with the total investment of $1.2 million SUU had:
Revenues of $6.4 million
Increased enrollments of 985 students
A total ROI of 442 percent
Since that first round of SUU Shark Tank, we have undertaken the exercise two more times. Across all three exercises, we have celebrated the following progress from where we started at the bottom of the chasm:
Applications have more than doubled.
First-time, full-time students increased 74 percent.
Retention is up 9 points to 74 percent.
Overall enrollment increased 83 percent.
The academic caliber of students—measured by ACT/SAT test scores and GPA—has risen.
View from the edge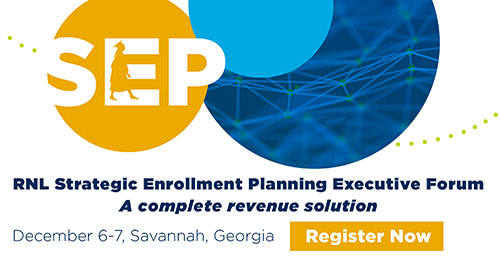 Unlike a mountain, the top of the Grand Canyon is not the top—it is the edge—and from that edge, the view of the chasm below is spectacular and the options for different paths are countless. Knowing which paths to take is also critical to avoid getting lost in the vastness of it all.
I am glad that SUU did not get lost along the way, and that the university is traveling forward thanks to our efforts with strategic enrollment planning. I invite you to join me at the RNL Strategic Enrollment Planning Executive Forum December 6-7. I'll share more about SUU's journey and—importantly—the transferrable lessons I have learned along the way. Click here to register.
---