enrollment
What Enrollment Managers Need to Know About College Board Connections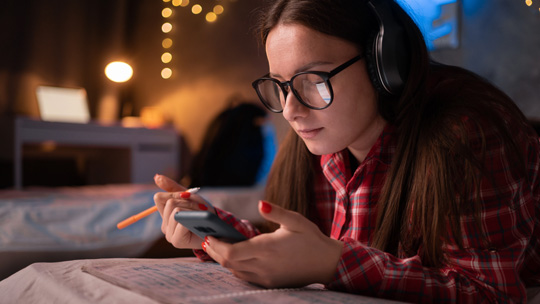 "Search is dead." I suspect you may have heard this sentiment. I know we have. And while we don't subscribe to that belief, our team at RNL agrees that student search is evolving. Regardless of any opinions toward this shifting landscape, it is shifting, and it is an evolution that RNL is helping our campus partners stay ahead of.
The most recent step in this evolution comes from the College Board following their announcement of Connections—a service that flips the script on how colleges and universities can locate, communicate with, and identify interested students at the top of the funnel.
Our RNL teams have been working closely with the College Board since they announced Connections in March and are ready to support RNL campus partners using this new tool. Here is what we know and how we can help your institution.
What is Connections?
Connections is a service tied to College Board's BigFuture School mobile app that allows prospective students to opt-in to receiving information only from colleges of their choosing. Unlike traditional student search services, colleges and universities will only receive a student's information through Connections if a prospective student decides to "raise their hand" in response to in-app messaging campaigns. Their Personally Identifiable Information (PII) remains hidden from colleges communicating with them until they take this action.
This shift from the College Board is primarily a response to data privacy legislation that dictates how student information can be shared when it is collected digitally and during the school day.
This means that traditional student search services are not going away now. Rather, Connections provides an additional channel for colleges to build their enrollment pipeline.
Which student audiences are available through Connections?
While traditional search purchases will still be available, student records available for licensing will now be comprised primarily of students who participate and opt-in via:
SAT National (weekend) administration registration
AP Exam registration
Students who create CB.org or BigFuture accounts
SAT Practice Test takers
The College Board estimates that these student populations will represent about two-thirds of students in the College Board network in the 2023-2024 subscription year.
Students who take in-school assessments will initially only be available through Connections; however, they may still opt-in to traditional search. Those assessments include:
PSAT/NMSQTP
SAT 10
SAT School Day
The College Board estimates that these student populations will represent about 1/3 of students in the College Board network in the 2023-2024 subscription year.
How to find and communicate with students through Connections
Connections uses "Student Audiences," a combination of:
High School Graduation Year
Geography (29 consolidated U.S. Geographies will available)
5 Test Score Band options.
The number of available Audiences corresponds to subscription plan tiers, ranging from up to 3 audiences for Access A plans and up to 290 Audiences for Access H plans.
Once Audiences are built, colleges can apply a combination of an additional set of nine filters (GPA, Graduation Class, Score Minimum, State, Zip Code, Race/Ethnicity, Major, Gender, and Landscape Data) to build segmented communication plans with up to 12 messages. Think of these in-app messages as a hybrid between an email and a display ad. From the user experience we have seen, strong headlines, bold images, and punchy copy will reign supreme.
Again, this communication will be blind—you'll know some core attributes and demographics of the students receiving your messages—but until they fill out a request for information, their PII will remain hidden.
What to consider moving forward
If colleges are planning to use College Board in their search strategy, we highly recommend selecting a subscription plan as soon as possible. Purchasing a subscription plan is necessary to license names from the College Board network and participate in Connections. The days of purchasing records ad hoc from the College Board have passed.
Year 1 of Connections will be a foray into a bit of unknown territory for all parties. This additional tool will require additional staff hours, workload, strategy, and creative assets for your institution—especially during one of the busiest times of the year. But facing uncertainty is always better with a strong partner. RNL's team of experts are ready to assist. From translating existing search models to a Connections audience strategy to building compelling in-app creative to support and monitoring through implementation—we have your back.
Set up a call with an RNL enrollment expert to see how we can help your institution navigate Year 1 of Connections with confidence. You'll be ahead of the enrollment curve and ready to not miss a beat building your class.
Ready to reach your enrollment goals? Let's talk how
Our enrollment experts are veteran campus enrollment managers who now work with hundreds of colleges and universities each year. Find out how we can help you pinpoint the optimal strategies for creating winning student search campaigns, building your inquiry and applicant pools, and increasing yield.
---