enrollment
What Do Graduate Non-Degree Students Want?
Watch our discussion of this research and strategies for recruiting graduate non-degree students.
With the modern workforce becoming more and more competitive and the pace of change in the demanding skills and competencies unheard of a short time ago, it is more important than ever to have the credentials to back up your resume. Gone are the days when a bachelor's degree alone could ensure a job, but a master's is also a time consuming, expensive, and complicated way to gain skills.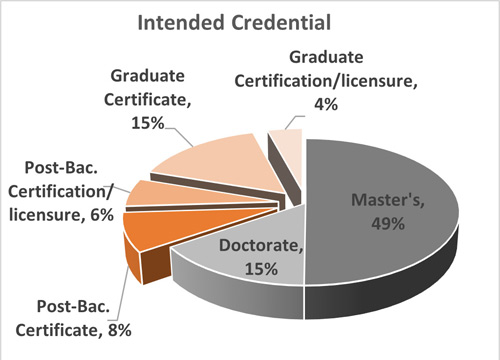 For all of these reasons, more students than ever are turning to non-degree (but credit-bearing) credentials designed to impart skills and competencies in demand among employers. Credentials are being offered by a wide variety of organizations: boot camps, academies, online training platforms, and they are all booming. Why? Because many students think that these types of organizations are more responsive than colleges and universities.
Although credit-bearing graduate education is still a master's degree market (49 percent), no less than four different types of non-degree study now comprise one-third of that market—with graduate certificates being the largest share (15 percent).
In my market research studies for universities, I am seeing an uptick in demand for market data to inform institutional decisions on which certificates, certifications, and other micro-credentials should be offered. Market research sources of the caliber that would mitigate potential losses are spotty at best today—this market is just too "young" to have a data trail that can be used to assist in decision making. My advice is two-fold: only offer such credentials when you have employers signed up to send students to them (and therefore underwrite the costs AND ensure that content is relevant), and ensure that the offerings conform to what we DO know.
So what do we know about graduate non-degree students?
There are simply too many choices available to students in need of certificates, certifications, and other non-degree credentials to not conform to how they want it. To this end, we analyzed the findings from 645 respondents in our 2021 survey of prospective graduate student who indicated that they plan to enroll in a non-degree program. We present the data in two categories: Post-Baccalaureate Certificates/ Certifications and Graduate Certificates/Certifications. We then compare these findings with patterns among all graduate students.
Formats: Students seeking graduate certificates/certifications are even less likely than the full graduate sample to plan to enroll in a fully classroom program. While 21 percent of all graduate students plan to do so, only 11 percent of Graduate Certificate students will. Post-Baccalaureate Certificate students indicate the strongest demand for 100 percent online programs, with 38 percent preferring this format compared with 31 percent of all graduate students, and 31 percent of graduate certificate students.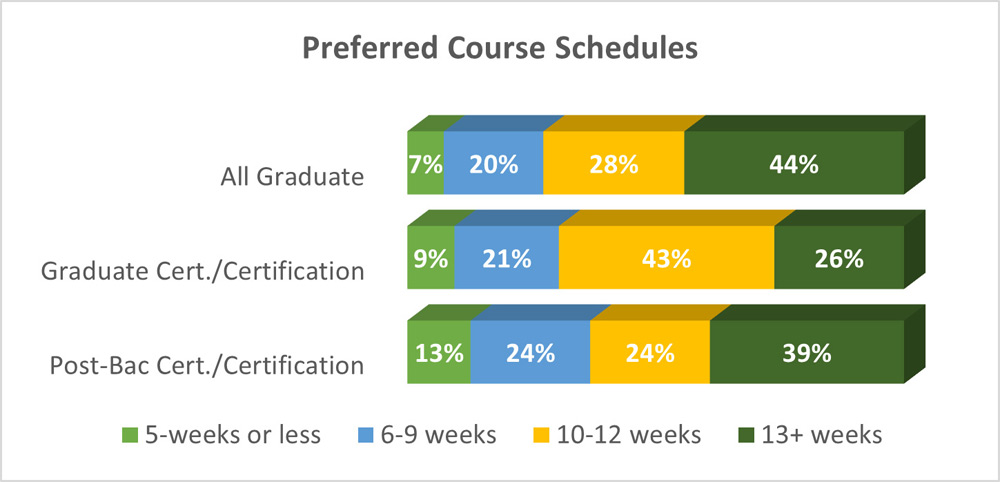 Schedules: Graduate Certificate students are most likely to prefer enrolling in programs in which courses are moderately accelerated (10-12 week), while about one-quarter want to enroll in semester-length courses. There is greater interest in semester-length courses among Post-Baccalaureate students (39 percent), but still less than the overall graduate market (44 percent). Perhaps most interesting is the level of demand among Post-Baccalaureate students for the most highly accelerated courses of nine weeks or less.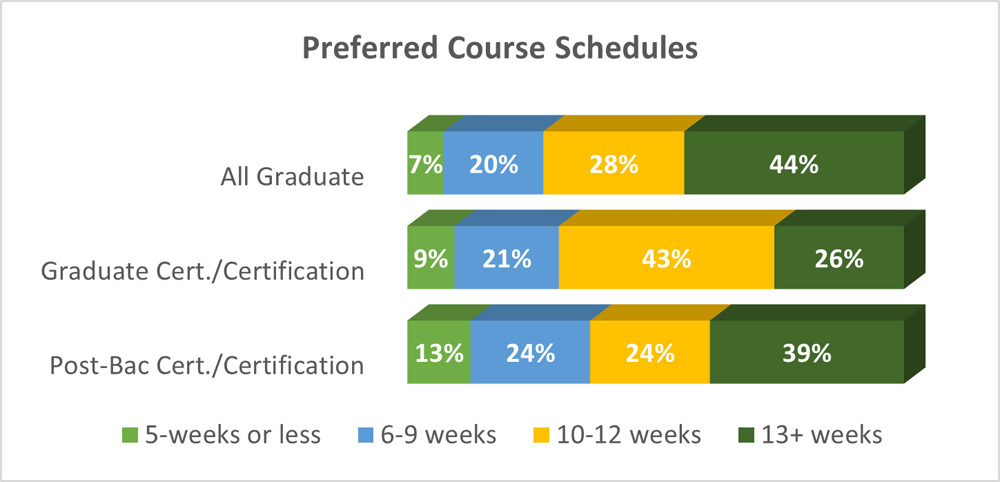 Subjects of Study: I have long advised (although I couldn't prove) that the subjects that are in highest demand among non-degree students align with degree demand—particularly at the master's level. Why? Because the overwhelming majority of students at both levels are studying to advance their careers, and while there are some differences, trends will be similar. Among all graduate students, programs in Business lead (16 percent market share), followed by Health Professions (15 percent market share), and then Computer and Information Sciences (12 percent).
Among non-degree students, Business and Health Professions also lead student demand—with Post-Baccalaureate students most frequently planning on a Business subject followed by Computer/Information Sciences, while Graduate Certificate students most frequently plan on a Health Professions subject followed by Business. Interestingly, Computer/Information Science subjects do not make the top three subject areas among Graduate Certificate students, and are in fact seventh in rank order of demand. Counseling/Psychology subjects are third most common. While the survey did not ask about specific majors/topics (although our next national study will), this is a start in gaining an understanding of non-degree demand.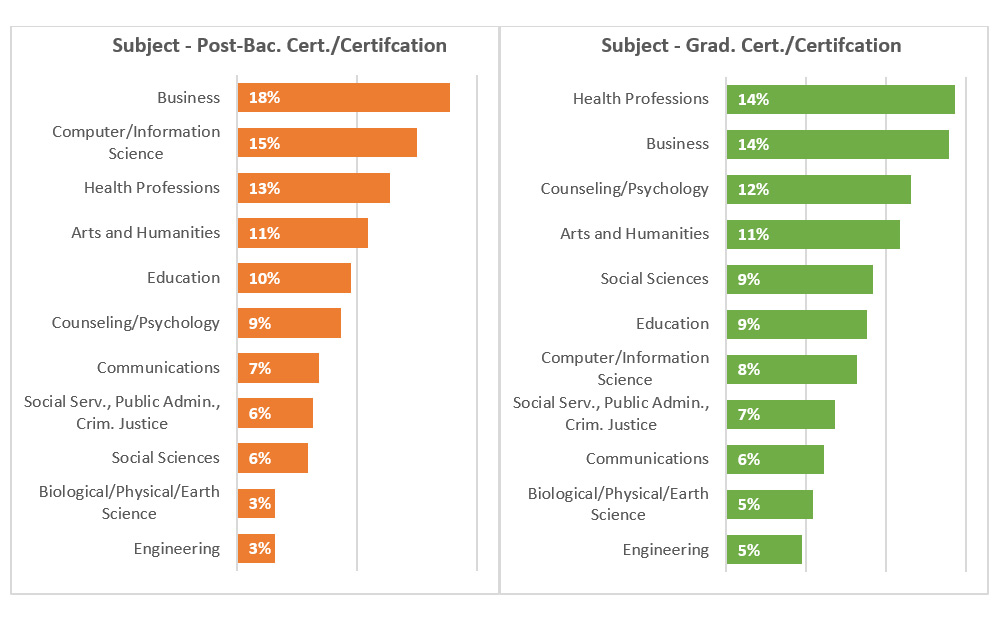 Factors in the Enrollment Decision: The factors most important to non-degree students in their enrollment decision vary quite considerably from the graduate market as a whole. The match between program content and personal interests is important, but less so among non-degree students than the overall graduate market. Career opportunities and positive job outcomes of graduates are also important—in fact the most important factor for Graduate Certificate students. Having the lowest tuition and cost is the most important factor for Post-Baccalaureate students, while the institution's reputation is of significantly less importance to these students than to either Graduate Certificate students or the overall graduate market. Finally, several factors related to flexibility and convenience (see red box below) are of considerably greater importance to non-degree students than to the overall graduate market. Shorter courses, format options, and year-round study are ways that institutions can make their programs as flexible as possible, and they clearly represent unique areas of differentiation for institutions seeking to grow non-degree graduate enrollment.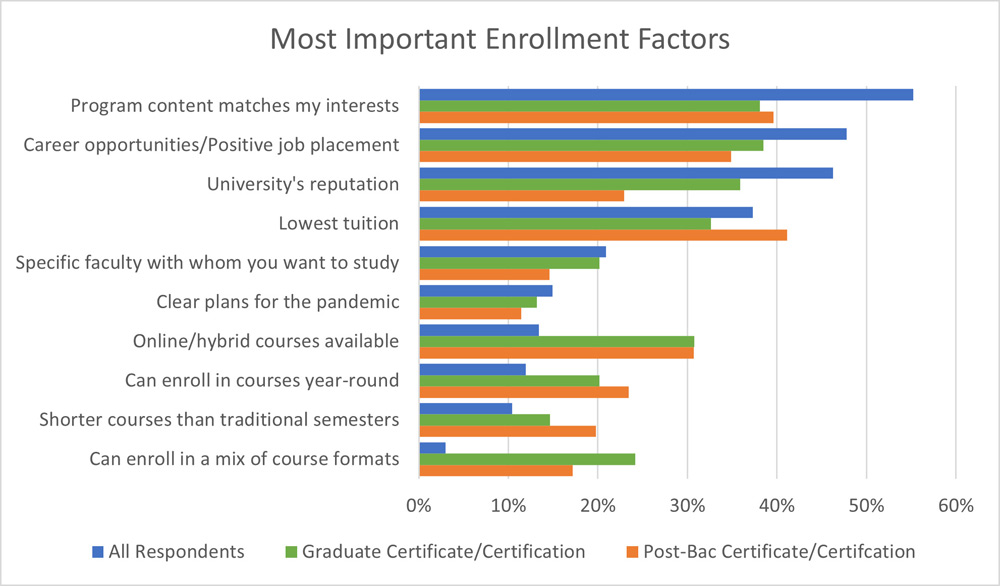 How they search: Non-degree graduate students are not only highly likely to begin their search online, but they are also highly likely to see these digital sources as very influential in advancing their decision making. Among non-degree seekers, no early information source was used by less than 85 percent of respondents—a finding itself—but those that were rated as being influential or very influential may be a surprise. Institutional websites lead in all categories, but all of the top five information sources (and more) are more likely to be influential to Graduate Certificate students than their Post-Baccalaureate student counterparts or the graduate student market as a whole. It is clear that a multichannel digital marketing campaign is essential to non-degree programs, particularly when offering graduate level certificates.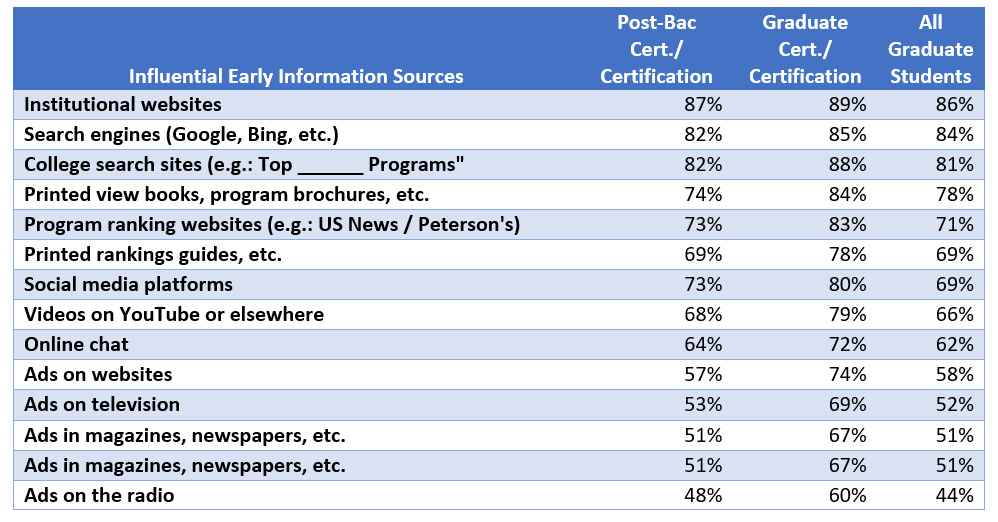 Success in the graduate non-degree market will require some heavy lifting for higher education institutions
Not only will institutions be well served by partnering with employers both in the development of the content AND the enrollment of students in graduate non-degree programs, but for these programs to successfully compete with "vendors" outside the higher education sector (to which students are enrolling in droves), institutions will need to create programs that are more flexible, convenient, and employment-focused than ever before.
If you would like to discuss these findings and their application to your institution, please email me and I'll be happy to arrange a time for us to talk.
Thanks to Jake Davidson, RNL Graduate and Online Research Intern, for assistance in the development of this blog and the organization of data.
Complimentary consultation on graduate certificate data
Want to dive into the data we have on graduate certificate seekers or interested in discussing how you can research prospective students for non-degree programs? Please email me and I will set up a time for us to meet.
---