enrollment
Understanding the enrollment motivations of college students
What are the driving factors that influence why students enroll at your institution? The reasons may vary from student to student, but I am sure if you conducted a poll on your campus, you would find some general themes that ring true. Once you understand the motivating factors for your current students, you can focus your messaging for prospective students to address the factors that may be top-of-mind as they are considering their higher education options.
Every year, hundreds of campuses administer the Student Satisfaction Inventory™ (SSI) to their students. In addition to more than 70 items rated for importance and satisfaction on the general student experience, the SSI includes nine items that address factors in a student's decision to enroll. The 2012 national research report Why Did They Enroll?: The Factors Influencing College Choice focuses on data from more than 55,000 students who completed the SSI in fall 2011 at more than 100 public and private four-year and two-year institutions, with a special emphasis on the responses of nearly 22,000 first-year students.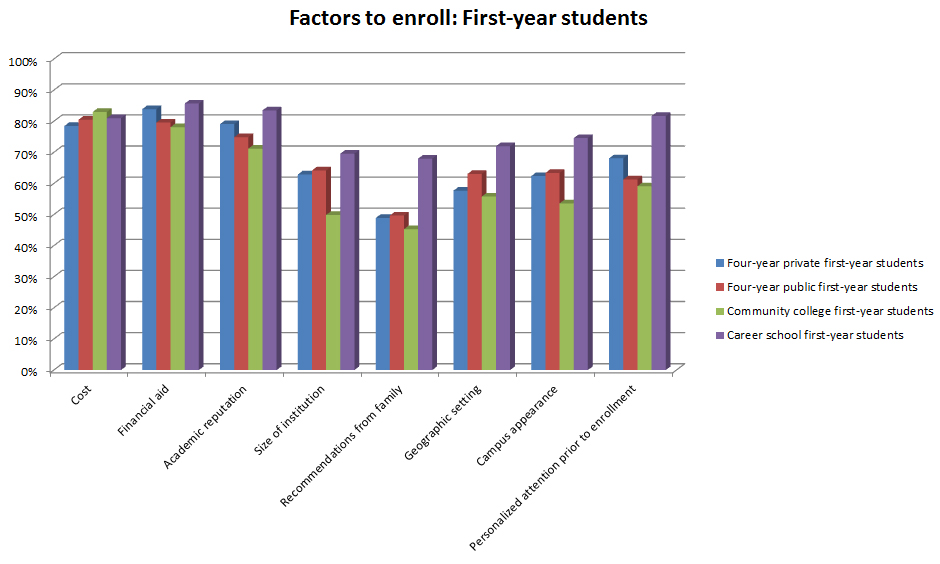 What is most important to first-year students?
Cost, financial aid, and academic reputation were at the top across all institution types. These three factors played a critical role in influencing students' enrollment decisions. The other factors included in the list of choices were all more important to students at career schools than to students at four-year private and public institutions or students at community colleges, especially personalized attention prior to enrollment. It should be noted that employment opportunities, which is a unique item on the career school survey and was not included in the chart above, was the top enrollment factor for career institutions, with 89 percent of students indicating that it was important or very important to their decisions.
Certainly the cost of attending a college—regardless of the type of institution attended—played a significant role in students' enrollment decisions. With students attending public four-year and two-year campuses, cost was the dominant factor. At four-year private colleges, it ranked third behind academic reputation. At two-year career schools, cost—while still important with an 81 percent score—was fifth behind employment opportunities, financial aid, academic reputation, and personalized attention.
Financial aid joined cost at the top of the enrollment factors and was the top issue for students at four-year private campuses. At two-year private institutions, financial aid was a close second behind the employment opportunities, with nearly 86 percent saying it was important. Clearly, economic issues—how much will their education cost, how will they pay for it—weighed heavily on the minds of students. Even the top enrollment factor from students at career schools, future career opportunities, indicates a strong economic concern.
Academic reputation was also a strong factor, ranking as one of the top three enrollment factors across all institution types, with 70 percent of students indicating it was important or very important.
The full enrollment factors report explores the data further by comparing the perceptions of first-year students with their upperclass counterparts. It also slices the data to see the different perceptions of students who indicated that they were attending their first-choice institution as compared with the students who believed themselves to be at their second- or third-choice institution.
How these findings impact your work in student recruitment and retention
What do these results signify for campus professionals? The results suggest three priority action items:
Prospective and current students want to know how much their education will cost. Your Web site and other campus communications should make this information accessible. If you are changing tuition, communicate this clearly to current students, as well as why tuition is changing and how students will benefit from the change. Be sure to make full use of federally mandated tuition calculators to provide complete, current information to prospective and current students on your Web site. (Noel-Levitz offers a net price calculator that can be customized for campus-specific merit aid.)
Make financial aid information easy to obtain. This goes beyond the first year of enrollment—students likely want to know how much financial assistance will be available during their entire campus careers. Information on other financial resources, such as scholarships, is also important.
Use your academic reputation to express the value of your educational offerings. Students need to know that an education from your institution is worth the investment. Making the strengths, features and benefits, and outcomes of your academic offerings clear will go a long way toward helping prospective students decide to enroll with you, as well as convincing current students to persist and graduate. Your faculty and staff should also express your institution's academic excellence in their interactions with students.
In addition, keep in mind that personalized attention prior to enrollment also plays an important role, especially at private institutions. Delivering personalized attention at every point of contact—in the mail, online, over the phone, and on campus—can make a big difference in persuading a student to enroll and to persist.  It's also an area where your campus has a unique opportunity to differentiate itself from other institutions. (Note:  the recent E-Expectations trend report, The Communication Expectations of College-Bound High School Students, may also provide insights on ways to personalize your message for prospective students.)
Location, size, and setting, while not unimportant, do not rank nearly as high as these other factors. If you tell students what it will cost, what financial assistance will be available, and the value of your educational offerings, you will address the top three elements that impact enrollment decisions.
What do you know about enrollment factors for your students?  How is your institution using these data to influence your admissions activities?  Send me an e-mail or leave a comment.
---