enrollment
Top strategies for college transfer student recruitment
Co-written with Todd White of Noel-Levitz
While some institutions have met their new student enrollment goals as of May 1, most face the challenge of summer recruitment, and transfer students are a big part of this mix. College transfer students are increasingly important in meeting institutional enrollment and revenue goals. However, in a time of nationally declining community college enrollments—along with other demographic changes such as diversity, access, and affordability—colleges and universities face an increasingly daunting task in the recruitment of transfer students. In our work to help colleges meet the needs of students and their enrollment goals, we advise taking an individual approach to recruiting transfer students. In an earlier post from Gary Fretwell, "A 10-point checklist for recruiting college transfer students," he asks, "Do you have dedicated admissions staff who are trained to respond to transfer student issues?" This is critical to college transfer student recruitment, because each individual transfer student comes to your institution with a broad array of experiences and characteristics. Your staff first has to understand the nature of transfer students and how they differ from traditional undergraduates.
College transfer student characteristics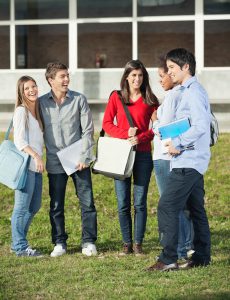 Transfer students come to your institution with a frame of reference, their previous college experience, which can encompass a variety of experiences. They may be transferring following two successful years at a community college, looking for a fresh start after a poor experience at their first institution, or returning to college after stopping out for any variety of reasons. They also tend to be more focused, having previously selected a major or program of study, and have an idea of the career they want to enter. They often have career, family, financial, and other obligations that can compete with their educational plans. Transfer students may have other characteristics that create enrollment challenges for a campus, such as:
More likely to be nontraditional students, first-generation students, working students, and students with high financial need;
Experiencing transition issues (i.e., "transfer shock");
Lower levels of student engagement than traditional first-year students;
Greater need for developmental coursework early in their academic career; and
Veterans returning to civilian life.
Furthermore, the uncertain economic climate and ability to pay for college may have driven additional students to two-year colleges, resulting in a greater need for transfer recruitment.
Assessing your institution's readiness for transfers
Many colleges desire to enroll transfer students, but haven't made the necessary adaptations to their recruitment and student service practices to enable them to do this well. As an initial step, we advise campuses to first take stock of institutional priorities and practices—is your campus set up to work with transfers well? We have a transfer assessment we advise campuses to use as a starting point. If you email me, I would be happy to send it to you.
Transfer student behavior and buying motives
Once you have a good sense of your campus capabilities, and before we address strategy development, it is important to recognize that transfer students usually make their decisions fairly quickly. It is common for the first point of contact (inquiry) to be the application. Therefore, you need to recognize the primary buying motives of transfer students and respond quickly in the following areas:
Transferability of courses—How many courses will transfer, and how easy is the evaluation process? Transfer students are looking for transferability within the general education requirements and their desired program of study.
Academic advising and guidance—Advisors need to be ready to help students understand how courses transfer and count toward degree completion.
Career counseling and placement—Transfer students want to know educational and employment outcomes to assess the value of their degrees.
Similar to other new students, transfer students are interested in cost and financial assistance, major fields of study, academic reputation, location, learning environment, support for transfers, and ease of transition from a two-year to four-year institution.
Building your transfer student inquiry pool
Many campuses struggle to build a solid transfer pool because of the behaviors mentioned above, and because there are few resources to search for transfer students the way they are for traditional freshmen. However, what colleges often fail to realize is that they can also mine their own institutional data to help build a transfer pool using the following strategies:
Roll over the prior year transfer inquiries to the following fall pool. You can continue to recruit transfers for two to three years by understanding that there are many reasons for a student to begin the process and then decide to delay enrollment.
Create a "special admit" program for denied first-year students, which can build a bridge for transfer students striving to be at your institution.
Use National Student Clearinghouse data to identify admits from the prior two years who chose to enroll at community colleges, then re-recruit them back to your institution.
Use Collegefish.org to purchase Phi Theta Kappa (PTK) names from community colleges. Other sources for transfer names could include Zinch/Chegg. In addition to the purchase of names, ask the vendors for assistance in working the pool.
Build strong relationships with your local community colleges and encourage them to share the names of their spring graduates with you. This works particularly well with campuses which have articulation agreements in place.
Encouraging transfer student applications
As we mentioned earlier, having dedicated transfer-admissions team members is critical to the process of recruiting transfer students. As you build outreach plans for freshman students, it is equally important to build recruitment strategies optimized for transfer students. All too often, institutions lump transfer students in with their regular freshman communications, using the same language, publications, and even webpage links. Recognize that transfer students are a unique student subpopulation. They require more individualized attention and messaging. Here are a few strategies that can help you work with transfers:
Make transcript evaluations a priority for all interested transfer candidates. Ensure admissions staff can conduct evaluations on the spot. Do not make students apply first to receive an unofficial evaluation.
Make online transfer guides and articulation agreements easily accessible and understandable.
Offer PTK scholarships or continue the scholarships transfers first received from their previous community college when they enroll at your institution.
Develop a distinct communication flow, publications, and web presence for transfer students.
Create visit opportunities specifically for transfers. If possible, include career advancement offices, faculty advisors, and financial aid offices in these visits.
Moving transfers from admission to enrollment
The transfer student funnel is often compressed. Many transfer students seek to apply, receive a credit evaluation, register for classes, and finalize their enrollment processes in a short period of time. Your campus must respond quickly to transfers and not string them along for periods of time. When looking for commitment from transfer students, seek to provide the following services aimed at securing their enrollment/registration:
Offer a one-stop shop service to transfers. Promote express application and enrollment days or appointments where transfers can begin with the application and leave with a course schedule in one appointment.
Offer evening services and opportunities. What is your staff availability for students after 5:00 p.m.? Keep in mind that many transfer students, especially from community colleges, are also working (often full-time).
Create a separate transfer student orientation and registration program. Transfers want to get down to business, and their time is important. By the same token, you can be inclusive of supporting family members during these events (parents, spouses, children) by offering something meaningful to them.
Tailor your financial aid communications for transfer students. All students have concerns about financing, but transfers may also need help understanding how the aid package from your institution relates to any former aid they may have received elsewhere—particularly as related to eligibility for Pell grants and loans.
Explain the housing options for transfers. Must they live in the residence halls? Are there apartments on campus or nearby that are adult or family friendly?
Communicate available support services for transfers. Who is their academic or faculty advisor? What tutoring or other support services are available? How can they ensure they are on the most streamlined path to reaching their degree?
Increasing enrollment impact through multiple strategies: a campus example
Rarely will a single strategy impact enrollment of any student population. It is important to implement a number of these key strategies to gain increases in all levels of the enrollment funnel. How to do it right? The following example outlines how one four-year private institution increased its transfer student enrollment by looking at the academic performance and merit awards for transfer students. The campus implemented a wide array of strategies to target transfers—many of which we have discussed, though our particular work with this campus partner focused on development of a scholarship and financial aid strategy. Starting in 2011, we found that transfer students were becoming more need sensitive, and while enrollment improved slightly from 2011 to 2012 the yield rate dropped 2 percent. As we helped the campus plan for the 2013 recruitment cycle, we recommended that the institution increase its merit scholarship program for strong academically performing transfer students. This was done across several different groups of transfer students. This strategy resulted in strong increases in admits and enrollment and a yield rate which increased by nearly 2 percent. It netted an immediate overall increase of 76 transfer students, leading to a five-year high of 472 transfer students. In addition, GPA rose among transfer students, along with a net revenue increase of $1.2 million despite the increase in merit awards.
Concluding thoughts, and a transfer student assessment
Transfer students can be an overlooked market in recruitment, and for some campuses, have only been viewed as a way to "fill the gap" during a less than successful freshman recruitment season. However, proactive institutions realize the value of transfers early on, to meet both enrollment and revenue goals. Additionally, transfer students not only add to the overall bottom line for enrollment and revenue numbers, but also meet other institutional needs in terms of diversity, filling undersubscribed upper-level courses and programs, and helping institutions meet the greater mission of supporting the nation's need for an educated citizenry. I would be happy to discuss specific transfer student strategies for your institution, as well as send you our transfer student recruitment assessment sheet. Simply email me and I will share it with you.
---