enrollment
2021 RNL National Conference: 5 Takeaways From Our Event in Virtual Paris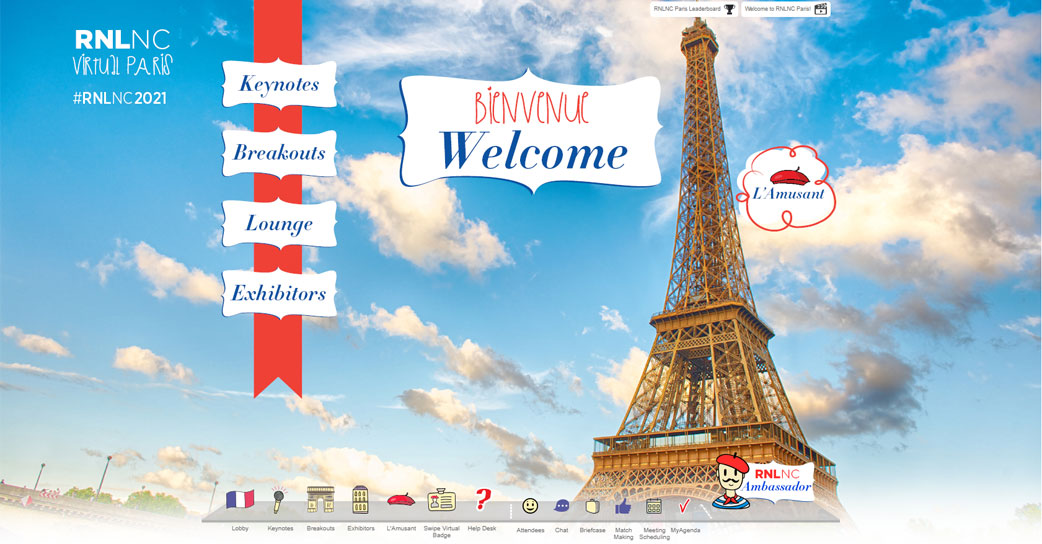 From July 7-8, more than 1,100 higher ed professionals logged onto their computers and stepped into the world of virtual Paris at our 2021 RNL National Conference. We were thrilled that so many joined us for two days of strategic sessions, inspiring keynote speakers, and Parisian fun.
This was the 35th annual RNL National Conference and our second in a row that was virtual. We learned a lot since our 2020 virtual conference (in addition to holding four other virtual events in the past year). And we anticipate that we will return in person for the 2022 RNL National Conference.
For the 1,100 attendees who caught our 65 sessions—keynotes, breakouts, and our Innovation Sessions from key practitioners and companies in the higher ed space—it was an information packed event. There were too many topics discussed list into them all, but here are five key takeaways that stuck with me as a I participated along with colleagues from colleges and universities.
1. Digital engagement is more critical than ever in student recruitment
The world of student recruitment and marketing was already heavily digital before the pandemic struck in 2020. Now digital engagement is the bedrock of student recruitment. Many of the presenters on recruitment and marketing discussed how higher education has to match the experiences and expectations students have with companies such as Netflix and Amazon, where their interactions are:
Highly personalized so that content feels tailored to the student.
Omnichannel: students receive texts, emails, videos, digital ads, and other content through a variety of channels.
Optimized for the mobile devices students carry with them everywhere they go.
Furthermore, there were discussions about the virtual experiences that grew in popularity during the pandemic and will likely remain key to student engagement going forward, such as webcasts, livestreaming, virtual tours, and chat (both live and through AI chatbots). Overall, it's clear that institutions have to be on top of their digital game if they want to compete for students.
2. Graduate and online enrollment will become increasingly important to enrollment growth
A number of presenters touched on demographic trends that show the pool of traditional college-bound high school students has flattened or is shrinking—the "demographic cliff" of enrollment. What that means is that colleges and universities will need to find other sources of students for enrollment growth.
Enter graduate students and nontraditional students—adult learners and/or online learners who may be enrolling for degrees, certifications, or continuing education. We had a specific track on graduate and online enrollment, from sessions on lead generation to creating world-class online learning experiences. Online learning is so key to graduate study that graduate programs need to be equally adept at delivering a high quality online experience as they are at recruiting graduate students.
3. "Data is the new oil"
Professor Americus Reed II of the Wharton School at the University of Pennsylvania delivered a rousing keynote address on "identity loyalty" and institutional branding. One of his many insightful points was, "Data is the new oil." What he meant is that the ability for organizations to have plentiful, solid, meaningful data would be as increasingly valuable as an energy source.
Quite a few sessions touched on the value of data. For instance, with test-optional policies now impacting the availability of prospective student names, colleges and universities need ways to find alternative sources of solid leads. CRM management is also critical to personalization at scale—you need to know the right information about a student to deliver meaningful personalization. It was clear at these sessions that your databases will power your recruitment efforts more and more in the coming years.
4. Parents are enrollment champions who need to be engaged
Parent engagement in 2021 is more than sending a letter or packet to parents. They need to be engaged the way students are: online, with content that is tailored for them.
Several sessions discussed how parents are the strongest enrollment influencers and that winning their support can make the difference between a student enrolling or attending a competing institution. And with parents as plugged in as their kids, institutions have to have robust, digital, mobile-optimized parent engagement programs.
5. After the year we have had, we need inspiration more than ever
Dr. Bertice Berry opened the RNL National Conference and delivered one of the most inspiring opening keynotes in the 35-year history of this event. Dr. Berry is a sociologist and internationally recognized speaker, and she displayed why during her moving keynote. She related her own challenging journey to college to the work that all of us in higher education do to recruit and retain those students for whom a college education will be life-changing. She even tied in a personal anecdote to Paris that I am sure touched everyone who watched her deeply.
We are so grateful for all of our presenters and the 1,100 higher ed professionals who made this event a success. And we'd also like to give you a chance to learn from and be inspired by these presenters. You can request a complimentary consultation with one of our experts, and in return you will receive access to our on-demand content from the conference: 65 sessions from experts, innovators, and campus professionals, as well as Dr. Berry's opening keynote and our keynote from RNL CEO Dr. Sumit Nijhawan. Click here to request your consultation and receive your access.
Here's just one example of the on-demand sessions you will access, the keynote from RNL CEO Dr. Sumit Nijhawan.
Access the on-demand sessions from the 2021 RNL National Conference
Request a consultation with an RNL enrollment expert and you'll receive free access to 65 on-demand sessions from the RNL National Conference. Your consultant can discuss your challenges and goals on any topic related to student recruitment, marketing, student retention and completion, and enrollment planning.
---