enrollment
RNL Gets the Gold for Work With Graduate and Online Clients
RNL's work on behalf of its graduate and online clients had a strong showing at this year's Education Advertising Awards. Among more than 2,000 submissions, RNL's higher education marketing campaigns for graduate and online recruitment earned one gold award, one silver award, one merit award, and most impressively, one of only eight "Best in Show" awards.
RNL also had strong performance across the board for the higher education marketing campaigns it runs for clients of all types,earning a total of eight Gold Awards, seven Silver Awards, and 19 Merit Awards. The "Best in Show" award was earned for our digital marketing campaign for Agnes Scott College in Georgia. This is the clearest demonstration of not only the ever-increasing excellence of RNL's client marketing teams, but also the expertise RNL has developed in understanding how to effectively connect with online and graduate students.
What makes for "best in show" higher education marketing?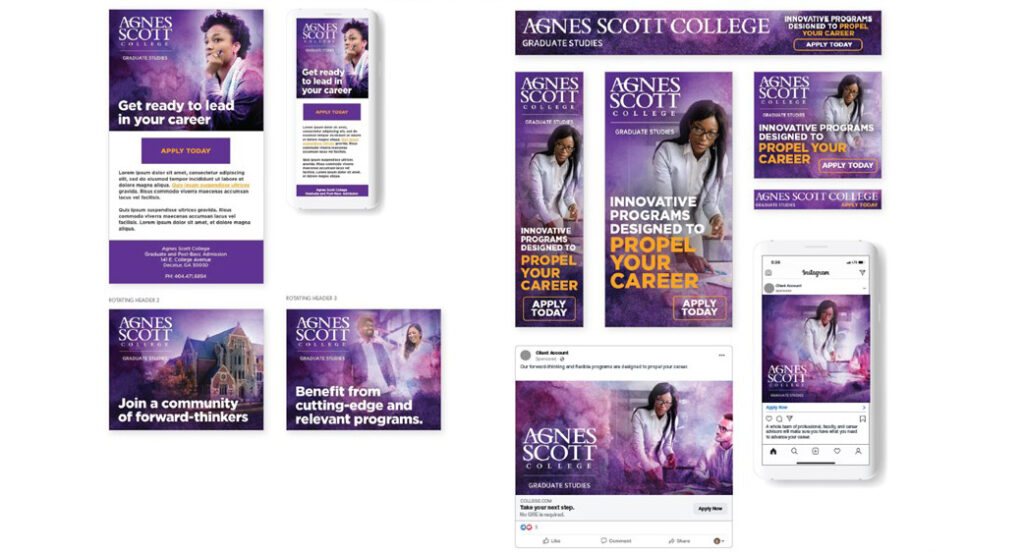 Agnes Scott College has long been one of RNL's campus partners in the traditional undergraduate enrollment space, but more recently Agnes Scott commissioned RNL to collaborate on the marketing of its graduate programs. RNL's Applicant Marketing program for Agnes Scott is designed to persuade an audience that has previously engaged with Agnes Scott to take the next step and apply. RNL's Creative Team developed content and messaging based on the insights obtained during the discovery process with a broad array of institutional stakeholders, reviewing existing specific audience messaging and personas as part of that process. RNL also ensured that content followed their brand closely from a tone, voice, and design perspective.
RESULTS: Application Marketing Calling Campaign
20.2% — Average percent of leads with phone number with whom RNL made contact.
60.1% — Average percent of leads who want to be connected with Agnes Scott College.
Among the 60 percent of leads who wanted to be connected with Agnes Scott, four out of 10 were very interested and likely to apply.
Very interested/likely to apply—41%
Very interested/considering applying—27%
Very interested/already applied—10%
Somewhat interested—22%
RNL's approach blended industry best practices but never lost sight of the distinct advantages that Agnes Scott has highlighted for years: its innovative programs, forward-thinking community, experiential learning, affordability, and leadership development—reinforced by rankings, stats, and student testimonials.
RESULTS: Digital Advertising
62.2% — Monthly growth in impressions
75.1% — Monthly growth in clicks
$5.12 — Average cost per click (industry average is $5)
Note: This campaign is in its fourth month.
Deploying best practices for content and marketing
Finally, RNL ensured that creative content included outcomes messaging we know this audience is most interested in, including career advancement, the opportunity to pivot to a different career path, and the benefits of diving deeper into an area they are most passionate about.
Our strategy for Agnes Scott has also included best practices such as:
Reiterating messaging that their audience has likely seen previously in order to build messaging continuity across programs for brand awareness—and remind the audience why they should choose Agnes Scott.
Email messaging is intentionally kept short with links strategically placed to encourage audience interaction with Agnes Scott stakeholders.
To keep the audience focused on applying, RNL also only includes links to the application in the messaging.
Calls to action throughout the campaign are kept short and straightforward.
Create winning communications that will engage graduate and online students
How can you target the graduate and online students you want to enroll and make your communications stand out? Talk with our graduate and online enrollment experts. They can share how you can transform your marketing and your enrollment success with RNL Enable.
---