enrollment
Reddit for Higher Education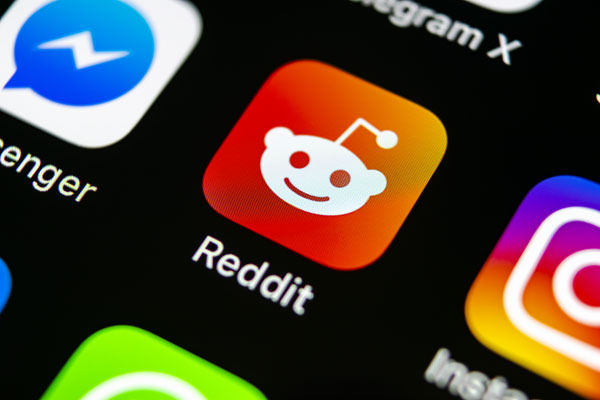 Reddit is home to thousands of communities, endless conversation, and authentic human connection. Subreddits—also known as communities—are subsidiary threads or categories within Reddit. You can focus on a specific interest or topic when reading or posting content. Users can subscribe to topics of their liking to stay informed, learn, or to simply ask questions. Redditors can react to posted content by voting. Giving an "upvote" to increase visibility or a "downvote" to decrease visibility of a post. Many find themselves going to Reddit for everyday questions and even a laugh or two. Subreddits can vary between discussions on the best MBA program to videos of puppies running around. No matter what you're into, there's a community on Reddit for everyone.
When the coronavirus pandemic came into the picture, Reddit saw traffic increases of up to 20-50 percent on subreddits related to education, business, finance, news, travel, and sports. On average, Reddit has 430 million active users, with over 30 billion views per month. As COVID-related lockdowns continue, millions are turning to online networks for their lack of in-person social contact. As of September of 2019, Reddit ranked as the sixth most popular social networking app in the United States, which was above Snapchat.
A new audience for higher education marketers
Within Reddit's ever-expanding list of communities lies a vast number of viewers and potential prospects. Through Reddit Ads, you serve promoted posts within specific subreddits and communities. Whether you are looking for brand awareness, inquiries, or landing page traffic, Reddit optimizes your campaign creation flow to fit your needs. Once your campaign's objective is selected, you can choose the subreddits, user interests, locations and devices that you wish to serve your ads to and on. Interest targeting matches ads to Redditor's profiles based on their browsing habits within the Reddit platform.
With a growing 130,000 +communities within Reddit, finding a niche audience can be a breeze. Reddit's customer support also plays a helpful role when trying to narrow down your targeting to a hyper focused audience. Not finding a certain community as a targeting option when building out your campaign? Reach out to their support team to get that community added to your targeting options.
One added perk Reddit offers that many other platforms do not: the option to turn off comments for your ads. Even if you find yourself not to be an avid Reddit user, this simple implementation eases any worry of being on the look out for those pesky internet trolls throughout the week.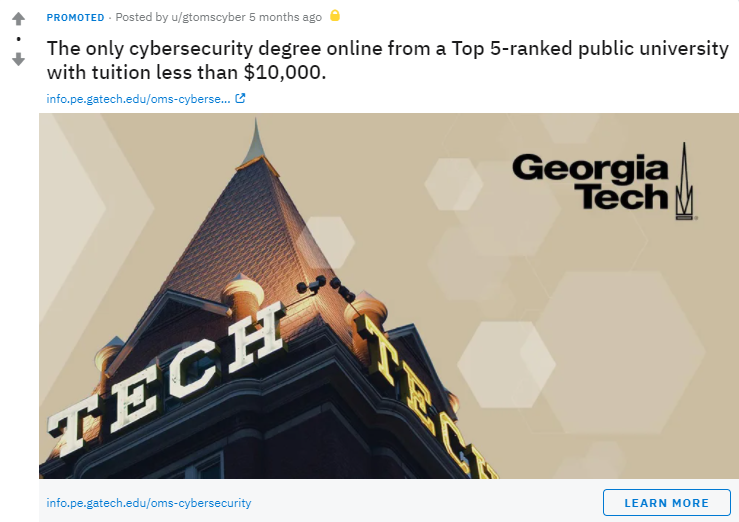 Talk with our digital and enrollment experts
We're to help you find the right digital marketing and recruitment strategies. Let's set up a time to talk.
Why consider Reddit for higher education?
Low competition—Gain the edge over your competitors by establishing a presence in a new and unique social platform that offers great benefits.
Brand awareness—With over 430 million active users each month, your campaigns should have no issue finding an audience to serve to. Per Reddit, there is an estimated 30 billion views each month within the communities. Our higher ed industry benchmarks see Reddit ECPM's (effective cost per thousand impressions) at $0.85.
Cost-efficient traffic—If you're looking to drive traffic to your landing page at a lower cost-per-click (CPC) when compared to other advertising channels, this social networking site is for you. Reddit can be paired with Google Display to serve as a supplemental upper-funnel tactic. If you're looking to build your retargeting pools, this social networking site is just for you. Our higher ed industry benchmarks see CPC's at $0.60.
What's next for Reddit Advertising?
Video creative: Earlier this year, Reddit released video ads as an additional option alongside static images and GIFS. With the implementation of video creative, digital marketers have found high success in raising engagement among their audiences compared metrics from static images. Video ads allow marketers to provide prospects with program highlights, statistics about the institution, and success stories from students and faculty.
To ensure effectiveness follow these video best practices:
Ensure that there is prominent branding within the first 3 seconds.
Spotlight top talent and people.
Showcase the products and key attributes.
Have captions to capture attention when the video's sound is off.
Custom list targeting: Custom list targeting is in the early stages of release. Currently only available by reaching out to Reddit Support, you are able to serve ads to an exclusive list of emails or previous engagements with your institution or business. Once released to all marketers, Custom List Targeting will play a critical role in Reddit Ads as there is not a way to retarget to your audience in the current state of the platform.
Want to talk about your digital marketing strategies?
Reddit for higher education is just one of many new and ever-evolving options colleges have for digital communication with students. If you want to discuss what's new and next for higher ed—and what's right for your campus—contact us and we'll set up a time to talk.
---