enrollment
What Now? New Data Define the Challenge for International Graduate Enrollment
As I reviewed a set of recent reports on the state of international student enrollment in 2020, I thought of an institution I worked with where almost 80 percent of their graduate enrollment (they were heavily focused on engineering- and science-related programs) came from international graduate enrollment. This was a regional institution with a strong local reputation, but one that didn't feel that they could rely on a national draw to fill their programs—and therefore they went "whole hog" on recruiting international students, particularly from China, Korea, India, and the Middle East.
It is these institutions that are likely to have been caught in a complicated situation throughout the last four years, but particularly since the pandemic began last winter. The combination of the two reports—both produced by the Institute of International Education (IIE)—present a snapshot of the foundation upon which 2020-21 will be built.
International graduate enrollment and undergraduate enrollment trends
Open Doors 2019-20 provides comprehensive data on international student enrollment for the 2019-20 school year. Overall, international enrollment declined by 2.3 percent—with a 2.9 percent decline at the undergraduate level and a 0.9 percent decline in international graduate enrollment. Both groups have had similar rates of decline for the past two years.
International Students by Academic Levels, 1999/00-2019-20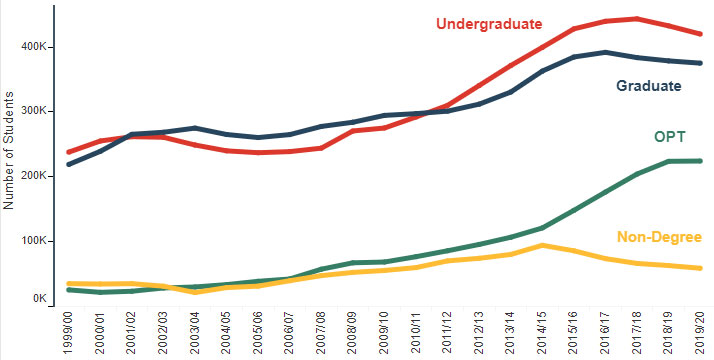 Graduate level
At the graduate level, total decline was minimal (0.9 percent). But a strong showing at the doctoral level (up 3.1 percent) and slight decline at among professional programs (down 1 percent) mask more significant declines at the master's level—the "bread and butter" programs that many institutions rely on to make their goals.
Master's trends
International master's enrollment declined by 4.2 percent in 2019-20, following declines of 2.3 percent in 2018-19 and 5 percent in 2017-18. There is an interesting alignment in these numbers with the advent of the Trump administration. Every year prior to this, master's enrollment had increased. In fact, in the five years prior to the 2017-18 academic year, international master's enrollment grew by an astounding 55 percent. This may be the biggest example of "unintended consequences" I have seen in quite some time.
International Graduate Students by Level, 2019-20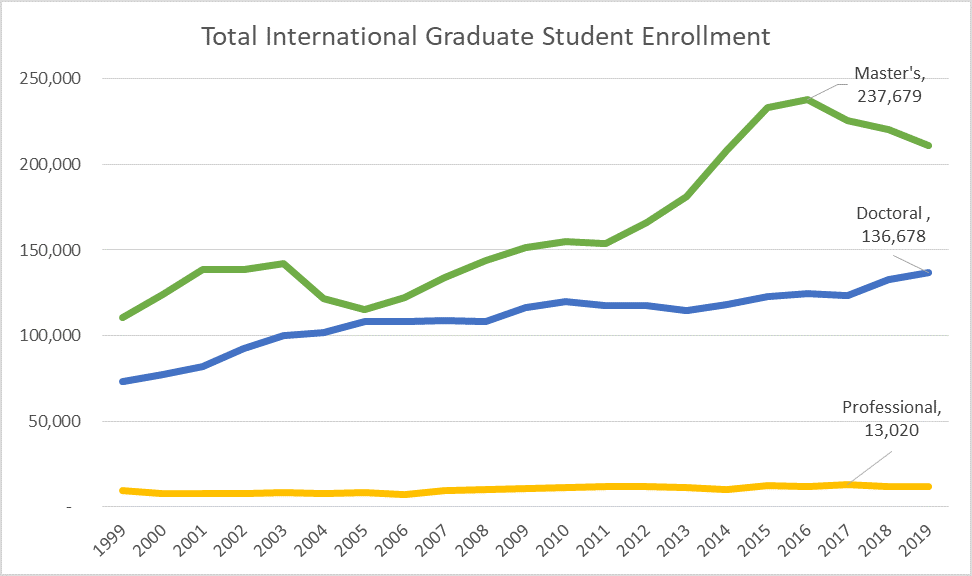 The difficult road back for international graduate enrollment
A recent article from Bloomberg Businessweek indicates that Biden Administration policies will quite certainly be more international student-friendly, but that the policies of the last four years have caused many students to look elsewhere. Canada has been one beneficiary of recent U.S. policy. While the new administration—and our colleges and universities—will "roll out the welcome mat" again, institutions need to be careful to not assume that things will bounce back. This is not only because of the pandemic, but also due to the trend among some international students (and described by students interviewed for the Businessweek article) to be less certain about wanting to come to the U.S. to study.  
The other report from IIE presents fall 2020 international enrollment trends based on a survey of more than 700 institutions. The numbers are bleak. They demonstrate that while many institutions thought that the 4 percent decline in overall enrollment and 14 percent decline in all new students was a challenge, these numbers are of a different magnitude. Among the most important findings:
Total international student enrollment fell by 16 percent in comparison with the previous year.
Only 80 percent of international students are residing in the U.S. The other 20 percent are enrolled online from another country. This compares with 99 percent being resident in the U.S. in 2019.
New international student enrollment—both resident in the U.S. and enrolled online from elsewhere—declined by 43 percent compared with 2019.
Among (just) these new international students, 49 percent are in the U.S. and 51 percent are located elsewhere and enrolled in online classes.
Talk with our graduate and enrollment experts
Ask for a free consultation with us. We'll help you assess your market and develop the optimal strategies for your prospective graduate students and online learners.
What's next?
There are at least three pairs of opportunities/challenges for U.S. institutions regarding international enrollment.
1. Opportunity: The new administration will almost certainly make it easier for international students to come to the U.S. and enroll.
Challenge: The pandemic and its aftermath may delay such moves, and even if changes are made, the bounce-back may be delayed by future waves of the pandemic.
2. Opportunity: As we reverse course from adversarial policies that alarmed potential international students, America's reputation as a welcoming and inclusive society that embraces people from different nations and cultures will hopefully rebound.
Challenge: Over the last four years increasing numbers of international students have begun to look—and enroll—elsewhere. Nations such as Canada have been the beneficiaries. U.S. institutions cannot assume that international students will return to thinking of the U.S. as the ideal destination for quite some time.
3. Opportunity: Due to the pandemic and the lingering effects of policies implemented over the last four years, U.S. institutions have had (and will have) the opportunity to "right size" international enrollment within their goals and targets.
Challenge: For some institutions, like the one I described at the start of this blog (with 80 percent of graduate enrollment being comprised of international students), the near- to mid-term future will be more challenging than they have ever experienced. Enrollment leadership will have to work with institutional leadership and their boards to fully understand what happened, where they are now, and what they should do in the future. They will call upon both the "can do" nature as well as the empathy and understanding that Americans have been known for across our entire history.
What are your best strategies for graduate enrollment? Let's discuss.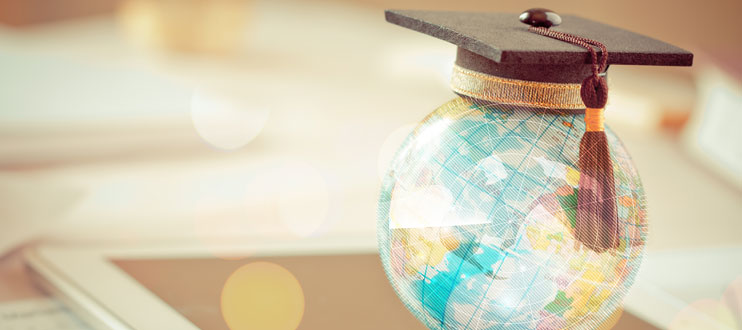 My RNL colleagues are working with many institutions and programs to strategize their domestic and international graduate enrollment strategies. Reach out and set up a time for us to talk, and we'll analyze your challenges and offer suggestions for reaching your goals this year and beyond.
---