enrollment
How Will Enrollment Managers Adjust to Changes in NACAC Practices?
At the 2019 NACAC annual conference, members voted to make landmark changes to the Code of Ethics and Professional Practices. This has a significant ripple effect for enrollment managers as NACAC's code and practices—while not binding—do set the standard for how institutions recruit and enroll students.
These NACAC changes have four major implications for college student recruitment:
Colleges will be able to offer incentives exclusive to students applying under early admissions plans. This could take the form of aid packages and scholarships, housing preferences, or other perks designed to incentivize early decisions.
Colleges will be free to continue to recruit students who have already committed to an institution.
Similarly, colleges would be allowed to recruit students openly after May 1.
Colleges can solicit transfer applications from a previous year's applicant or prospect pool.
What do these NACAC changes mean for enrollment managers?
The vote changes essentially remove agreed-upon standards of behavior that institutions follow, and will likely increase competition for students throughout the enrollment funnel. The recruitment cycle will be lengthened, and campuses will need to engage students and continue to make a case for enrollment—and fight off competition from other institutions—for far longer than before.
That certainly doesn't help today's already anxious enrollment managers. As demographic, economic, and social changes make it harder than ever to do your job and reach your goals, having competitive recruitment extend well past when you typically finalize your incoming class and looking ahead to the next recruitment cycle is understandably nerve-wracking.
However, it does not have to be.
The Engagement Function: How enrollment managers can stay ahead of the competition
During the opening keynote session at the RNL National Conference, we discussed a model for keeping students engaged throughout the enrollment process: The Engagement Function.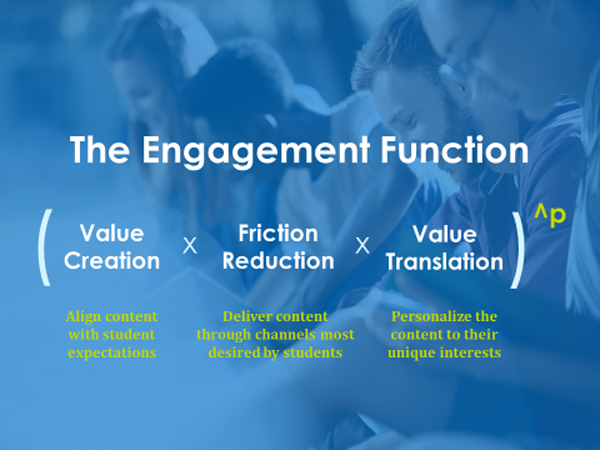 The Engagement Function is an approach that helps institutions deliver compelling personalized interactions at scale with students.
Value Creation: What is the benefit that the student is looking for? It could be the degree, alumni outcomes, the campus experience, or other information that will have the greatest influence on a student's decision.
Friction Reduction: How easy do you make it for students to engage with your campus in the channels they use every day—websites, social media, texting, email, mail, phone? How efficient are their experiences when they do things like request information or receive financial aid?
Value Translation: How does the value of each step of the process get communicated to a student? As they complete each action to move forward in the enrollment process, do they see the benefit in what they are doing now as well as the overall enrollment experience?
The Power of Personalization (p): These three variables are elevated through personalization, so the value propositions, communications, content, and experiences are tailored precisely to the student. It's as if each student has their very own funnel.
These strategies are already important to engaging today's students—RNL has already implemented many with our clients to evolve the enrollment management process. With the recruitment cycle almost certain to lengthen after the changes from NACAC, keeping students engaged through the entire enrollment process will be even more vital.
Read about 7 strategies for enrollment managers after these NACAC changes
See my follow-up blog for seven strategies you can follow to not only adapt to these changes, but find new opportunities to thrive.