enrollment
LinkedIn Conversation Ads for Higher Ed
As mobile use continues to rise, so does the use of messaging on LinkedIn, where users are leveraging the platform to network with other members or are communicating with customers, businesses, and recruiters. LinkedIn has expanded its product offering beyond Message Ads (formally known as InMail) and has rolled out Conversation Ads.
Conversation Ads serve a prompted ad within the user's inbox and lets the user determine their path from awareness and discovery to taking action. Here's an example, and notice that there is an interactive element where the user can continue the conversation and make selections on what to see next.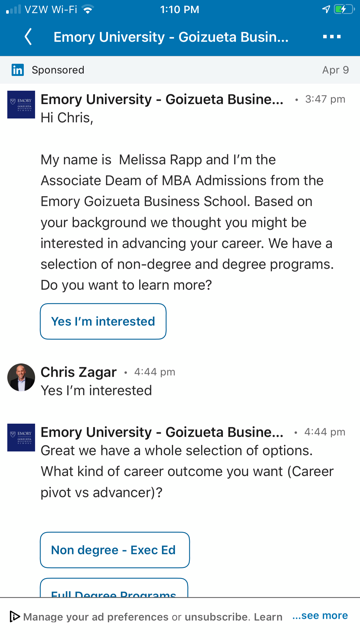 A new way for higher education marketers to engage their audiences
Conversation Ads can be leveraged in a variety of ways for institutions. For example, Conversation Ads can be used from a brand level to highlight various programs a user may be interested in, online vs on-campus formats, or even upcoming events. From there, it allows the prospect to self-select the one most relevant to them.
EDU Marketers have the option of either starting the conversation through a specific individual on your team or through a company / university sender. LinkedIn recommends using Conversation Ads from an individual sender for increased personalization, which has also yielded higher open rates, click-through rates (CTR), and conversion rates than Conversation Ads coming from an organizational sender such as a university or company account. We recommend leveraging a member of your admissions team as the sender when deploying Conversation Ads for enrollment marketing.
What's needed: 3 key elements
Creating LinkedIn Conversation Ads for higher ed marketing can be relatively simple. If you are already running digital ads and email marketing campaigns, you may be able to leverage existing assets as well.
Message: This is the core of your message, and leveraging content from emails can be a simple way to get started. Messages can contain up to 500 characters, and each individual message can be connected with call-to-action (CTA) buttons that can lead to the next message in the conversation.
CTA Buttons: These buttons drive action from your Conversation Ad. The button itself can have up to 25 characters, and you you can include up to 5 buttons. These buttons can link to additional Messages or to external links such as an RFI page.
Banner Image: While this is only visible on for desktop users, this 300×250 placement is prime real estate ensure your brand is top-of-mind to your prospective student.
LinkedIn Conversation Ads can also include personalization to further enhance the 1:1 effect. You use macros such as first name, last name, job title, company name, or industry.
What's next: Pairing Conversation Ads with Lead Gen Forms
Over the past year, RNL has seen great success with pairing up LinkedIn Message Ads with Lead Generation Forms, delivering high engagement, higher conversation rates, and lower costs. Lead Generation Forms allow marketers to collect lead information with seamless pre-filled forms within the LinkedIn platform.
Pairing LinkedIn Conversation Ads with Lead Generation Forms has improved performance, yielding 3x higher engagement rates vs standard Message Ads and 50 percent lower cost per inquiry than standard Sponsored Content ads.
Clearly there are great opportunities to use LinkedIn Conversation ads for higher ed campaigns. I invite you to talk about these and other digital strategies during a free consultation with our experts. We can discuss how you can engage more prospective students and start the conversations that lead to enrollment.
Talk to our experts
Find the optimal strategies for your challenges. Tell us what assistance you need and we will connect you with an RNL expert for enrollment, student success, or fundraising.
---