enrollment
Let's Celebrate the Small Wins! A Look at 2020 Graduate Enrollment Results
Scott Jeffe
Vice President, Research (Graduate and Online)
October 29, 2020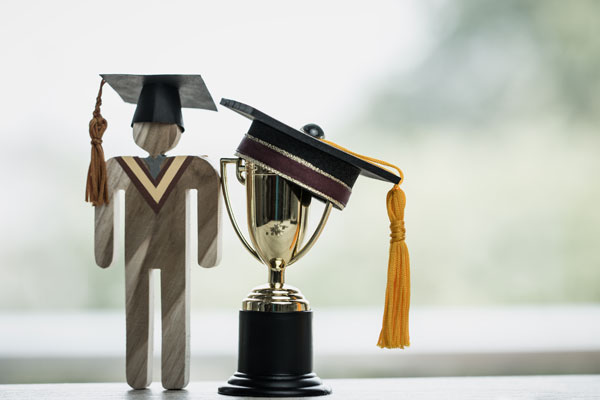 As I read through the latest data from National Student Clearinghouse, I was somewhat disappointed that every story seemed to lead with the bad news—first-year enrollment declined by more than 15 percent, total enrollment declined by about 4 percent, and community college enrollment declined by 9 percent (based on about 50 percent of institutions reporting as of October 15).
While I understand the importance of these numbers, what was missing from these stories is that 2020 graduate enrollment results show an enrollment increase of 3 percent, as well as an acknowledgment that the relatively small total enrollment decline is a testament to the hard work institutions did this spring and summer to retain their already enrolled students. By some accounts last spring, as many as one in five students thought they might take a year off, and institutions were able to bring them back to campus despite their concerns with the pandemic overall and their general dissatisfaction with their remote learning experiences this spring (more on that in another future blog).


With all of this in mind, I asked two friends to join me for a conversation on these "silver linings" in 2020 graduate enrollment results, covering both graduate recruitment and retention:
David Cotter is Assistant Provost for Graduate Enrollment at Boston University. In an effort to maximize enrollment and ensure student success, BU spent the spring and summer working on their "Learn from Anywhere" initiative which offers students the option to participate in their classes in any mix of classroom, remote, and fully online formats for more than 80 percent of their master's programs.
Adam Binkerd is Director of Student Success at Indiana Wesleyan University National and Global—the university's online division. Adam and his colleagues repurposed much of their recruitment team last spring and summer in an "all hands on deck" effort to personally reach out to every enrolled student. No script, just a check in to make sure students felt valued and well cared for.
Among the things I discussed with David and Adam:
Why are public institutions doing better than privates—and for-profits even better—when many privates are more able to be innovative?
How has the "Learn From Anywhere" initiative been working?
What other innovations are helping to maximize not only graduate enrollment but also graduate student success? (This is a topic I have previous discussed with Adam.)
What do more traditional institutions and programs have to learn from online institutions and programs?
How did a commitment to the concept of "community" help an online institution retain the great majority of its enrolled students?
Is the growth in non-degree credentials here to stay? If so, what is driving that growth?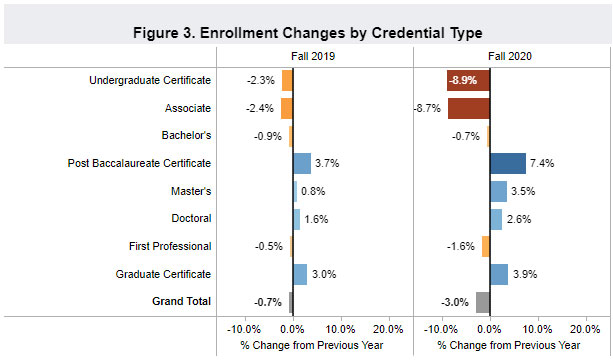 We closed by talking about what are the keys to future success. Among David and Adam's thoughts were:
The ability to "pivot" is essential to future success. Institutions proved this past spring that they can do it—and in record time. Institutions that develop processes that facilitate the ability to change quickly will be best positioned to succeed in an extended period of disruption.
Institutions have been thinking about micro-credentials and other non-degree options for years, but this is the time to make it happen. Students want them for a variety of reasons, and the institutions that make them available first will be best off.
Proactive and personal responsiveness has never been more important. Building a sense of community is not only important in your remote and online classes and programs, but also throughout the enrollment cycle.
Today's students are seeking authenticity in their communications and experiences. This is great for our institutions, because less "produced" content is easier to manage and easier to, well, produce.
The future of recruitment is likely very virtual. Institutions and programs have already made great strides in their virtual open houses, information sessions, and even one-on-one meetings, and this is proving very attractive to many prospective graduate (and online) students. It is often easier to get a program director, dean, or other stakeholder to attend a virtual open house than an in-person event. When combined with the preference for "authenticity" these efforts are paying off.
Enrollment changes by state
The following maps are also from the NSCRC's monthly update.

Watch the full discussion and contact us to talk about your graduate enrollment strategies
Watch the full discussion with David Cotter and Adam Binkerd in this episode of RNL@Home.
The discussion with David and Adam on 2020 graduate enrollment results was very thought provoking . I encourage you to watch this episode of RNL@Home.
And if you want to discuss strategies for graduate enrollment and graduate student retention, please contact my colleagues at RNL. We can help you find the right digital marketing solutions, optimal recruitment strategies, and student success initiatives that will maximize graduate enrollment as well as the success your students have.
Talk with our graduate and enrollment experts
Ask for a free consultation with us. We'll help you assess your market and develop the optimal strategies for your prospective graduate students and online learners.
---