enrollment
Innovation and Implementation at the 2020 NAICU Annual Meeting
RNL's presentation on Trends Driving Innovation in Higher Education at the 2020 NAICU Annual Meeting in Washington, DC generated a lively discussion focused on how demographics and public opinion are all pointing institutions to a greater focus on graduate, online, and adult undergraduate students. I was joined by Susan Aldridge, who just retired as president of Drexel Online for the presentation.
In an audience of more than 120 presidents, chancellors, and other senior institutional leadership, I summarized five trends "ripped from the headlines" before turning to Susan Aldridge to lead a discussion focused on translating the trends into actionable steps that institutional leaders can—and must—take to succeed.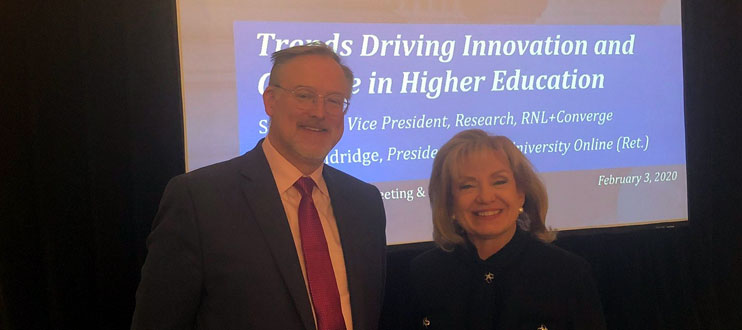 Susan Aldridge focused heavily on using a data-informed strategy to
set tuition costs and discounting policies
determine the most effective ways to recruit students today
understand the very different program and service needs of adult and online students
the unique enrollment decision making factors of these students – in comparison with their traditional counterparts.
Susan also spoke of the importance that marketing and recruitment efforts be led by experts in digital marketing strategies, as well as and the recommendation that units and schools serving these audiences should be seen as incubators for a range of programs, formats, services, and other practices that will likely be used for other audiences in the not-too-distant future. As a president herself, she was effective in identifying questions for which presidents and other senior leaders must have answers.
She also spoke at some length about the fact that bad news—and in some cases decisions that affect the health of the institution—do not filter up to the presidents office. In addition to identifying questions that presidents need to ask (and illuminating stories of past experiences), she provided examples of the types of things (some very simple, some more complex) that presidents can do to ensure that their institutions remain competitive and "at the top of their game" in a period where maintaining the status quo is increasingly hard to do.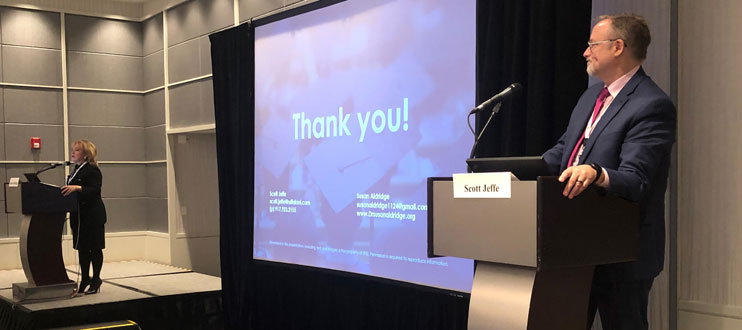 Talk with RNL about your strategic initiatives
My colleagues and I have worked with campus leaders at colleges and universities of every size, type, and mission. We provide the kind of data that enable presidents and their cabinet leadership to assess their challenges, formulate responses, and track progress toward long-term success.
Ask for a complimentary consultation with our enrollment strategists, and we can talk about the ways in which your campus can become more efficient in achieving your mission.
---