enrollment
Searches for Online Programs Dominate Recent Trends, According to Google
Chris Grinnell
Associate Director of Analytics
July 30, 2020
As the U.S. continues to grapple with the COVID health epidemic, students and universities are preparing for an unpredictable fall 2020.Asa Google Premier Partner, RNL receives higher education trend data that augments our internal data, allowing us to provide further insight for our campus partners.
Below are two takeaways from the latest higher education report from Google:
Higher education searches are increasing from the COVID-19 lows

Google search data show that there were very large decreases in higher education search volume in the middle of March when COVID initially hit the United States. Since that low in March, we have seen searches increase to the point that May 2020 outperformed May 2019 for most of the month.
The increase in demand is an encouraging sign for higher ed and validates conversations we had with campuses to encourage the continuation of digital recruiting accompanied by an adjustment of strategy rather than pausing digital efforts entirely (something we discussed in an earlier blog about channel performance in 2020). Campuses that have maintained their digital presence have been able to take advantage of the increased demand, while campuses that went dark are now playing catch up.
Continued interest in online solutions, particularly among states with more COVID restrictions

As the pandemic continues to shut down various aspects of our lives, prospective students are increasingly adding online terms to their searches. Before COVID, the industry was seeing an increase YoY in both online-modified and non-modified searches. Online-searches spiked in the middle of March with more than 50 percent YoY growth in queries, while non-modified queries saw a decrease. By the middle of June, these trends were not as pronounced as they were in mid-March but there is still a substantial (>25%) increase in online-related searches in comparison to 2019.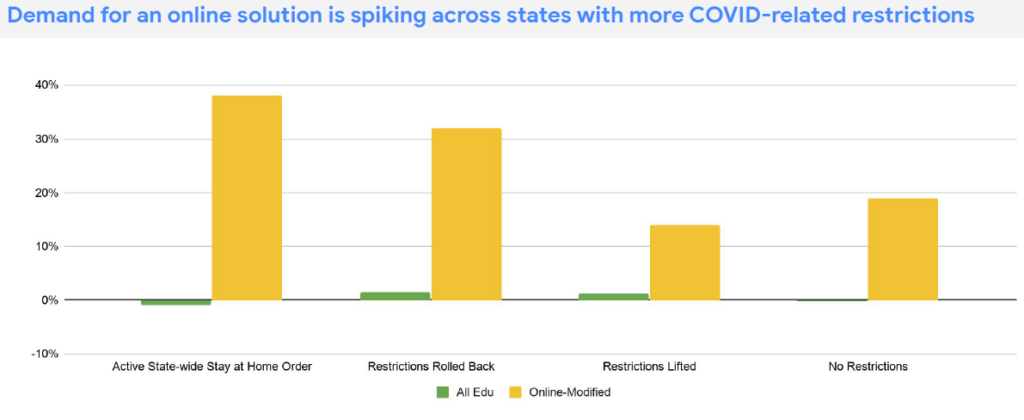 The changes in online-modified searches are even more pronounced when accounting for state restrictions related to the pandemic. States with stay-at home orders and those that have rolled back restrictions have seen increases of 30 to 40 percent in online searches compared to very slight increases or decreases in all education searches. Interestingly, states where restrictions have been completely lifted (as opposed to gradually rolled back) or with no restrictions have seen smaller increases (10 to20 percent) in online-keyword searches, with again, a very slight increase or decrease in all education searches.
This data tells us that prospective students are adapting and increasingly looking for online education options. While some of this increase appears to be attributed to state regulations, we are still seeing increases in online searches in states with no restrictions.
Takeaways for campuses
The trends above are not necessarily surprising, but as the pandemic continues to impact the country, here are two strategies campuses should employ moving forward:
While higher education searches did drastically decrease in the early days of the pandemic, searches began to increase shortly after the initial decline. In fact, the encouragement to stay at home may have contributed to search volume that has at some points surpassed 2019. While we all continue to be impacted by the pandemic, campuses should remain strategic in their decisions, should not be overly reactive, and should have confidence that digital marketing will yield results.
When applicable, campuses should continue to tailor program messaging and creative to an audience looking for online and/or hybrid options. Campuses should also optimize efforts to target those same students.
Talk with our digital and enrollment experts
We're to help you find the right digital marketing and recruitment strategies. Let's set up a time to talk.
---