enrollment
What Is Google Analytics 4 and How Does it Impact Our Marketing Analytics?
In mid-October, Google introduced Google Analytics 4 (GA4) to the world. This is the largest update to Google Analytics since 2012 when Universal Analytics was unveiled. Rightfully, there is a lot of excitement with the direction Google is taking the product, but there are also a lot of questions due to the fundamental change with how GA4 collects and will report on data.
GA4 is very new and Google will be rolling out additional updates, but a few themes have already emerged. Implementation and tracking set-up is different and the new enhanced tracking and reporting capabilities now include: scroll tracking, outbound link tracking, and site search tracking that campuses will be able to leverage without additional configuration. Google is also focusing more on Users, both in reporting metrics as well as privacy considerations.
Google has not released any timelines for when (or if) Universal Analytics will be sunset, however they have made it clear that future Google Analytics updates will be geared towards Google Analytics 4. In the near-future, campuses should begin to learn more about GA4 by continuing to follow industry articles, watching videos, and setting up a new "test" property to begin testing out the platform for themselves. Ultimately, institutions also need to include a plan to transition to this new platform.
To get you started in learning about Google Analytics 4, here are some key observations that have stood out in our time exploring and beginning to use the new version.
Google analytics reporting and UI has changed
With many new product releases comes a new UI, and Google Analytics 4 is no exception. Google has kept the same general feel with the report selectors (and dropdowns) on the left and data/visualization on the right. However, you'll immediately notice the standard reporting categorization and options have changed. We see new options such as: Engagement, Retention, and Analysis vs. the older Audience, Acquisition, Behavior, and Conversions groupings. These are clear indicators that Google is putting a larger emphasis on analyzing the user and user experience. (You can click on the screens below for a larger size.)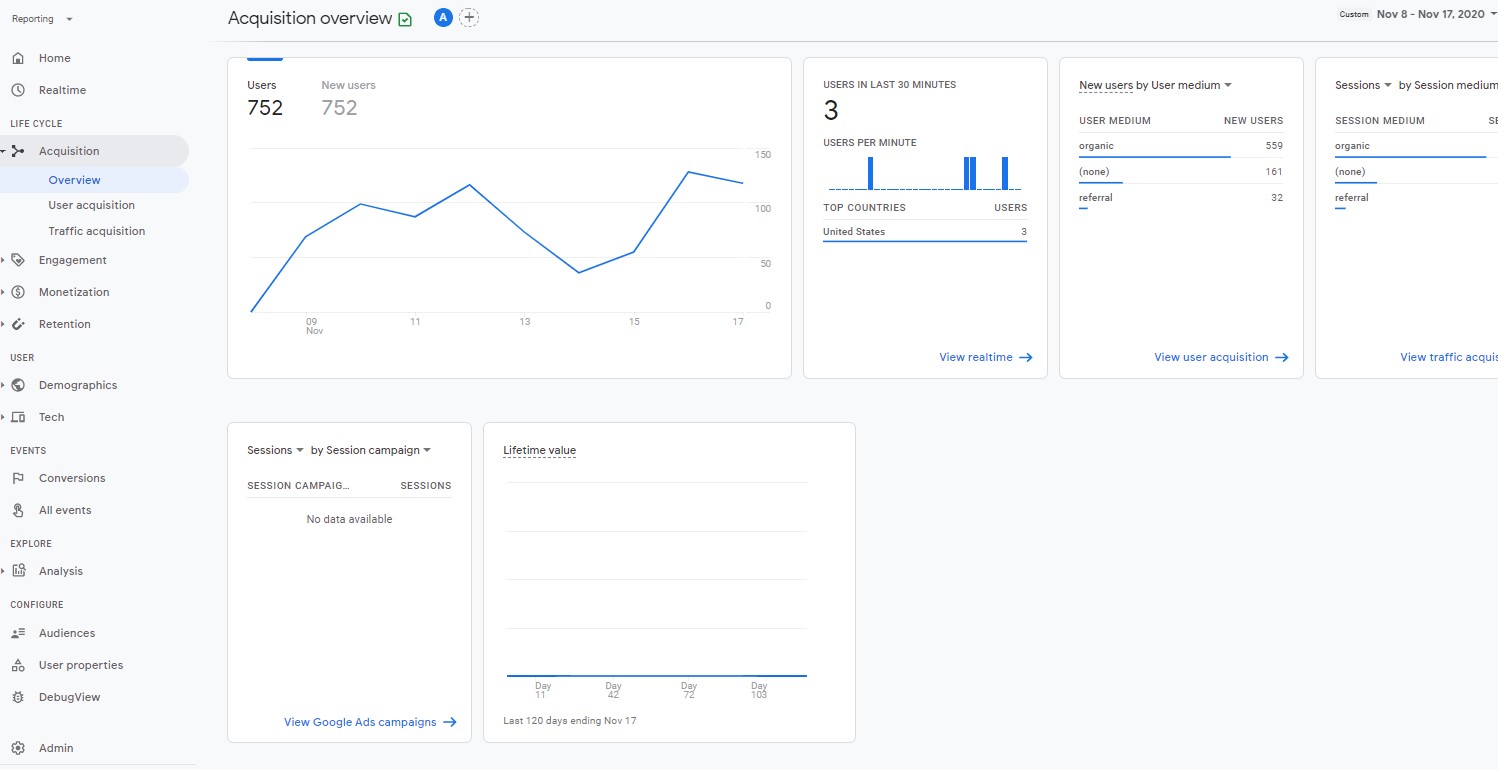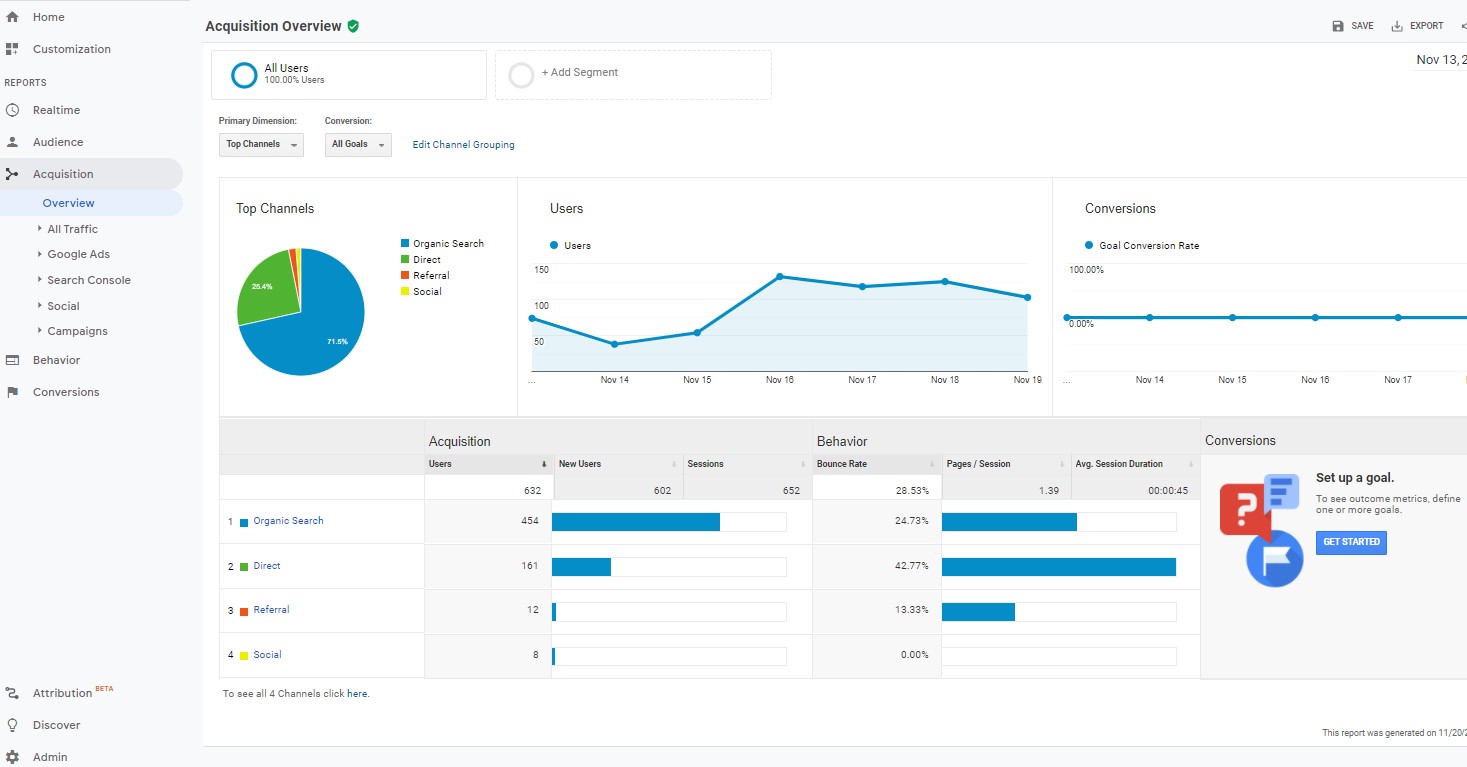 Another feature you may notice in the screenshot above is the "Analysis" section. Google Analytics 4 has an entirely new "Analysis Hub" that will allow users the flexibility to create simple or complex reports with relative ease in the platform. The answer to the question "How many Users from Texas on mobile devices do I have?" can be created easily within a single report instead of requiring multiple segments or reports.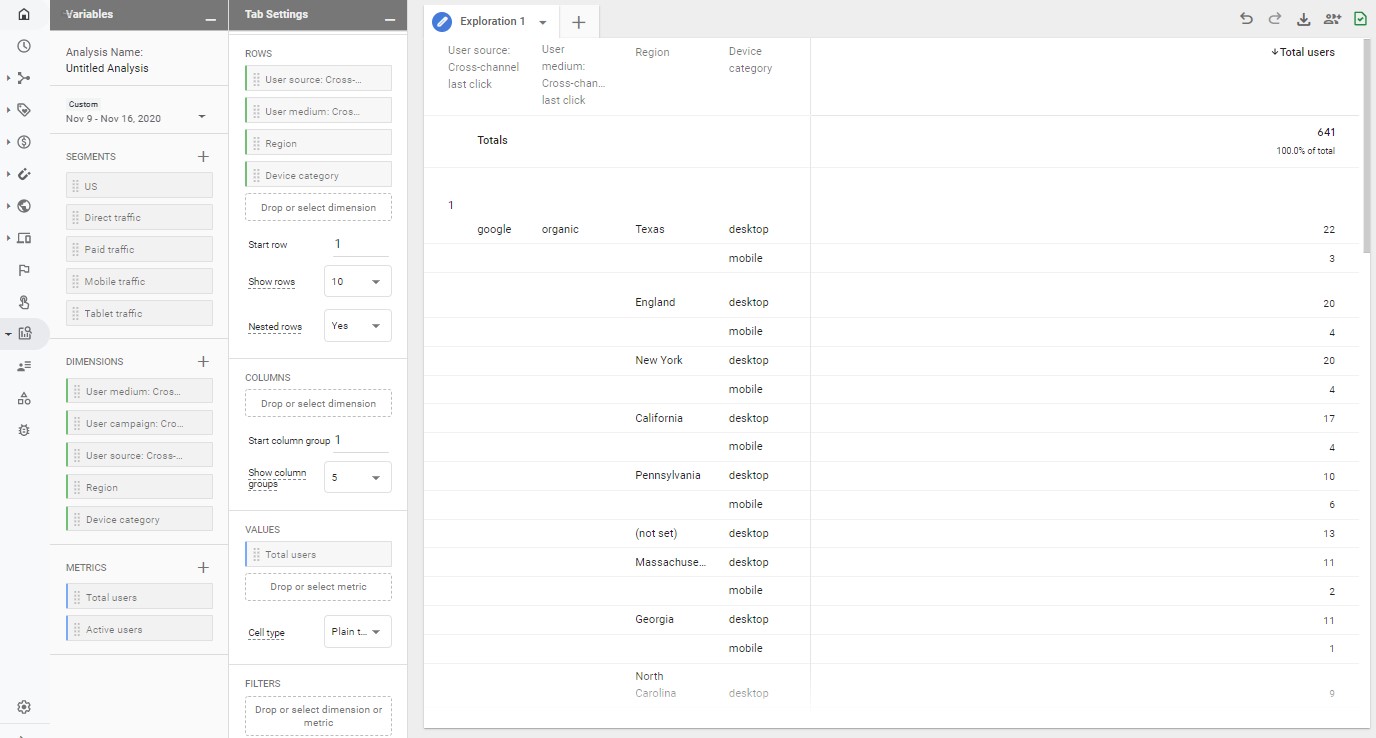 New Properties created will be in GA4 by default, however Universal Analytics Properties can still be created
As part of the push to encourage users to transition to Google Analytics 4, when a user creates a new Analytics property, Google's default option will be a new GA4 property.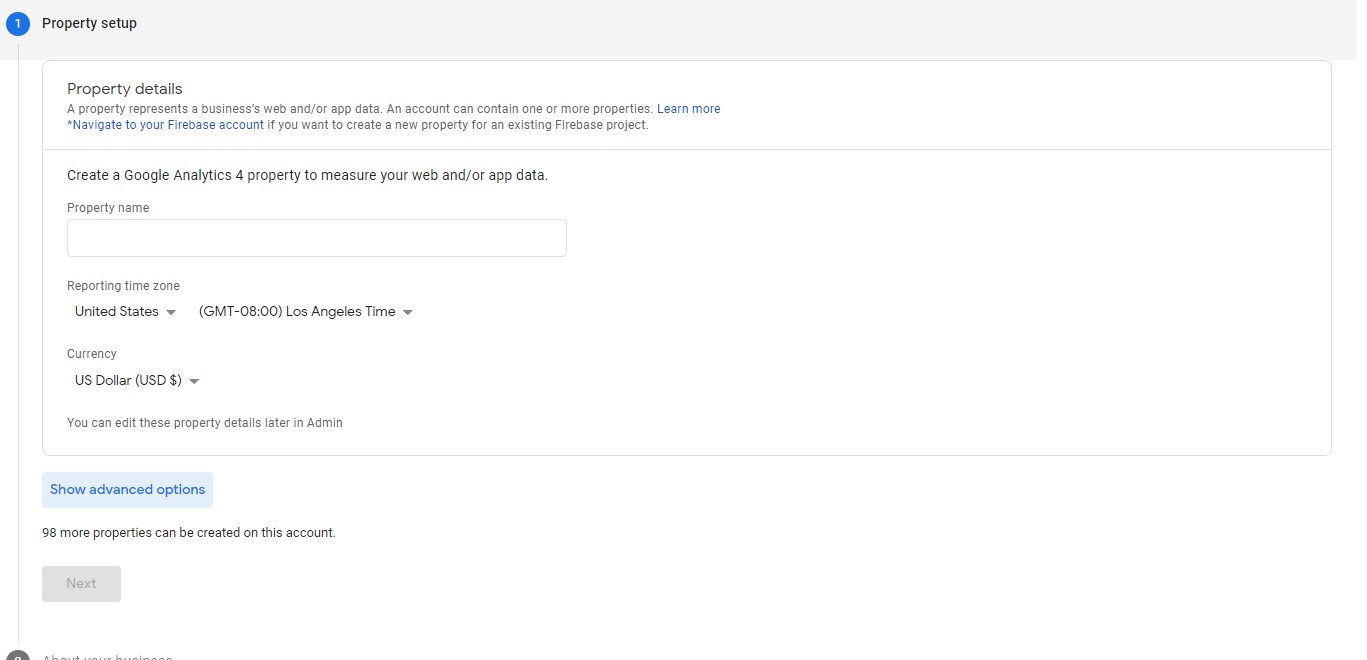 While Google is very strongly encouraging users to create a GA4 property, it is still possible to create a Universal Analytics property as well. This is particularly useful for campuses who are seeking features that may not be in GA4 or are more comfortable and would like to continue leveraging Universal Analytics as well. To create a Universal Analytics property, navigate to the "Show Advanced Options" selection and change the toggle to also create a University Analytics property.

If you happen to be creating a new Analytics property within an existing account, we encourage you to create both types of properties. By creating and installing both, campuses can use the interface and functionality they are familiar with, but also begin to collect data and experiment with GA4.
Tracking and account set-up differs from Universal Analytics
Frequent Google Analytics users are very familiar with the UA-XXXX Tracking ID structure that Universal Analytics leverages. Google Analytics 4 uses a different tracking ID (G-XXX) that may require some different implementation. Campuses that have implemented Google Analytics using the code placed on their site should have a relatively seamless update (just updating the account number) but those that are leveraging Google Tag Manager will need to use different GTM tags to properly implement GA4 on their website.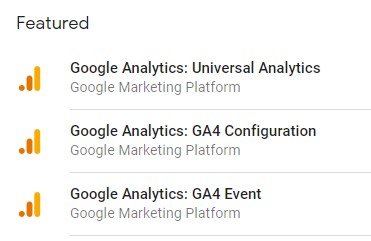 The standard tag implementation is similar, but any campuses that have leveraged custom event tracking to measure website actions will need to make updates to their set-up. Gone are the familiar event categories, labels, and actions in favor of a single "event name." You now have the ability to configure custom event parameters, but the process is different than most users will be accustomed to and will require a measurement strategy to ensure consistency and accuracy.
Additional engagement measurement is standard
When performing account audits of Google Tag Manager and Google Analytics, the RNL team recommends setting up additional tracking to better gauge actions users are taking on a site. While Google Tag Manager has made it easier to set up this tracking, there are still additional configuration steps required. With the release of Google Analytics 4, setting up these additional tracking items is as simple as ensuring a toggle is selected.
This enhanced measurement tracking will allow more users to take advantage of what has historically required more complex implementation. Google continues to focus on user experience and by tracking these actions, campuses can begin to understand how and what users are engaging with on their site.
A more robust focus on user privacy
As more users (and browsers) are focusing on user privacy and limiting tracking pixels, Google has built Google Analytics 4 so that it doesn't rely on cookies (tracking pixels). GA4 will leverage Google Signals and machine learning to help generate a more complete view of user behavior on a website.
While Universal Analytics allowed campuses to potentially store user and event-level data on Analytics servers for up to 50 months, GA4 will only allow retention for user-level data for 14 months. This change should not drastically impact most campuses but serves to show that Google is following the broader industry trends in enhancing privacy.
Takeaways
Google Analytics 4 is certainly a very exciting development for the industry, however it is a very different experience for users who are familiar with Universal Analytics. For many campuses, a switch to GA4 will require changes to implementation, tracking and time investment within the platform.
On a higher, longer-term level, campuses that wish to begin experimenting with GA4 should plan to run a GA4 instance alongside their current Universal Analytics instances. Since G4's tracking set-up is so different, campuses should also be sure to take time to evaluate their current measurement framework and begin to plan for their GA4 measurement plan.
In the more immediate-term, campuses should begin by familiarizing themselves with the differences between Universal Analytics and Google Analytics 4 by reading blogs and articles, watching videos and ultimately starting a test property. While Google has not released any timelines for a full "switchover" (or what that will look like), the campuses who are proactive in their GA4 adoption will, at the very least, be able to leverage the benefits of the new platform earlier than their peers.
Want to learn more about Google Analytics 4 (GA4)? Or need guidance on what to do next? Contact us to set up a time to talk, and we can discuss analytics strategies and solutions for your campus.
Talk with our digital and enrollment experts
We're to help you find the right digital marketing and recruitment strategies. Let's set up a time to talk.
---