enrollment
Developing an Effective Graduate Marketing and Recruitment Plan
Whether you manage a centralized, decentralized, or hybrid graduate admissions office, if the responsibility for recruiting (or partial responsibility for recruiting) falls under your department's purview, then having a plan to follow is critical to your success.
Graduate admissions tends to be a less than straightforward when it comes to answering the question, "Who is primarily responsible for recruiting graduate students on your campus?" Even the terms embedded in the question itself can be open for interpretation. For example:
Who: as in an individual or department or group of people as one entity (i.e. program directors);
Primarily responsible: Does that entail full-funnel responsibility for marketing, communications, and event planning? Or perhaps it really refers to only the operational management of applications and supporting documents—or a combination therein.
Even the term 'graduate students' can even be questionable.
When I was the assistant dean of enrollment management for the Peabody College of education and human development at Vanderbilt University, graduate students specifically referred to PhD students only and professional [graduate] students referred to any master's level program in the college and the Ed. programs.
Certainly, there are many aspects about the question itself that need to be hashed out and considered prior to embarking on the task of developing a comprehensive graduate marketing and recruitment plan. Here are my top four tips for approaching the development of an annual marketing and recruitment plan.
1. Form strategic partnerships
Remember that no matter who is ultimately responsible, developing a plan should be a strategic collaborative endeavor.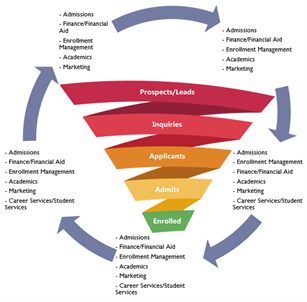 Organize an enrollment planning committee. First, select and invite people to join the committee who can help to collaborate and work on the plan. Then, assign or elect people to have specific roles on the committee (for example: chair, data organizer, internal communications, monitoring and tracking, project management, etc.) It is critically important that everyone on the planning committee have a specific role for which they are responsible. Ineffective teams are those that do not have members with specific areas of responsibility. The departments represented in the funnel cycle in Figure 1 are only suggestions, you may choose to select different departments but these are the departments typically represented.
As you embark on the planning process, be sure your team sets some foundational expectations to promote: trust, mutual respect, mission-driven approach, ability to safely examine internal issues, and the development of ideas that are sustainable. Having set this foundation, your enrollment planning team will feel empowered to analyze and make important decisions. Finally, consider the elements of strategic partnership shown in Figure 2.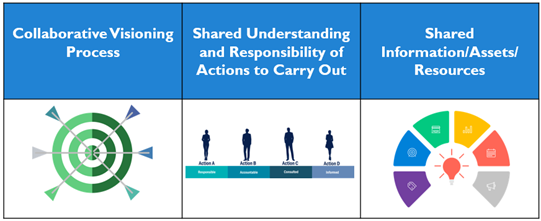 2. Do a comprehensive situation analysis
One of the core elements of your plan will entail a comprehensive situation analysis. The situation analysis is the foundation of this entire process and therefore should not be deemed a rote exercise. In fact, many institutions will assess their internal capabilities in terms of the data they have (quality, depth, breadth, granularity, and uniqueness) so they can create a parallel plan to continuously improve the data used to conduct the situation analyses.
There are three parts to consider developing: a qualitative SWOT, internal data analysis, and external data analysis:
A. Internal qualitative SWOT (Strengths, Weaknesses, Opportunities, and Threats)—With the enrollment planning committee, brainstorm the strengths, weaknesses, opportunities, and threats from a marketing and recruitment perspective of the institution. Be sure to include the voice of the student and the voice of your academic programs in this process.That may mean that you conduct outside focus groups or one-on-one meetings or that you invite representatives to the brainstorming meeting. How you decide to do it doesn't matter as much as ensuring that those voices are represented.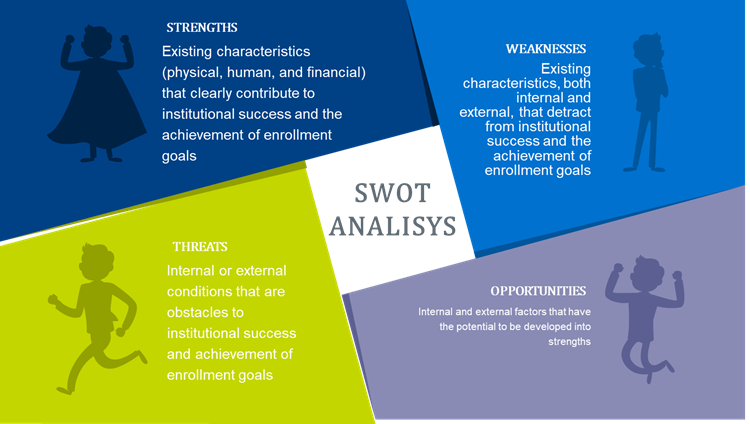 B. Internal data analysis—Your analysis of internal data will likely include funnel data (prospects through enrolled/census), activity funnels (who was invited, applied, enrolled, etc.) from specific events (any and all on-campus, off-campus, or virtual events), marketing data (digital lead generation marketing, competitor data, program analysis, etc.), net tuition revenue/discount rate data, and more.
C. External data analysis—Be sure to look at external benchmark data (RNL has a repository of great research you can utilize). Check with other sources for marketing/competitor data, Council of Graduate Schools, GMAT or GRE, and more. Also find someone who can provide demographic, public policy, labor market, and market opportunity data for review and analysis.
Once you take a good comprehensive look at all of the data you collect to conduct the situation analysis, this will lead to natural discussion about what your goals for the next cycle should look like.
3. Develop SMART Goals
As you write your narrative—the content that describes that data you look at and paints the picture of where the institution's strengths and weaknesses lie—begin to imagine the changes that need to happen at different stages of the funnel to address your weaknesses and leverage your strengths.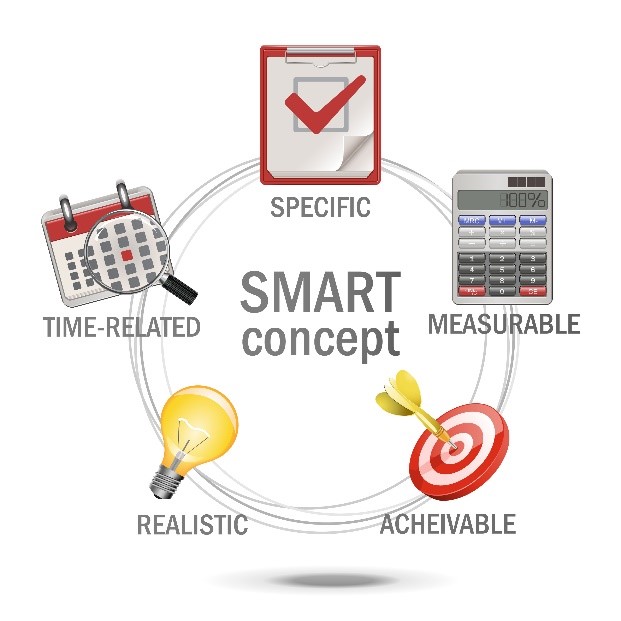 4. Don't Forget Strategy Ideation and Action Planning
When you have your goals clearly articulated, you can then let the creative ideas flow. As you ideate, you will want to think about your strategies in terms of how those ideas will address the gap or opportunity. If you have robust data, you can project potential ROI if you have estimates on the number of enrollments you expect to hit and the net tuition revenue details. As you write action plans for each idea that you choose to move forward (likely based on specific or loose ROI information), be sure to track what resources you'll need to execute the plan.
When building action plans for each of your strategies, be sure to address these basic parameters of a plan: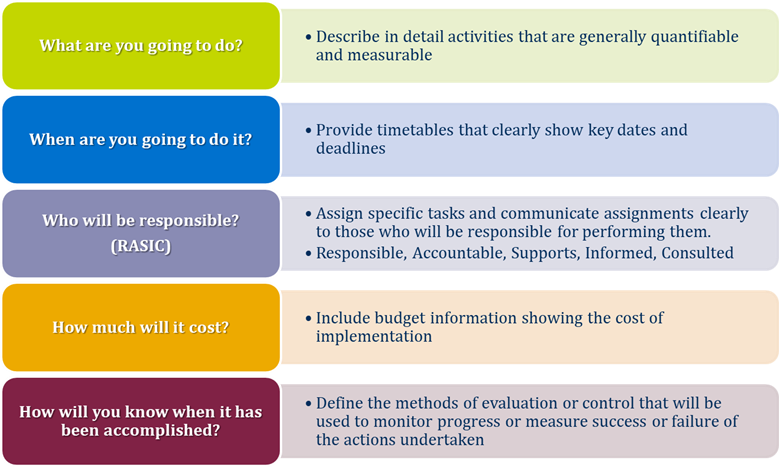 Watch my conversation on graduate marketing and recruitment, and talk to us about creating the right plan for you
If you want to hear more about graduate marketing and recruitment, I talk in more detail with RNL's Scott Jeffe about graduate marketing and recruitment in this episode of RNL@Home. And my colleagues and I are ready to assist you with your annual marketing and recruitment plan efforts. Please do not hesitate to contact us to explore options and have an initial discussion.
What are your best enrollment strategies for graduate students?
Our graduate enrollment experts can help you take a data-driven approach to optimizing your enrollment. Let's talk about how you can exceed your goals and position your programs more competitively in the market.
---