enrollment
Community College Enrollment Strategy: A LinkedIn Live Discussion
During the pandemic, community college enrollments have been hit particularly hard. That's why strategic enrollment planning is more important than ever for community colleges. It's a data-informed process that helps these colleges focus their limited resources in ways that support enrollment and sustainability for the short- and long-term.
RNL's Brian Gawor sat down with three community college enrollment leaders to discuss their insights into enrollment strategy.
Watch this lively discussion that aired on LinkedIn Live to hear their experiences and recommendations for community college enrollment strategy.
Explore strategic enrollment planning at our upcoming virtual forum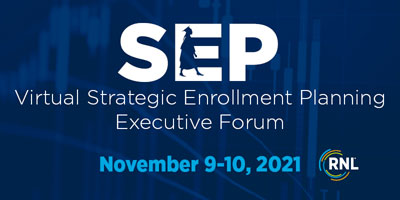 Join us at the 2021 Virtual Strategic Enrollment Planning Executive Forum (November 9-10) for a hands-on exploration of this vital enrollment planning process. RNL experts and campus leaders will discuss trends, strategies, and the process of building a strategic enrollment plan. At the end of our two days together, you'll have a start on a strategic enrollment plan for your institution that follows this proven, data-informed process. Learn more and register.
---