enrollment
Online learner satisfaction: What varies between four-year and two-year institutions?
Millions of students now enroll in online courses each year, but how satisfied are they with the educational experience in their courses? Do they feel the education they receive is valuable? Do they receive enough support from their institutions? And how do student perceptions vary between those enrolled at four-year or for-profit institutions and those enrolled in community college/two-year programs?
The 2015-16 National Online Learners Satisfaction and Priorities Report examines the satisfaction levels and areas of priority for students enrolled in online programs. The report is based on 118,322 student responses from 132 institutions which have administered the Priorities Survey for Online Learners between the fall of 2012 and the spring of 2015. For the first time, the data have been analyzed to look at the responses for students at four-year and two-year institutions separately.
Online learner satisfaction at four-year and two-year institutions
The following tables show two measurements:
Satisfaction—How many students said they are satisfied with their overall experience.
Re-enroll—The percentage of students who said, if they had to do it all over again, they would repeat their online learning experience.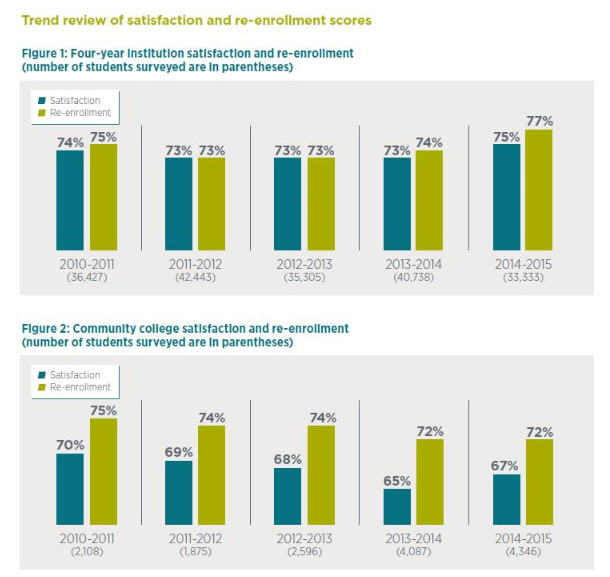 Comparing trends at four-year institutions and community colleges, satisfaction and re-enrollment ratings have held relatively steady at four-year institutions, with an increase in the past academic year. At community colleges, the satisfaction levels took a dip last year before rebounding this year, while re-enrollment percentages have held steady.
Two contributing factors may explain why students at four-year institutions have higher satisfaction levels than those at community colleges. First, a higher percentage of students at four-year institutions indicated that they are enrolled primarily online; these students tend to have higher satisfaction levels than students enrolled primarily on a campus. The second factor is the higher percentage of graduate students enrolled at four-year institutions. This is also a demographic group that typically has higher satisfaction scores. However, it is interesting to note that the re-enrollment levels are comparable for students at both four-year institutions and community colleges.
This year's report examines student perceptions of institutional strengths and challenges in the areas of institutional perceptions, enrollment services, academic services, instructional services, and student services. With the separate results for two-year and four-year institutions, the following observations are clear:
Online learners at four-year institutions are more critical than students at two-year institutions when they evaluate whether or not their tuition is a worthwhile investment. This mirrors perceptions of students at on-ground institutions.
A unique challenge for community college students is finding sufficient offerings within the program of study. It may be that online learners at two-year institutions are enrolled online because they are not able to get access to those same classes on campus.
Four-year institutions do not have any identified strengths within the instructional services category, while students at community colleges indicate three items of strength: student assignments clearly defined, appropriate instructional materials, and evaluation procedures. This is an important distinction identified for the first time by examining the results separately for four-year and two-year segments.
Reviewing national results is a good place to start, but having data from your own online learners is the most valuable. Are you conducting satisfaction assessments of your online learners? This type of data could help you answer these questions:
Do your online learners feel their tuition is a good value?
How can you guide more online learners toward completing their educational goals?
Where should you focus your priorities for improving your online programs?
What strengths should you emphasize to prospective online learners?
Download the 2015-16 National Online Learners Priorities Report to see all of the results from this year. In addition to the data points highlighted here, the full report includes a list of the top factors influencing online learners' decisions to enroll in their program.
You can also learn more about the survey instrument used for the report, the Priorities Survey for Online Learners. And as always, I am happy to answer any of your questions. Just send me an email or connect with me on Twitter.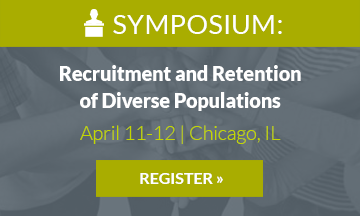 ---