enrollment
Application inflation: How one college successfully responded to its stacks of incomplete applications (Part 2)
Ruffalo Noel Levitz
November 15, 2016
This is part two of a two-part blog post published with the permission of Simmons College

"The college's system was handling a growing number of applications and the admissions team was becoming increasingly bogged down with trying to get them to an actionable status. Having to focus on the logistics of application materials limited the meaningful conversations counselors could have with interested students and their families—and lower yield rates showed it. Dolan believed it was time to reconsider how they built and cultivated the college's inquiry and applicant pools."
Our story continues…Adapting to a new approach
Telling your campus that you're experiencing what was ultimately a 27 percent decrease in applications is enough to cause panic, despite the very promising indicator of a rise in campus visits that fall. Dr. Dolan is the first to admit that there was more than a little trepidation on campus as their first early action deadline neared. The raw application numbers didn't live up to the previous year, and he realized they needed to assess (and report on) different metrics because this was a very different approach. A closer look at the status of the first round of early action applications painted a more promising picture. "Our file completion rate was 97 percent. We had never seen that before." Without changing its admission standards, Simmons had the same number of offers of acceptance to keep it on track for its yield and enrollment targets. The trend continued through the second early action and regular decision deadlines.
What's more, with its inquiry pool now qualified, the team could see that the number of prospective students who had a very high interest in Simmons was, in Dr. Dolan's words, "through the roof."
Focusing on applicants—not applications
With RNL providing unprecedented intelligence on each prospective student, the counselors were able to focus their own outreach. They could do seemingly simple things that made a tremendous difference. For example, they could reach out to all of their prospective students who hadn't yet filed financial aid forms and advise them on the process. In the past, the applicant volume prevented being able to achieve that in the tight timeline necessary. "The team became so much more efficient. They had more time to connect with their prospective students and strengthen those relationships. They really understood their students," said Dolan.
Focusing on the right numbers
Explaining the new approach and its benefit to students is great, but in assessing and projecting enrollment to the campus, it's still about numbers. It's just that the numbers they needed to look at were different now. "We needed to educate our community," Dr. Dolan explains. With the support, insights, and counsel of the RNL team, Simmons rebuilt its metrics to evaluate the applicant pool, including building a 13-point affinity metric. "It was still a bit of a leap of faith," Dolan admits, "but by March 11 we knew we had it."

Indeed they did. The college surpassed its enrollment, SAT, and diversity targets and enrolled the second-largest class in school history—all while reducing the discount rate by nearly one point. An even surer measure that they had more effectively engaged the right students? Yield rose from less than 15 percent two years prior to over 22 percent for this class.
With this accomplishment, Simmons has built a great foundation for future success.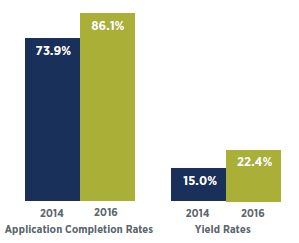 Student and staff retention
Forging stronger relationships with students earlier in the process is a great building block for retention. Historically, RNL client results demonstrate that students engaged via the company's Enrollment Marketing Solutions retain at a rate higher than students who are not. But it goes beyond that. "This is the first year in forever that we've kept our admissions team," Dr. Dolan shares. When staff isn't pleading for application completions that will never happen, they can actually make connections with truly interested students. The relationships they cultivate continue into freshman orientation and beyond. Enabling the team to become more invested in the institution's students provides them more job satisfaction and helps them become more effective recruiters and counselors.
Informed planning moving forward
As they aren't focused on recruiting and training new staff members, the Simmons team can focus on planning for the next recruitment cycle. Without having to shift territories, they feel better about travel planning. Beyond that, Dr. Dolan is applying the approaches they've adopted on the undergraduate side to the way they recruit for their five graduate schools. And, because the switch to RNL's Enrollment Marketing Solution saved the institution a substantial amount of budget dollars, they are able to redirect some of those funds to strengthening their message of women's leadership.
Beyond optimizing institutional resources and enrollment, the Simmons College-Ruffalo Noel Levitz partnership has enabled the college to strengthen its connection with its incoming freshmen and future graduates.
Learn more
Call 800.876.1117 or email Ruffalo Noel Levitz to find out how you and your team can follow the example of Simmons to build and cultivate a stronger inquiry and applicant pool using Ruffalo Noel Levitz Enrollment Marketing Services.