enrollment
When it comes to filling your academic programs, it's not about doing more. It's about doing what's relevant to students.
To be more competitive when recruiting students for specific academic programs, you need to create an academic journey to nurture their exploration.

"Why should I study at your campus?"
It's a simple question, but it is the cornerstone of student search. Academics plays a pivotal role—do you have my major? is one of the first questions students have when they start their search. But students today also require more than seeing if you have the major they want or reading descriptions of your academic programs. They want to know if they are a good fit for your programs, and if your academic programs and your institution will meet their needs.
In addition, the competition for students in their search for the right college and the right academic programs has grown more fierce in recent years. Students now can find information on institutions across the country and the world with a simple search. According to our E-Expectations research, 60 percent of college-bound juniors and half of college-bound seniors search for the school name and program name when searching for colleges online. Nearly half of those juniors and about 40 percent of fall seniors search for program names. At the same time, your competitors are getting increasingly creative in how they recruit students for the programs they want to fill. How do you stand out from the competition and engage the students who will make your academic programs shine?
The key is to create a targeted, personalized journey for prospective students, one that engages them the first time they learn about your institution and the academic programs you offer. This generation of students has grown up in the era of personalization and content tailored just for them. These students expect the same kind of customized experience during their college searches that they encounter when shopping online, browsing websites, and using social media. That personalization—the feeling that your institution not only has the major a student wants but is the place for them to pursue their academic dreams—is how you will outmaneuver your competitors and shape enrollment in your programs.
It goes way beyond filling seats
Beyond meeting the enrollment targets for your academic programs, ensuring prospective students are well-informed about—and find themselves a good fit for—specific majors means they will make more informed enrollment decisions. Those decisions are about more than where they go; what they choose to do is just as important. With a carefully created, personalized plan building early awareness, you can do better in connecting students early to the right major—and then in exceeding their expectations as they pursue their opportunities at your institution.
Successfully shaping enrollment for your academic programs means letting go of your old plan
We have written previously about why the traditional college communication plan is broken. But it is especially critical, in an era of increased competition for students and greater expectations for personalization, to engage on an individual level when recruiting for your academic programs. Your outreach needs to feel relevant and customized for them. This cannot be done effectively through linear or static communication streams that highlight aspects of the majors you are targeting.
Instead, students are looking for an academic journey for choosing the right academic programs. They want to be empowered and drive the experience, finding information and making decisions at their own pace and in the order they prefer. They find their way to their enrollment decision and want to access the information they want when they need it.
Think of it in the context of a conversation with a prospective student. Rather than providing a flow of information at planned stages—which may not meet a student's expectations or needs for their college search—each exchange and each piece of information or interest the student shares will tailor that conversation and increase their engagement. The benefit is, in giving students more freedom to shape their exploration of your institution's academic programs, you increase your opportunities to steer them toward a decision to apply.
Ideally, you create an academic journey that creates that experience for them. This journey should have three key aspects that engage the right students for your academic programs and nurture them toward enrollment.

Invite students to engage by tapping into their academic interests on a personal level (for instance, by using an interactive "fit quiz).
Empower and educate students as they research your institution, letting them find the information they want in any order they desire, rather than along a present timeline of communications.
Engage students until they enroll by connecting them with relevant information—career possibilities, financial aid information, faculty profiles—and reaching out to their parents to make them advocates for your institution.
Read how to create this academic journey in our white paper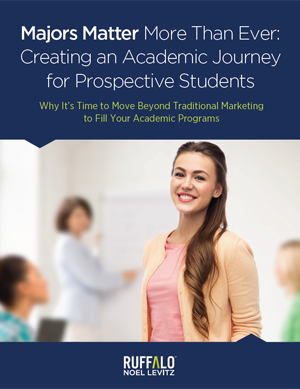 Download our white paper, Majors Matter More Than Ever: Creating an Academic Journey for Prospective Students. You'll read more details about how student expectations have driven the need for an academic journey approach to filling your academic programs.
---