enrollment
5 ways higher education professional development strengthens colleges and universities
Campus professionals have a lot on their minds. With reduced budgets, tightening enrollments, changing demographics, rising college costs, and increased financial need, you are primarily focused on the students you serve and the resources you need to serve them. Those concerns can cause you to overlook one of the most important resources at your disposal: yourself and the campus colleagues who work beside you.
When the budgetary reins get tightened, professional development for campus staff is often one of the first expenses on the chopping block. Campuses certainly have to make many painful cuts in times like these, but cuts for higher education professional development can often have long-term repercussions that far outweigh the minor, temporary budget relief that they bring. In fact, it's during times like these, when you're forced to do much more with much less, that training, knowledge, and teamwork become paramount to working efficiently and meeting your goals for enrollment and student success.
There are many big benefits to higher education professional development, but here are five particularly strong ones:
1) Expanding your knowledge has a high ROI.
Let's say you spend $1500 to attend an event on student retention. During the event, you learn strategies for early-alert programs that help you retain three more students and bring in $15,000 of net revenue that would have been lost had those students withdrawn. You've far exceeded the relatively minor investment you made to attend that event. The same would apply if you had learned strategies that helped you recruit three more students.
What often gets overlooked in cutting higher education professional development is the cost-effectiveness of expanding your professional knowledge. Learning new strategies, especially strategies that are already working at other campuses, can pay big dividends, both immediately and down the road. And as the example above illustrates, even small improvements in your enrollment can far exceed your original investment.
2) Professional development facilitates change.
Routine tends to stifle change and innovation in any organization, and campuses are no exception. We get so used to the way things are that we don't see how things could be.
Professional development not only opens your eyes to new ideas and strategies, it tends to clarify why new ideas and strategies are so important. I can't tell you how many times I've attended an event and thought, "We should be doing that!" Those a-ha moments can be very energizing and encourage you to return to campus ready to make important changes—while also equipping you with the strategies and data to justify those changes.
3) Group participation strengthens teamwork.
The individual benefits of expanding your knowledge and energy increase exponentially when your colleagues join you for events. Not only do you learn new strategies, but you can immediately discuss them with others from your institution and spur additional ideas.
This doesn't have to be limited to in-person events. Webinars are a good, cost-effective (often free) way to bring your colleagues together to learn new strategies. Rather than sitting at your desk in isolation during a webinar, consider gathering your team to listen together so you can interact with each other.
4) Networking with other campus professionals adds another source of strategies and knowledge.
Conferences, workshops, and other events not only put you in touch with ideas from presenters but with members of other campuses. Talking with professionals from similar campuses to yours—people who have likely dealt with similar challenges—can be extremely illuminating and provide a rich supplement to the formal sessions.
5) Investing in professional development demonstrates a commitment to your staff.
If you supervise campus staff, providing for their professional development shows that you want them to learn, grow, and thrive. Cutting professional development opportunities sends a message that you're not making a commitment to learning and new ideas. Even if dollars are tight, free or relatively inexpensive options like regional events or webinars can still generate many of the benefits mentioned above, and it shows that even if you don't have the financial resources available, you'll still make time available for professional development.
Find many opportunities for higher education professional development at our conference

Ruffalo Noel Levitz has always been committed to higher education professional development. This July we will host our 31st annual National Conference on Student Recruitment, Marketing, and Retention, an event that allows campus professionals to expand their knowledge, gather momentum for change, and return to their campuses with the strategies and energy to reach new levels of success.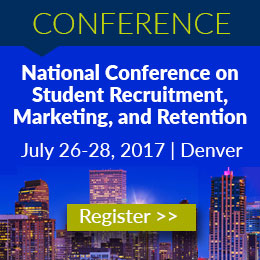 I encourage you to join us in Denver for the National Conference, but more importantly, I strongly encourage you to make professional development a priority. There are so many conferences, workshops, and webinars on enrollment management and student success that can help you and your campus colleagues work more effectively and efficiently. Don't let budget and time constraints undermine what is often a very worthwhile investment.