enrollment
Creating a student-driven college enrollment experience
Patricia Maben
November 30, 2017
In our previous blog, we wrote about how changes in communication and student expectations have made traditional college communication plans obsolete. What institutions need to do is create a student-driven college enrollment experience where prospective students can pull the information they need, when they need it.
Naturally, such a shift creates a lot of questions. What does it look like to not orient around that traditional plan? What's the core now?
It becomes about crafting an experience where each student builds his or her personal "core plan." The experience they have in doing so—online, on their device, in their home, and on your campus— will make or break their choice to further engage and explore. Daunting, yes: but much more effective—and exciting.
Consider the concept of micromoments, as defined by Google: "Critical touch points within today's consumer journey, and when added together, they ultimately determine how that journey ends…they're the moments we turn to a device—often a smartphone—to take action on whatever we need or want right now. These I-want-to-know, I-want-to-go, I-want-to-buy, and I-want-to-do moments are loaded with intent, context, and immediacy."
How does this translate to college student recruitment? Students are already experiencing micromoments with your institution—the question is, how are they faring? Is the content meeting their specific needs and expectations at each of these particular moments?
To embrace these moments, it's critical to "be there, be useful, and be quick"—in other words, anticipate needs, provide relevant content, and eliminate unnecessary steps to get to the answer. Further, it requires connecting the dots across their entire experience, not just from one screen or at one point in time but across those points.
The web is where they live, of course, but your website is just one part of how they experience your institution—and understanding what's relevant to them requires more than just measuring their website interaction. It demands an understanding of how they answer key questions; what they click on, open, forward, share; why they're exploring; and how you can meet their needs and shape their experience.
What we're talking about is much more than building a stellar website or adding digital advertising to your plan. It's about enabling a student-driven experience that is fully integrated with your enrollment strategies.
Moving from old student recruitment strategies to student-driven college enrollment
How are enrollment strategies evolving? Here are several enrollment strategies that are changing into more customized, student-driven approaches.
PAST STRATEGY: Grouping student communication in "lock and load"
Sending batch information to groups of students; such as academic programs, financial aid, or career services informationTODAY'S STRATEGY: Connecting relevant information directly to their online exploration in real time
Students drive the information they seek; empower them to have the best experience so they will want to continue to explore what is most relevant—such as specific academic information.
PAST STRATEGY: Pushing content on a timeline
Dates drive information that is sent on weekly or monthly schedules with predetermined student groups—such as sending juniors information about application requirements, or parents of seniors how to apply for aid.TODAY'S STRATEGY: Personalized, relevant information is available on demand as students and parents need it
Students drive the timelines. For example, a student seeking information on financial aid will find the relevant information for them.
PAST STRATEGY: Reacting to requests
Sending information to families when they request it, including links to relevant information on the website.TODAY'S STRATEGY: Instantaneous information for families from any device
The world of requesting information is gone. If they can't find it immediately, there is no point.
PAST STRATEGY: Best website experience
Assuring the website navigation experience is premium.TODAY'S STRATEGY: Individualized experiences
Online is not just a place of information seeking any longer. It is about providing a seamless, integrated, personalized experience from any device across many integration points—web, mobile, on campus, that assures the student remembers, shares, and desires more.
PAST STRATEGY: Analyzing data after the fact
Looking at student data, such as source codes, campus visit information, and predictive model scores to predict future behavior.TODAY'S STRATEGY: Real-time analytics and continuous measurement of student engagement
Student engagement is measured continually based on their interaction from any device in any situation—from perusing a website to filling out an evaluation form about their campus visit.
3 key aspects for creating an individualized enrollment experience
Here is the hard truth: meeting these expectations, creating a student-driven college enrollment experience, and making an authentic journey of self-discovery for students is tremendously challenging.
A CRM or an automated marketing platform is not the solution. They are vehicles by which you can craft memorable, meaningful journeys that translate to enrollment success. But doing so successfully requires an advanced approach so that the experience will be genuine and meaningful to students.
There are three key aspects to creating a student-directed college enrollment experience that meets their expectations while also fulfilling your enrollment goals.
1) TRANSLATE INSTITUTIONAL GOALS INTO SPECIFIC ENROLLMENT OBJECTIVES
Is your institution seeking to enter new markets, to fill or expand specific academic programs, attract first-generation students, recruit more high achieving students (or do all at once)? Rather than struggling to accommodate new objectives within an old approach, you will be more effective and successful in shifting to a strategy oriented around the student's journey.
The key is to accurately identify which prospective students you want to invite on this journey, then listen and respond as they tell you what is most important to them every step of the way, from awareness to enrollment.
2) IDENTIFY THE PERSONA—THEN BUILD THE PATHS
Listening is crucial, because what prospective students tell you reveals their personas. What do they want to be when they graduate? Do they want to stay close to home or journey across the country to a campus? Then, as they reveal these personas, they immediately see dynamic content that seamlessly aligns with their responses, addresses their informational needs, and allows them to continue on their chosen path to enrollment.
3) ENABLE THE JOURNEYS
All of this means a shift from pushing out information to enabling students to retrieve relevant information through their choices and behavior. This has to be done across all engagement channels—digital, direct mail, social, quizzes, responsive hubs, text, and email—to guide students and to respond to students' specific behaviors and activities.
Read more strategies in our white paper, and learn how you can create a student-driven college enrollment experience now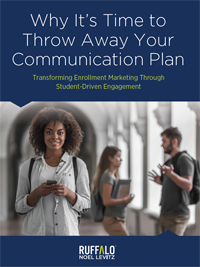 These strategies are in our newest white paper, Why It's Time to Throw Away Your Communication Plan: Transforming Enrollment Marketing Through Student-Driven Engagement. This paper covers this blog post as well as our first part on communication plans. Click here to download your free copy.
This paper also discusses RNL Student Journey, a solution for creating a student-driven college enrollment experience that's aligned with the expectations and behaviors of today's students. It allows you to engage students through an authentic experience, empower them to explore what your institution has to offer, and target those students who are the best fit for your enrollment goals.
Ask us for a free guided tour of RNL Student Journey, during which our enrollment strategists can discuss how you can elevate your enrollment communications to a true student-driven college enrollment experience, one that will resonate with prospective students and increase your ability to target specific majors or move into new markets.