enrollment
Strategic enrollment management in an era of changing demographics
Ruffalo Noel Levitz
September 7, 2011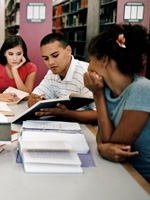 The Pew Research Center recently reported that the number of Hispanic students enrolled in college increased 24 percent in 2010. This shift has made Hispanic students the largest minority group in higher education, comprising 15 percent of all college students. In addition, enrollment from black and Asian students grew by 5 percent and 6 percent respectively, while the enrollment of white (non-Hispanic) students declined by just under 4 percent.
These are significant shifts in the demographics of higher education. These students bring more diversity to campuses, broadening the cultural atmosphere of colleges and universities. They also have their own unique expectations and challenges. Campuses need to adjust to the diverse needs of their incoming students in order to maintain a quality college experience.
Institutions also need to be ready to take advantage of the tremendous enrollment opportunities these changes can bring. In speaking with the Wall Street Journal, Noel-Levitz consultant Jim Hundrieser discussed the positive effect the increase in Hispanic enrollment can have for higher education. "For the fastest-growing population in the U.S. to realize that higher education is important to their goals is great news," Dr. Hundrieser told the Journal. He also said that Hispanic enrollment would be key to the fiscal health of campuses in the south and west regions of the United States.
But how should campuses adapt to these changes? The best approach is by data-informed strategic enrollment planning. It is imperative to study your prospective student markets and understand their motivations and characteristics. For instance, are these demographic shifts producing a shift in the number of first-generation students? Changing student financial need? Altering demand for academic programs?
These are very significant questions that could have long-term effects on academic offerings, fiscal resources, academic support services, and many other areas on campus. Furthermore, they are potential changes that require considerable time and planning to enact; if you do not prepare for these trends today, your campus will likely be unable to turn on a dime and change directions to catch up later. It is vital to look ahead and plan today for the changes of tomorrow; this is why strategic enrollment planning is so important in enrollment management.
Noel-Levitz will be conducting a Strategic Enrollment Planning Executive Forum in Las Vegas, October 4-5. The forum will address these trends and issues and give campus leaders a chance to come together and examine changes and strategies for strategic enrollment planning (Dr. Hundrieser will be one of the facilitators). It will be a very hands-on, interactive event, with lots of discussion and work on creating or refining strategic enrollment plans. We hope you can join us.
Even if you cannot come to the forum, we encourage you to make strategic enrollment planning a priority for the coming academic year. Does your campus have a long-term plan in place? Is it supported by solid data? Does it have the support of key decision makers? If you have any questions about strategic enrollment planning, please feel free to contact us as well.