enrollment
Gap in college and university strategic enrollment planning
Lewis Sanborne
Vice President
October 6, 2015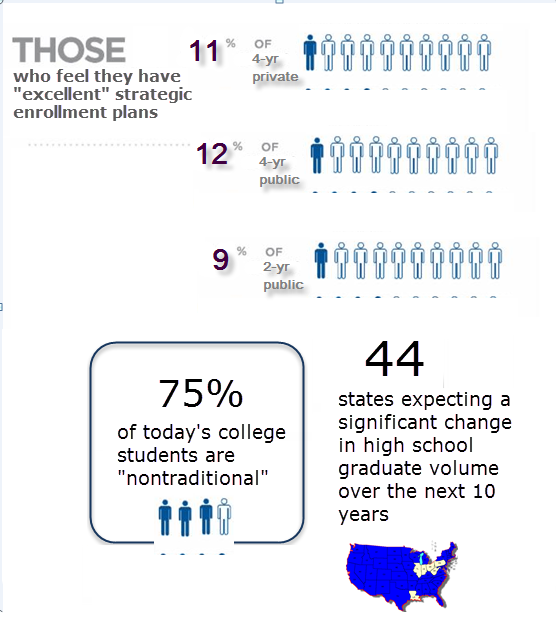 Sources:
Ruffalo Noel Levitz (2013). 2013 marketing and student recruitment practices benchmark report for four-year and two-year institutions. Coralville, Iowa: Ruffalo Noel Levitz. Download here.
Radford, A.W., Cominole, M., and Skomsvoid, P. (2015) Web tables-demographic and enrollment characteristics of nontraditional undergraduates: 2011-12 (NCES 2015-025). National Center for Education Statistics, Institute of Education Sciences, U.S. Department of Education, Washington, D.C. Download here.
Ruffalo Noel Levitz (2014). 2014-2024 projections of high school graduates by state and race/ethnicity, based primarily on data from WICHE. Coralville, Iowa: Ruffalo Noel Levitz. Download here.
Is your campus ready for the major changes that are already sweeping across higher education?
Very few colleges and universities are immune: Expected trends and current realities include serving proportionally more adult students, delivering more online classes, and being subject to shifting demographics and attitudes toward higher education that are putting pressures on traditional funding models and enrollments.
Clearly, most institutions need strategic planning, yet research shows few campuses are well-prepared for what lies ahead. Across sectors, only about one-tenth of higher education institutions report having a long-range, strategic enrollment plan that they judge to be "excellent," while only another 25 to 40 percent rate their plans "good." The remaining half indicate their plans are "fair," "poor," or nonexistent. (See this report for specific breakdowns by sector.)

As the infographic above shows, 44 states are expecting changes of 3 percent or more, up or down, between now and 2024 in their volume of high school graduates. Not every college or university that wants to grow will be able to do so, but how many are planning to shrink? In addition, there will be substantial changes in the growing area of nontraditional students and in racial/ethnic diversity; is your campus planning for the programs and services that your actual students will need, or are your programs mired in a model based on dated student profiles? (See this report for projected changes in high school graduate volume by state and by race/ethnicity).
Learn five major trends affecting higher education and how you prepare to handle them
Our recent video blog on strategic enrollment planning for higher education highlights five major trends and provides an overview of the approach many colleges and universities are taking to be prepared for the ever changing future.
Explore strategies for responding to these challenges at the Strategic Enrollment Planning Executive Forum , December 10-11, 2015
To jump start your institution's strategic response, attend our Strategic Enrollment Planning Executive Forum in Las Vegas in December 2015. Bring a team of key leaders with you (we recommend your chief enrollment officer, chief academic officer, and chief financial officer, but our recent participants have included presidents and board members, as well as directors of admissions, faculty, and student affairs officers). Join Ruffalo Noel Levitz for a dynamic discussion over two days and leave with a roadmap for implementing strategic enrollment planning on your campus. Learn more about the forum and register.
Questions about strategic enrollment planning?
If you are interested in how you can begin to build a strategic enrollment plan, please email me or call 1-800-876-1117, ext. 2116, and I will get in touch with you to discuss your specific situation.
---