enrollment
On frogs, kisses, and successful student searches: 3 tips to help you wade through the marsh
James Barrett
October 19, 2011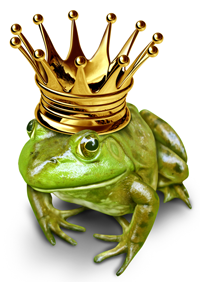 My daughter, Olivia, started middle school this fall. She's now a full-fledged "tween." I know this because the following events are now daily occurrences: requests for money to hang out with friends, multiple requests for a cell phone, my asking for her to turn down the Taylor Swift blasting too loudly from either her speakers or head phones, and the smile on my face from the fact that rotten teen-aged boys aren't knocking on my door yet.  She's not grown up yet, but she's growing up quickly. Too quickly. I can still look in her closet and see the old princess dresses and play shoes she used to incessantly wear at a time that doesn't seem that long ago. That was back when she used to teach me applied lessons about prospective student searches.
There was a day back then when we were outside and she was dressed up in a princess dress while trying to build a dam to block a small stream. (Anyone with a four-year-old daughter should be familiar with this scenario.) A few feet away I found a frog. Being the goofy dad I am, I offered it to the "princess" and invited her to kiss it to see if it would turn into a prince. She demurred and scoffed at me. I asked if it was because princes (boys) or frogs were icky. Again, she scoffed at me and offered this logic I've always remembered since: "No, Daddy. It's because how do I know THAT exact frog will be a prince if I kiss it?" I was so proud of my daughter. Budding prospective student search genius indeed.
Noel-Levitz recently published the 2011 report, Marketing and Student Recruitment Practices at Four-Year and Two-Year Institutions. It compiles answers that campuses provided in a survey we sent them. Before I comment, let me first thank all of the participants. They shared great information with us and the rich data represents a powerful research set.
Because of my interest in search and subsequent direct marketing, I was interested in a few highlights:
While 90.5 percent of four-year private colleges and universities and 86.2 percent of public universities engage in new student search, only 66.2 percent of private and 52.7 percent of publics know how many students enrolled from the list of names the campus purchased. Prospective student search is an awfully expensive proposition in which to engage without known outcomes. And I'm inferring that if one is unaware of outcomes, one isn't likely to analyze them with an eye for continuous improvement, let alone target search.
When you add up the cost of purchasing names, postage, technology, creative content development, and collateral production, most institutions that engage in a robust search are spending upwards of over six figures annually. That's simply too much money to spend without an integrated, planned approach that is systematically evaluated. More importantly, it's far too many frogs to kiss to find your student princes (with apologies to Heidelberg University).
I would like to suggest that institutions—public or private, including the 29.5 percent of public two-year colleges (what an opportunity for the other 70 percent)—consider the following three priorities  when using direct marketing in the student search process.
1. The list is the biggest factor in your success
When it comes to direct marketing, many of us want to focus on creative and message. That's definitely important. But the two most important considerations for a successful direct marketing campaign may well be the list and the offer. They may even be the list and the list.
Not many professionals would care to admit this, but many of us go through periods where we may take an auto-pilot approach to search rather than rebuild the list, zero-base, each cycle.  We're confident that we know our general primary and secondary markets, there's often a board member who has the clout to suggest a pilot market based on intuition, and we know our major areas of study and our reasonable and realistic student profile. It's all too easy to get in a rut where search is an item on the task list to complete during packaging season rather than the chance to examine opportunities for growth.
Instead, I strongly encourage starting the search planning process from zero-base each cycle. Draft a 12-month search plan using multiple sources and as many rising high school students as makes sense for your institution and budget. Avoid making assumptions that your school behaves like all others and make the investment in predictive modeling to identify multiple variables specific to your institution.  Choose a predictive modeling process that also supplies you with the variable diagnostic information you need to plan all of the elements of your search via data-driven evaluation. This will give you the actionable information you need to craft great search lists on the granular (student-specific) level. Once you have that model (or models), use that information to select the prospective students most likely to enroll rather than pursuing stage-specific goals, such as increasing the applicant pool (unless you report to a president or chancellor that is satisfied with an increased applicant pool goal rather than meeting fall enrollment goals, but I never had the pleasure of meeting any of those).
2. Know the competition for teenagers' attention—not just your competitors
Sure, you have a disciplined approach. You have an admitted student questionnaire. You diligently execute non-matriculant surveys. You participate with the Clearinghouse, you analyze your FAFSA order and you take advantage of every survey and testing analysis report without fail. You know the schools in your competition set. Kudos.
But what about your competition for attention from students?
Most mail is read over trash cans. Most e-mail is skimmed on a delayed basis by teens. And not only do I have a tween daughter, I have an adolescent son. Have you seen what comes in the mail from apparel and sporting goods stores? Their direct marketing is not just slickly produced, it also uses technology such as personal URL's (PURLS) and QR codes leading to specifically designed landing pages or even PURLS from QR codes. Designer QR codes are on the way, and in a few years the internet will be accessed primarily via mobile technology. These changes will alter student expectations from direct marketing.  To capture the interest of your traditional-aged prospective students, it will become increasingly important to ramp up direct marketing communication technology beyond the standard, non-personalized, tri-fold self-mailer.
3. Survey, test, and evaluate
I recommend a "snapshot survey" before starting the creative process. Try sending out a prospect and inquiry survey via e-mail to narrow down the essence of your perceived key messages or to gain insight into the priorities and motivations of your prospective students . Use that knowledge to develop creative.
If budget permits, run a test of your collateral. Is your branding strong enough that simply mailing a plain number-10 window envelope with your return address and a tri-fold letter leading to a PURL will drive sufficient inquiries to reach your desired search coverage rate and enroll the students to make your class? Or does the rate of return more than justify the expense of a large, four-color, personalized fat packet with a pre-populated form and business reply envelope?  Without running a test, you'll never know. Too often, search is viewed as a one-time, commodity-based proposition. Knowing that you will take a multi-year approach allows you to test different approaches and refine search over time, potentially resulting in both cost savings and improved results.
When your search cycle is completed at census date, always remember to evaluate the results. Coming from an enrollment background, I believe that evaluation based on both an initial-source-code-funnel-based approach as well as a coverage-rate analysis offers the best perspective when the whole cycle is complete. For best results, take the time to segment search campaign elements correctly by creating new and discrete inquiry codes. Make sure that your staff and systems are trained and in place to code the new inquiries correctly. To the extent that your delivery systems will allow, track how direct marketing campaigns and specific campaign elements performed to solve potential enrollment problems early and to maximize opportunities for continuous improvement.
Take my daughter's wisdom to heart
In short, it's a lot of work to give prospective student search the type of focus it needs when you are also trying to meet the myriad of demands placed upon you in a campus enrollment leadership position. It's not a surprise many institutions are looking for trusted partners to help with prospective student search and direct marketing, which is why we at Noel-Levitz are in the beta phase of rolling out Noel-Levitz DM for prospective student search. For your new student search to experience the maximum return on investment, remember to survey, test, use as much data as possible to create your list, and then take the time to analyze the results. Just act upon the wisdom of my daughter when she was four and don't kiss all the frogs in the pond.