enrollment
Three things to consider when determining the market position of your campus
Ruth Sims
October 24, 2013
As college and university leaders and marketers, we contend with an environment that is out of control. It is, at least, out of our control. Economic trends, social changes, and the prevailing political climate are powerful factors affecting our ability to recruit and retain students, yet we have little or no influence over these factors. This fundamental truth underscores the need for educational institutions to be flexible, nimble, and attentive to the winds of change.
Institutions that turn a blind eye to the environment and meander blithely wherever the road leads are likely to encounter unpleasant surprises. We navigate in an environment where maps are dynamic, and reliable institutional "global positioning systems" are simply unavailable. Chinese philosopher Lao Tzu offered this warning more than 2,000 years ago: "If you do not change direction, you may end up where you are headed."
How does an institution establish its identity in a changing environment? Fortunately, there are core marketing principles to help shape any strategic enrollment plan that remain unchanged from year to year, decade to decade. One example is integrated marketing, which is the unified and synergistic implementation of institutional messages and media in sharp contrast to sporadic, ad hoc marketing efforts. In addition, central for those involved in an institution's strategic enrollment planning (SEP) initiative is the concept of market positioning, the intentional selection of key features and benefits that define the institution's brand in a competitive context. (You can learn more about SEP at the Noel-Levitz website.)
Positioning involves the determination of three things:
Key strengths: The distinct assets and capabilities of the institution in its delivery of the educational experience. These strengths must be documented through qualitative and quantitative research, not based simply on institutional mythology or unsupported aspirations.
Market demand: An understanding of which institutional strengths are most relevant to and desired by the marketplace, including unique segments within the market, such as traditional students, nontraditional students, and continuing education students. Some of an institution's salient strengths may be different from the factors that internal audiences value. For example, institutional history, longevity, and traditions are rarely of primary interest to prospective students, unless students have had some long-term attachment to the institution, such as following the success of an athletic team. (Note: Few institutions are one of these exceptions. Perhaps only 100 of the 4,500 American degree-granting institutions of higher learning can claim this kind of preferred status.)
Competition: Examination of competitors' strengths and weaknesses as perceived by the marketplace. Again, these must be documented through quantitative market research. Perceptions of competitors are not a substitute for primary research with target markets.
The following figure illustrates the process for determining which messages should drive an institution's marketing strategy.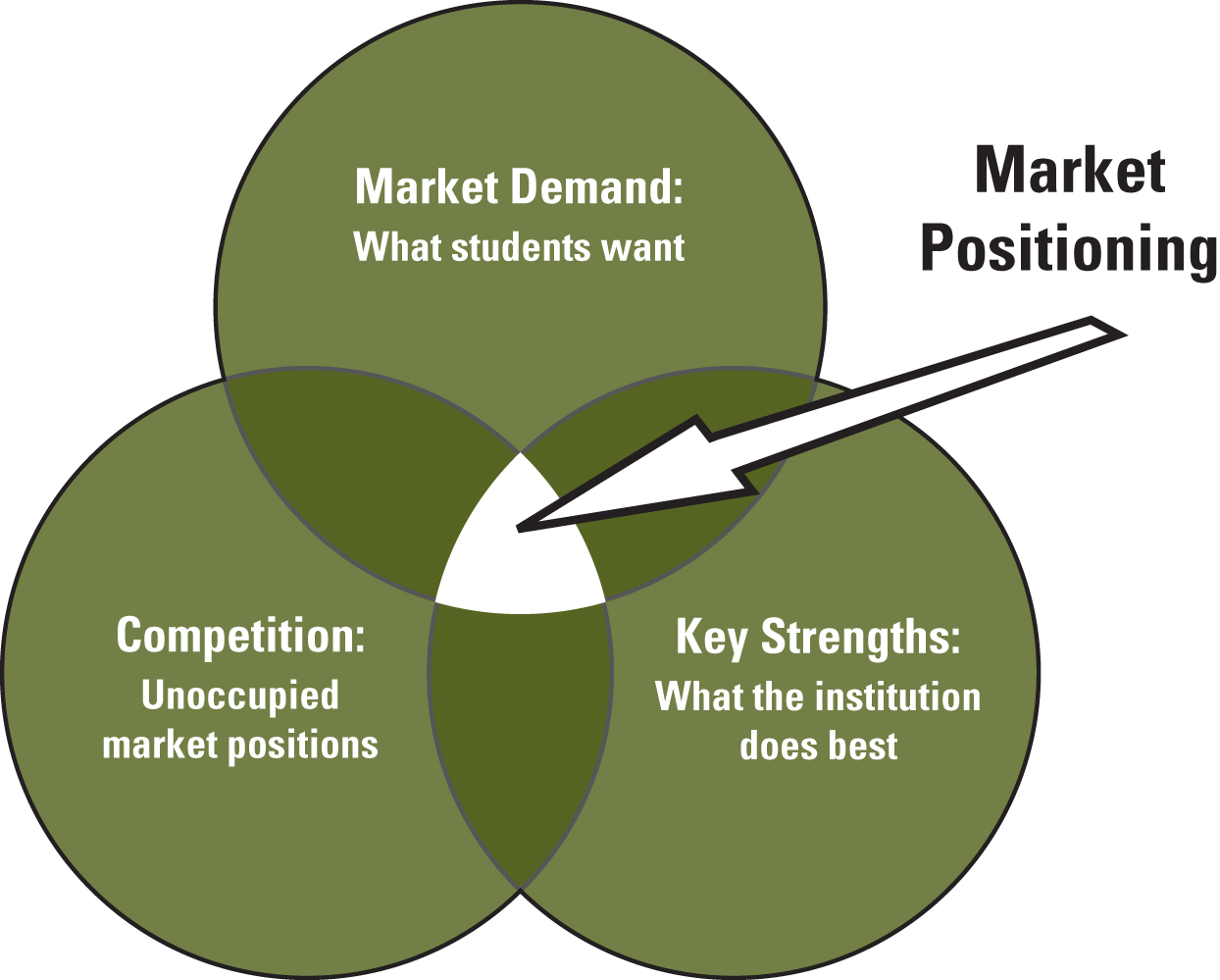 Note that the institution is seeking to differentiate itself within its primary competitive set, not among all colleges and universities nationally. There are likely fewer than 50 institutions that have a true national reputation (and another 250 that believe they have a national reputation). It is essential to base any assessment of market position on data in linking enrollment planning with a desired future state. It is virtually impossible to find a niche that is unique, given the many similarities that exist among institutions' missions, programs, and target audiences. For that reason, it is far more important for marketing messages to be relevant and true than to be exclusive.
In his book Selling Higher Education (2008), Eric Anctil points out that perceptions often drive differentiation more than reality: "Most people do not have the kind of access to colleges and universities that would allow them to make direct comparisons of the numerous characteristics that truly make institutions different from one another." This distinction is difficult for some to accept, but critical to understand as institutions consider their market position and future predicted market share aligned with market demands. Creating a "nationally recognized program" is difficult and costly. As institutions create strategic enrollment plans, they must carefully consider return on investment for specific goals in order to evaluate where they can realistically fit in the marketplace.
I dive into greater detail about this topic in my chapter in Strategic Enrollment Planning: A Dynamic Collaboration, which is available from Noel-Levitz. In that chapter, I discuss the importance of research and assessment in determining market position as well as the extension of an institution's position online through the web and social media. Noel-Levitz is also hosting a Strategic Enrollment Planning Executive Forum this December, where campus executives will come together to explore this and other key topics in strategic enrollment planning.
I welcome your questions and comments about assessment and positioning strategies. Please e-mail me and I will reply as soon as I can, or leave a comment below.