enrollment
4 reasons your college communication plan is broken
Patricia Maben
November 8, 2017
The college communication plan has been the foundation for student recruitment for decades. It forms the basis of how colleges and universities tell prospective students about their admissions requirements, programs of study, financial aid, campus life, and many other details. This model revolved around pushing out information to students.
But that has changed because the audience—the prospective students you are trying to reach—has changed how they seek information.
The rise of social media, connected communication, and engagement marketing have fundamentally shifted how students approach the college search process. Simply realigning your current enrollment strategy and communication plan to your new target populations isn't the answer: it's a surefire way to fail to meet their expectations of an engaging college search. Instead, you need to take an entirely different approach that is grounded in the reality of how students seek information and make decisions today.
Why your college communication plan will not work with students today
Students have different questions than in the past. They are more diverse, more first generation, higher need, and more pragmatic. Expect questions on the process, the college experience, cost, and whether it's worth their investment.
The enrollment decision is more often a family conversation. It's no longer helicopter parents steering—it's now a real discussion about college as a family investment and, for first-generation students and their families, an exploration of the college experience itself.
Students seek an experience, not a transaction. Born into a world where Amazon and Netflix just "get" them and their interests, message merges simply aren't going to cut it with today's students. They expect you to learn about them before sending information.
Students control the process. They do not want to wait for information from you. Today's students want to get their answers when and how they want. Whether looking to find something or to explore, they seek instant response and feedback.
Educated in flipped classrooms, interacting through gamified experiences both online and off, and hash-tagging through social media, the students you're recruiting today are driving precisely how, when, and why they engage—with everything from friends, to brands, to colleges.
Most colleges and universities have not adapted to this new reality, and even those that have don't realize how rapidly it continues to change. They have scrambled to "meet students where they are" and become more tech-oriented in pushing out their marketing messages across multiple channels—a form of hybrid "digitized" recruitment marketing that Millennials may have tolerated. But that won't work for today's Generation Z, because Generation Z doesn't care about your marketing plan.
No college communication plan can be made sophisticated enough for today's students
That communication plan—the "master plan" of who gets what, when—is typically the backbone of your strategy, driving everything you do. What once upon a time was a simple document is now likely a much more complex flow chart or spreadsheet. You may have built many options and reminders and custom campaigns to try to personalize the process the way students want. You have spent hundreds of thousands in dollars in support of this plan with an advanced CRM if you are lucky. But your college communication plan likely is still falling short because it remains rooted in that old "enrollment funnel" view of the world —and you are wasting money.
Current enrollment management approaches, focused on pushing information out—regardless of how sophisticated their ways of doing so—no longer work. What happens next?
Removing any one tactic feels like a risk—as does changing anything that might jeopardize your potential to make projections. Your numbers have real ramifications on jobs, on budgets, rankings, profile, competitiveness—and, in the worst cases, on institutional survival. But the real risk is in not reconsidering your plan in a big way.
Read more about how you can create a new enrollment paradigm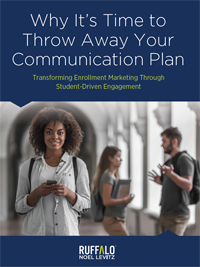 What does a new, student-directed enrollment exploration look like? Read the second part of our exploration of this topic.
These strategies are in our newest white paper, Why It's Time to Throw Away Your Communication Plan: Transforming Enrollment Marketing Through Student-Driven Engagement.
RNL has also created RNL Student Journey, a solution for creating a student-driven college enrollment experience that's aligned with the expectations and behaviors of today's students. It allows you to engage students through an authentic experience, empower them to explore what your institution has to offer, and target those students who are the best fit for your enrollment goals. Learn more about this innovation and how you can have a free guided tour.