fundraising
Elevating the Donor Experience: Why You Need AI to Solve Your Alumni Engagement Problems
Joshua Robertson
Senior Vice President, Product Strategy
June 11, 2019
I've heard the phrase alumni engagement more in the past 18 months than I have in the previous 18 years in higher education. It's not that alumni engagement is a new thing—institutions have always engaged alumni with a goal of building a lifelong relationships—but it's at the forefront of everyone's mind because a lack of alumni engagement is the likely culprit in the declining alumni participation that institutions continue to face.
The Real Problem: Focusing on Who Your Alumni Were
While alumni engagement is a real problem and is negatively impacting alumni giving, the bigger issue centers on how to accomplish real 1-to-1 alumni engagement.
If your institution is like most, you likely have large numbers of alumni who have many interests that don't relate to the fact that they graduated from your institution or from a particular school or college. Unfortunately most institutions continue to focus their efforts on personalizing outreach by creating more nuanced alumni segments that focus on who those alumni were when they graduated, instead of who they are today. That approach simply increases the complexity of alumni engagement without really engaging alumni in a personal way that maximizes their propensity to give.
Institutions must embrace the fact that alumni interests evolve over time and the things they are most passionate about today may be very different from their interests at graduation. Furthermore, uncovering those interests at an individual level can't be done manually. Advancement offices cannot hire enough people to reach out to alumni on a personal level and fix the engagement problem. You have to know who is engaging and what they want to engage with to be truly successful.
So if we need to tap into the current interests of alumni, but hiring more people and creating a more complex program isn't the answer, then what is the solution?
The Real Solution: Automating Personalized Engagement
To truly engage alumni 1 to 1 at scale, you need to leverage the power of artificial intelligence (AI) and machine learning. AI and machine learning-powered platforms can determine individual interests and curate outreach to those individuals so that your alumni explore stories, events, and giving opportunities that align with their passions. This isn't technology of the future, it is technology that currently exists and is being used by many organizations outside of higher ed fundraising.
Last week RNL announced how combining RNL's solutions with the QuadWrangle platform can deliver hyper-personalization at scale, amplifying the donor experience and alumni engagement. The QuadWrangle personalized engagement platform combines information you have today in your CRM with behavioral data directly from alumni and other sources, and leverages AI and content curation to deliver a personalized experience to all of your constituents.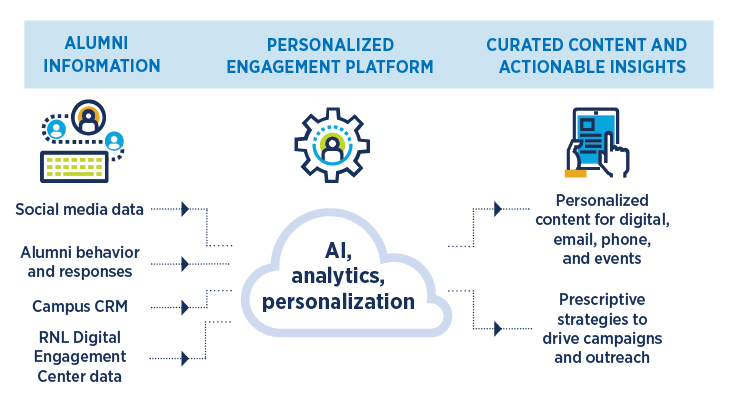 This combined approach can help your institution increase alumni engagement and giving by:
Focusing and optimizing resources on alumni who are most engaged and likely to be philanthropic supporters to your institution.
Delivering a hyper-personalized omnichannel experience that aligns your digital and traditional channels to create an engaging donor experience.
Using insights from the platform to target less-engaged prospects with more cost-effective channels.
Dive Into AI for Alumni Engagement in Our Webinar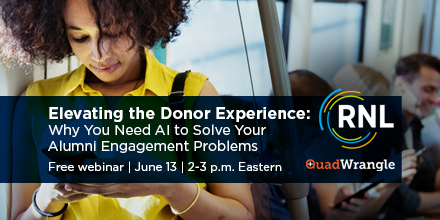 Check out this webinar in the Elevating the Donor Experience series to see how AI-powered alumni engagement can make all of the alumni in your database feel like you are speaking directly to them. And when they feel that you are connecting with the interests they have now as opposed to when they graduated, they will be more engaged and much more likely to give.
---